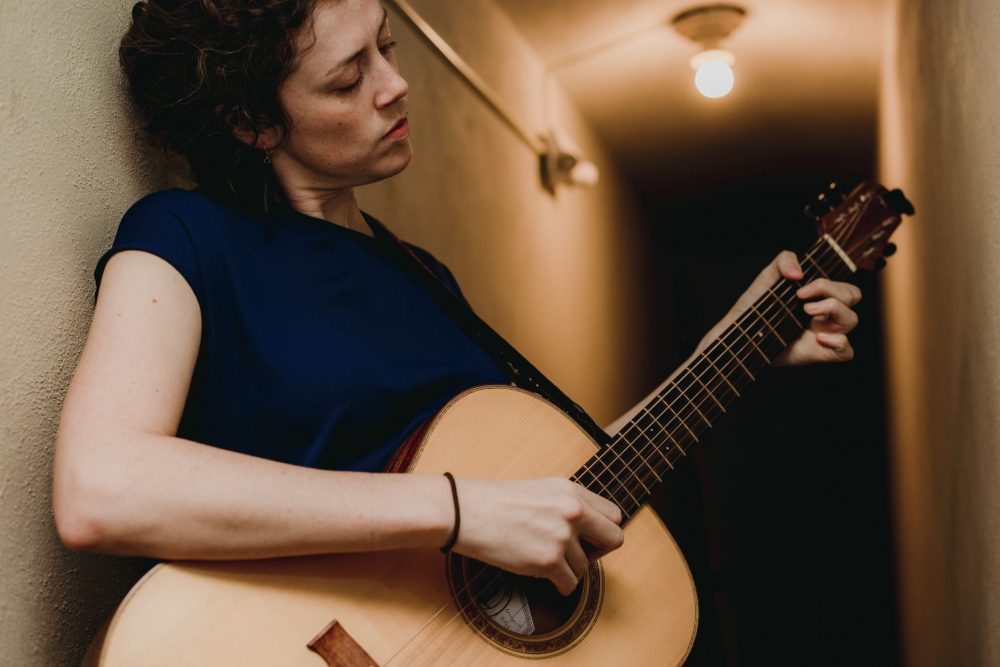 Minnesota native courts critical success with relationship-oriented EP.
The month of February brings the long-awaited follow up to Rachael Kilgour's 2017 release Rabbit in the Road. We caught up with the singer-songwriter backstage at her recent show in Minneapolis.
At the end of 2018, the first single from Kilgour's new EP Game Changer, "Holy Are We" was named one of Rolling Stone's 10 Best Country and Americana Songs of the week alongside the likes of Dolly Parton. She's also won several songwriting competitions and has been featured at NYC's Lincoln Center, the Kennedy Center, and the iconic Sundance Film Festival.
Despite the accolades, Kilgour approaches the recognition with a stereotypical Midwestern pragmatism.
"I think when having any kind of career in the arts, a lot of your job is to make yourself look like you're doing better than you are," she says. "The Rolling Stone writes about you, and yet sometimes you have crappy gigs, sometimes you can't pay your bills. But, it does help for sure." Kilgour pauses, considering, "I just sounded like a real downer."
Being a downer may not be the worst thing in the world. As the sold-out crowd squeezes into pews at the University Baptist Church for the show, many are soon quietly sobbing as Kilgour runs through heartbreaking tracks like "Still My Wife," and "Deep Bruises."
"I tend to write songs that make me uncomfortable," says Kilgour. "What would be the most painful thing for me to say out loud in front of anyone? I'll write a song about that."
While her last album focused on her divorce, Game Changer reveals a cautious optimism, while treading into new relationship territory.
"I've been doing this for thirteen years and I did that while married as well. I think at that point in time I wrote a lot more political work and I wrote about my family life, and what it was like to be a stepparent. In losing that marriage and that family structure I've gotten in touch with my rage. I think my voice actually changed quite drastically. It deepened as I got control of myself for the first time," she says.
With the first single "Holy Are We," Kilgour tackles the divide between love and religion.
"I am a queer person so usually, for the history of my career, I've always used female pronouns to describe people that I'm in a relationship with. But I guess this is the first time that I wrote a song that was intentionally addressing that kind of schism that exists between queer sexuality and some ideas of faith."
With introspective lyrics, sparse instrumentation, and effective pauses, Kilgour invites each member of the audience to see their own reflection in her music. In between songs she addresses the crowd with charming ease, sharing personal stories. It is easy to feel like a Rachael Kilgour show is a very refined therapy session.
"At the end of a show often, because I've shared so much of my own story, people will come up to me and tell me theirs," says Kilgour. "People will come up and say 'I've listened to this song and it reminded me of my mom and I haven't talked to my mom in two years and I think I'm going to call her.' It's an openness, and I think watching me do that in front of them has inspired them, and I think that's really important. I think we are all a little bit lonely and I'm really happy with the connection that can happen at concerts."