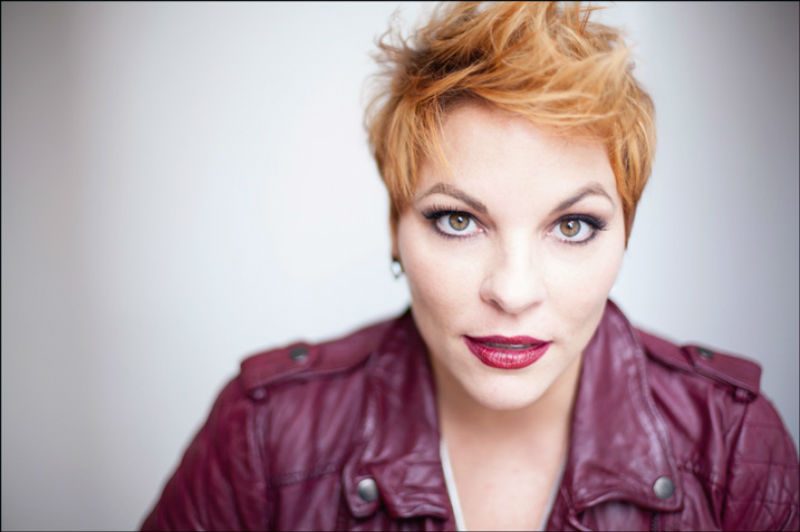 The beautiful New York-based belter, Anne Steele can cover everyone from Cole Porter to Kelly Clarkson, but this year she made a big change in her career path: she recorded an EP of original songs titled What's Mine.
And just as the idiom "What's yours is mine, and what's mine is yours" signifies reciprocity and generosity, so does Steele's album, which is full of artistic gratitude. During her substantial and award-studded career, she has taken her inspiration from others, especially Broadway, and pop heroines Clarkson and Sara Bareilles. But now she gives back with water drawn from her own well—personal stories and experiences crafted into heartfelt melodies and lyrics such as her 'big lesbian breakup' in the song "Worst Ever."
"This entire EP project was a huge change for me. I decided that I am at a time in my life that if I don't take a leap now, when am I ever going to do it? I feel like my real voice is finally being heard on this record. My words and my thoughts are finally being sung. Instead of just covering someone else's material, I am finally brave enough to say this is who I am. Take it or leave it."
Along with the change in method came a change in image—Steele had her long auburn locks shorn off and now sports an edgy contemporary do. Lesbians who might have dismissed Steele as straight at first glance will certainly look twice now. Not that she ever hid her sexuality. Steele came out when she moved to NYC a couple of years after college. "When I met my first girlfriend it was like a light had been switched on and suddenly everything made sense."
Coming out in the New York music scene, she says, had no negative impact on her career. "I have never noticed any discrimination in the music world regarding my sexuality. I have always been surrounded by incredibly supportive people who only care about talent and not who you sleep with."
But, like so many of us, she found opposition a little closer to home. "Eventually a couple of years later I did come out to my mother, and that was a rough one. She was always very liberal and open-minded but for some reason, it was different for me. I realize now that sometimes you have to let people go through their own process, and that they will come back to you. My mother couldn't be more supportive and lovely now. She loves my wife and the kids and we are truly one big happy family."
Steele, who is married to Kelli Carpenter and is raising four children with her, is looking forward to Pride season as a time when we can "can be proud of all of the people that worked and struggled for so many years before us; we can stand up and celebrate who we are, and we can be silly and dance and sing but always remember that there is a message of equality."
And if you like to rock out to gay anthems such as "Born This Way," "Raise Your Glass," or "I Will Survive," take a listen to "Don't Tell Us How To Love" from Steele's EP. She'll likely be belting that out at Pride events in NYC and across the country.
"Now I am touring and playing places like LA, Chicago, Boston and San Diego and I have only found open arms in every town."