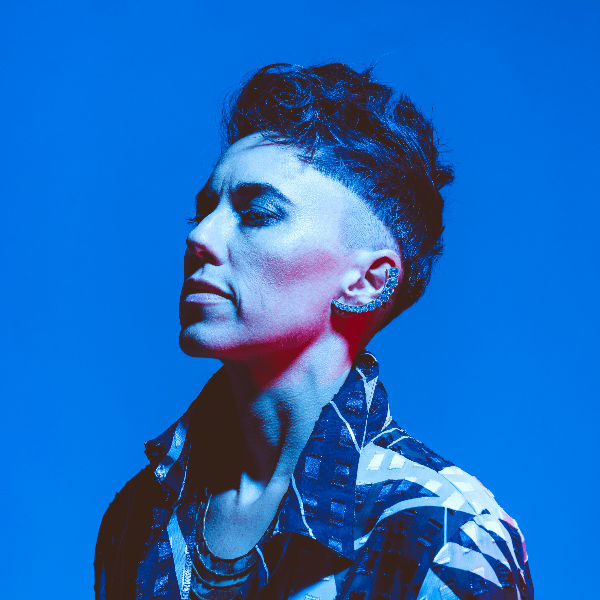 Multi-ethnic, Austin-born musician Gina Chavez is not one to judge by her cover.
The tall, fair and American-sounding lesbian is redefining Latin music in Texas and beyond. Well-rooted in her Hispanic roots, Chavez is set to release her new Spanish-language single, "Ella", on April 17th.
The followup to her upbeat English single, "She Persisted", "Ella" is the darker, more intense Spanish sister track that delivers an even stronger punch with a Latin beat. Both tracks are anthems for female empowerment and equality, and are found on her upcoming album, La Que Manda, set to release this May.
Having performed on national and international stages around the world, Chavez has shown her bi-lingual music along with her mesmerizing live performances appeal to English and Spanish-speaking audiences alike. Her Spanish-language anthem, "Siete-D", won the Grand Prize in the John Lennon Songwriting Contest. Her Spanish tracks from her three previous albums have consistently topped the Latin charts on iTunes and Amazon. And her live performance on the nationally broadcast NPR Tiny Desk Concert has garnered over one millions views and continues to grow.
"Ella" is the first Spanish single from her aptly named new album, La Que Manda, which means "She is the one in charge." To bring her vision for this album to life, Chavez called on a team of heavyweights in the music industry: 16-time Grammy winner Thom Russo (Juanes, Alejandro Sanz, Enrique Iglesias), two-time Grammy winning engineer Fernando Lodeiro (Esperanza Spalding) and Linda Briceno, who made history in 2018 as the first woman to win Producer of the Year in the Latin Grammys.
Be sure to check out "Ella" – the new single to be released on April 17th. Also watch out for La Que Manda, the new album by Gina Chavez, coming in May 2020.
We chat to Gina
Where did you source your inspiration for La Que Manda?
LA QUE MANDA is the story of a woman coming into her own power. It's my story, but it's also the story of women everywhere. I've been on a journey of self-discovery these past few years and it's culminating in this album with songs about what it means to be silent and subservient, to play small and apologize for taking up too much space, to choose the right words and the best expression for every situation. It's a dance that's women everywhere know intuitively. But it's time we break the routine. That's what LA QUE MANDA is all about.
When did you first realize you had a voice?
It was 6th grade. I couldn't work Art class into my schedule so my mom suggested choir. The problem? Well, it was the pre-GLEE years when choir was definitely not cool haha. I fought it but ended up in a class of 40 kids and the first test was to sing "Amazing Grace" acapella in front of everyone. That was the day I realized I could sing.
What sort of music gets you excited and why?
Latin music! Give me that ritmo and I'm golden. Plus, the Spanish language is gorgeous. Of course, I love a good pop song, but the stuff that really gets me are sounds, languages, melodies, rhythms from different countries. Touring the world has taught me the world of music is so much wider than what we consume here in the States.
Who are your top three musical influences and why?
Mercedes Sosa was the voice of a nation, her music galvanized Argentinos at a time when the government was disappearing its own people. I first heard her when I studied abroad in Argentina and haven't stopped writing in Spanish ever since. Then I found Calle 13 from Puerto Rico.
What started as a rap duo turned into one of the most poignant bands I have ever heard. Their music hits hard in every way rhythm and lyrics that move your body and punch you in the gut. And now I can't get enough of Mexico's Natalia Lafourcade. She is the voice of our generation and every audience needs to hear her lush soundscapes that call our world to its best self.
Who or what inspires you to be a better person?
My wife, Jodi! She is a high school Algebra teacher and a coach. She's also my personal manager, accountant, videographer, tour manager, basically my everything. Without her love, her smile — she's got the best dimples ever! — and her knowing stare, I would still be singing in coffee shops. Loving her is the greatest treasure of my life.
If you could, what is one thing would you change about our society?
Wow that's a question!… I would change our obsession with US vs. THEM. It's something our country was founded on from the moment our European ancestors landed on these shores and stole their way to power, to 1619 when we dropped the first boat full of African slaves at Point Comfort to be treated and sold like animals, to today when Congress still can't even pass a stimulus package to help the American people through a pandemic without slandering our most vulnerable citizens by saying they'll take advantage of the system.
My biggest desire with music is to provide some sort of bridge for us to start the healing process that helps us see each other first as fellow humans, brother and sister. Maybe then we can start digging up the deep roots of division and the pandora's box that comes with them.