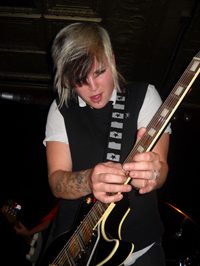 It's one of those surreal moments in rock journalism. I'm in the basement of Chicago's Rockhouse club with the five members of Sick of Sarah, and we are discussing soup.
"It's enchilada, but it looks like queso dip," laments Abisha Uhl, the dynamic lead singer of the Minneapolis rockers of her dinner. "We don't always get to eat the greatest of things. But this shit? This is wrong."
"Tell us how you feel," deadpans cute-as-a-button drummer Brooke Svanes. I've been known to moonlight as a drummer occasionally, and listening to some of the percussion fills on their self-titled debut makes me more than a little jealous of her talent with the sticks.
Of course, cuteness has been a bit of a double-edged sword for the band of late. "We get a little bit more attention because we are an all-female band," confesses guitarist Jessie Farmer. "Guys, don't think we know anything."
Jamie Holm, the band's bassist, takes a sip of her ice water and reconsiders her bandmate's comment. "It goes one of two ways.  Either they love everything about us, or they think that we're shit and just write us off." The tall blonde was once locked out of a gig by a surly doorman who misunderstood when she said she was "with the band." "He didn't believe that I was actually in the band. He thought I was a groupie. I almost didn't even get into my show."
Every band has a bad day, but Sick of Sarah has had its share of good ones, including a few star-struck moments. When guitarist Katie Murphy met Susanna Hoffs earlier this year, it was like a rock and a rolling dream come true. "I've been a fan of The Bangles forever, Susanna Hoffs in particular," gushes Katie over the sound of clinking bottles backstage. "I found out she had watched one of our videos on YouTube when I sang one of her songs.
She called up my producer, and we got to rehearse at her house the day before the show in L.A," Katie beams as she recounts every girl's fantasy of meeting her hot musical crush. "I went to her house. I saw her guitars. I was a little overwhelmed."
I know the feeling. It's like sitting on a cement floor in a circle with five super-talented women I have officially crowned Most Likely To Blow-The-Hell-Up. They are working on their second album and gearing up for another year of touring, culminating in a spot on the coveted Vans Warped Tour. Until then, check out the video for "Bittersweet" and my favourite, the blistering "Breakdown" which shows off Abisha's vocal chops at their best and most impressive on the faster number.
After spending two days on tour and driving five hundred miles with their CD in the changer, I can honestly say that it's impossible to get sick of Sick of Sarah.