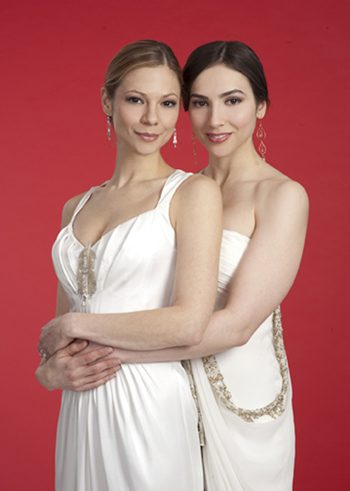 Bianca and Reese tied the knot on All My Children last week, but the day didn't go off without a hitch. Will their marriage go more smoothly from now on?
Last week, a historic wedding took place on the ABC daytime soap opera All My Children. No, Erica Kane, the legendary cougar made famous by a pre-Dancing With The Stars Susan Lucci, didn't walk down the aisle for the 11th time, this time it was Erica's lesbian daughter Bianca (Eden Riegel) who married the girl of her dreams (Or is she?), architect Reese Williams (Tamara Braun, who shot to fame as mob moll Carly Corinthos on General Hospital).
Of course in true soap fashion, Bianca's wedding didn't go off without a hitch. Prior to the nuptials, her slightly-confused betrothed was caught in a liplock with Bianca's brother-in-law Zach (Thorsten Kaye), by Bianca's pal Ryan (Cameron Mathison), who then told his fiancé Greenlee (Rebecca Budig), who then climbed on the back of a motorcycle, clad in her wedding dress—she and Ryan had been set to get married alongside Binks and Reese in a double wedding—to go confront Zach, the hubby of her BFF Kendall (Alicia Minshew), who just so happens to be Bianca's sister. Whew, try that while chewing gum!
Meanwhile, Kendall is gunning her car up the same dark highway that Greenlee is speed racing down, having been in a nasty confrontation with Bianca and Reese about Zach donating sperm behind Kendall's back for the conception of Bianca and Reese's infant daughter Gabrielle.
Cut to a dramatic crash that leaves poor Greenlee presumed dead (Budig is once again leaving the show for Los Angeles and pilot season) and a devastated Bianca deciding to have her Sapphic marriage annulled after mistakenly assuming Reese and Zach's smooch meant they were having a full-on affair.
"Oh, is that all?" Riegel laughed when Bianca's wedding day woes were laid out for her. "That's all par for the course on soaps! It is very dramatic, and those scenes were hard to play because the betrayal Bianca feels is so deep. This is the person she just pledged her life to. It gets ugly. But I understand the two women find their way back to each other. It's complicated, but the love is real."
Representatives at All My Children are encouraging Bianca's large and vocal fanbase to be patient with this storyline, assuring that a happy resolution is in store for their heroine, even though like Budig, Riegel has exited the soap opera.
"Bianca leaves town after the wedding, but she returns this spring and I can promise you, there will be a payoff for the fans," teases an All My Children rep. "Reese is staying in town to do everything she can to prove her love for Bianca to Bianca's family, all in hopes of them conveying that message on to Bianca."
As for Riegel, she'll be concentrating on the second season of Imaginary Bitches, the web dramedy about a twentysomething woman who invents a pair of bitchy imaginary friends when her coupled-up real pals stop having time for her. The smash YouTube hit was created by Riegel's real-life hubby and outspoken gay marriage supporter Andrew Miller. Imaginary Bitches reunites Riegel and her former All My Children leading lady Elizabeth Hendrickson (ex-Maggie, All My Children; Chloe, The Young and the Restless). Miller is donating $0.88 of every sale for Imaginary Bitches: The Complete First Season DVD to the fight to overturn Proposition 8.
When asked what she hoped the legacy of Bianca and Reese's wedding will be for pop culture, Riegel said she genuinely hoped one day it would all seem like nothing special.
"I would really like it to be no big deal," she says. "I would like to look back on it like I do my character's coming out story and think, 'What was all the fuss about, again?' I hope soon gay marriage is legal and an event like this will come and go just like one of Erica Kane's 10 weddings."