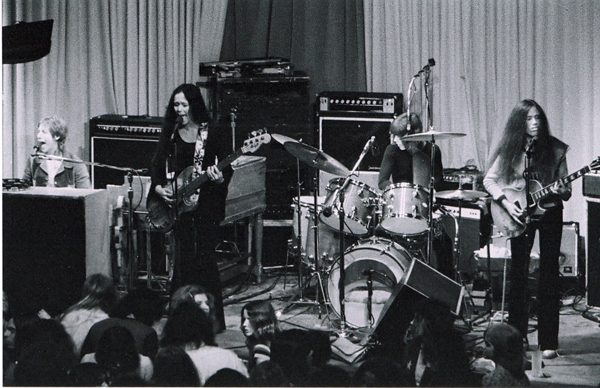 The women of the groundbreaking all-female '70s band take us backstage and back in time.
David Bowie said, "They played like motherfuckers". Amy Ray called guitarist June Millington her musical godmother and Bonnie Raitt said they're "smart, tough and talented."
Not many remember the groundbreaking all-woman rock band, Fanny. It's puzzling since they've recorded five albums (one at the Beatles' Apple Studios) and have shared stages with Tina Turner, Bowie and others.
In the early '70s, they toured relentlessly, charting on Billboard and getting mainstream radio airplay. Their fans cut across all barriers, from bell-bottomed hippie boys to your lesbian aunt.
Two of Fanny's founding members, sisters June and Jean Millington, started on ukuleles, but in the early'60s switched to something louder. Or rather, June claimed the guitar and instructed younger sister Jean, You have to play the bass.
They cut their musical teeth touring in a couple of women's bands, including drummer Alice de Buhr. It wasn't easy. "Men kept trying to look up our skirt" commented June. They made one last trip to Los Angeles to either sign with a label or go back to school. Then they played the open mic at the Troubadour where they were seen and signed by Warner Bros.
They started recording and realized they needed another member. They considered the few female rock musicians they knew, even flying in a few, but nothing clicked until they found keyboard player Nickey Barclay. If only Barclay was interested in joining a women's band.
She explained: "In the late '60s the concept of a girl band meant one of two things: a Las Vegas-type travesty (think topless), or a radical feminist collective project, and at that stage of my life I was revolted by either prospect. I still am. She finally said yes, though. They chose a new name, Fanny. Soon the label machinery was pumping out promo like "Get behind Fanny."
Their first LP, released in 1970, was hardly noticed. "We got asked all the time about the male studio musicians who must've played on the album," de Buhr said. Jean added, "The first time we played anywhere, people expected us to prove ourselves. "We got used to that," said June,  "and just played our asses off and people loved it."
So, there were a lot of groupies, right? Well, no. "We never did a whole lot of partying because no one knew how to approach us," de Buhr explained. "Men politely asked what kind of drums I played. Maybe lesbians would've gone back to the hotel with us, but there was no protocol for that."
It wasn't all early-to-bed. June and de Buhr once spent the night partying with Mick Jagger. "A perfect gentleman" commented de Buhr. There were a lot of late-night jams with other musicians too.
Some thought Fanny was a feminist band. Jean clarified, "We didn't want the emphasis to be that we were girls, lesbians or politically active" we wanted it to be just about the music."
She continued: "Unfortunately, the label wanted us to wear skimpy outfits. You don't want your reputation built on that." de Buhr recalled one costume. "I wore a tank top made from coins. I had to wear pasties or the coins would pinch my nipples."
Barclay said they were often viewed as a lesbian band, "and it affected me badly. In fact, I'd say it significantly delayed my realization" some six years after the end of the band" that I am bi." June had relationships with women including music performer Tret Fure, and today runs an organization with partner Ann Hackler.
Once they proved themselves on tour, their second album, Charity Ball, received a more enthusiastic response. The title track debuted at No. 40 on Billboard. They appeared on the Tonight Show, and the Sonny and Cher Show and toured extensively in the U.S. and England.
Their third album, Fanny Hill, gained them even more credibility because they recorded at Apple. De Buhr remembered, "That sweater from Help [the one with all four heads in it] was used to muffle my bass drum."
Todd Rundgren produced their fourth album, Mother's Pride. Right after its release, June and de Buhr left the band. "Rock was just achieved, achieve, achieve," June said. "I got tired of being shown as a one-dimensional figure, this girl with a guitar"
De Buhr left because she missed June and because her girlfriend demanded, "Me or the band."
June and de Buhr were replaced and Fanny released Rock and Roll Survivors. Barclay departed in 1974. Despite the title, the band didn't survive, disbanding in 1975 just as a single peaked at No. 29 on Billboard.
Several band members still have their hands in music. June and partner Hackler run the Institute for Musical Arts. Jean enjoys her projects with June and her work in the healing arts. DeBuhr put away her sticks not long after the band's demise but she stayed in the entertainment business. For years, de Buhr hid that she was even in Fanny because they were seen as a joke. She's since embraced her spot in rock history and now maintains www.fannyrocks.com.
In 2002 Rhino Records released the compilation First Time in a Long Time. In 2007 three of the original members did a reunion performance in Boston where they received the ROCKRGRL Women of Valor Award. No one's laughing now and heck, getting behind Fanny wouldn't be such a bad thing.