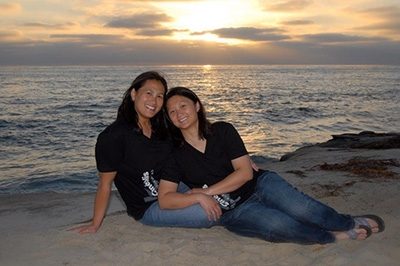 Sherry and Epher's Love Story
For Southern California residents Sherry and Epher, their first date, scheduled for a July evening in 2010, didn't happen. Epher had planned an outing with a friend who also knew Sherry, and although Sherry was invited too, she had to decline due to an early morning trip she was making the next day.
However, the women exchanged phone numbers, and while waiting for her flight, Sherry forgot how early it was and texted Epher to see how the evening before had gone. That text led to more; after two weeks, Sherry and Epher had begun to know each other quite well.
They liked what they'd learned about each other via texting, so the couple planned several actual dates. "The first night we met up, we saw a movie," Sherry recalls. "I was so nervous I must have finished half a bucket of popcorn before the previews ended. We had coffee after the movie and stayed up until 2 am talking."
The next night, they had dinner and talked until 4 in the morning, sharing the various facets of their lives, including Sherry's passion for hiking, reading, drawing, and her love of cars. Epher shared her passions: cooking, wine collecting, boxing, tennis, and collecting toys.
One common interest they discovered was their fondness for each other, and their life became a round of whirlwind trips between their two households. "Our homes were just far enough to be considered long distance," Sherry explains.
"Epher lived in Santa Clarita, and I lived in Camarillo, but between work, home, and family responsibilities we made every effort to see one another at least several times a week." Their travels also took them to visit each other's families in Los Angeles, Ventura, and San Diego counties.
But there were other trips, too. "Epher was also making weekly trips to San Diego to help her dad take care of her mom," Sherry explains. Taking care of her mom and spending time with the rest of our families became an integral part of our relationship."
In October 2012, the couple formalized that relationship by registering as domestic partners. Still, on one of their many drives to San Diego in July 2013, they took their relationship to the next level. "We were discussing summer plans," Epher recalls.
"Sherry's high school friends were going to be in town, and one of them happened to be an ordained priest," Epher suggested that with the recently adopted legislation permitting same-sex marriage in California that summer, they should ask that friend to marry them.
Three years after they'd first met, that decision led to another whirlwind of activity, this time making wedding plans, including a ceremony aboard the California Princess in San Diego Bay, scheduled for August 10, 2013. "We wanted something a little different than the traditional wedding," Epher explains, "and liked the idea of a dinner-cruise wedding.
The décor was simple, beige linens with lanterns on the table tops, sprinkled with See's Candy favours. We had roughly 80 guests ranging from 5 months to 82 yrs old." Guests were asked to wear "yacht club casual," and upon boarding, they enjoyed drinks, baked brie, and hummus.
Both brides chose white, with Epher donning a princess-style dress and Sherry a blazer and slacks. They stood before their officiant, the Reverend Kate Lewis, and Sherry's high school friend, the Reverend Deborah Noonan. Matrons of Honor included Epher's older sister, Leah, and Sherry's childhood friend, Amanda.
Epher customized vows from several traditional ceremonies, and Reverend Noonan personalized a Reflections piece, including the couple's backgrounds and honouring Epher's late mother. Each bride proceeded down aisles on opposite sides of the yacht, meeting at the front, where they tied the Fisherman's Knot, symbolizing their individuality and combined strength. They exchanged simple platinum bands.
They had planned an onboard reception too, and after the ceremony, the cuisine included tray-passed hors d' oeuvres of crab stuffed mushrooms, mini-beef wellington, and bruschetta. Following, the buffet dinner included top sirloin round roast, cold-water fish, arctic char, wild mushroom risotto, and grilled vegetables. The couple offered a choice of Red Velvet cake with cream cheese frosting or chocolate cake with raspberry mousse. Epher, who includes cooking among her hobbies, worked closely with the caterers.
A disc jockey entertained the couple's guests. "There was a photo booth, too," Epher says, "and a guest scrapbook, and top-shelf open bar! Kids were provided with a colouring/arts and crafts station." There was also a fireworks display.
Both brides had to return to their jobs immediately, Sherry as a Supply Chain Program Manager for a scientific company, Epher as an educator for honours geometry and algebra classes at a Science, Technology, Engineering, Arts, and Math magnet school. However, their bustle of planning continued: this time for a luxurious honeymoon in Italy.