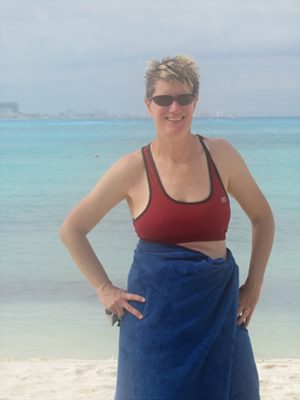 Hit the road with Dipstick as she takes us along for one of Olivia's famous land-based vacations to sunny Cancun.
It's the last day of the trip and it seems like no one has energy for anything, not even drinking by the pool. I laze about on the balcony of my room, looking out at the rough waters, wondering if it's worth it to try to go snorkeling today.
This Club Med is all-inclusive. That means all our food, drinks and most of our activities are free. While I've certainly partaken in the food and drink, there are quite a few adventures that I've missed out on. I kept meaning to get over to rent a kayak, go water skiing and try out the circus games, but I seemed to get caught up in something else.  Editor Diane has spent most of her time swimming and snorkeling in the Ocean.  Office manager Flo took dance lessons and rented a jet ski, which left her with a big grin on her face.
One of my biggest concerns about coming on this trip was the potential drunken lesbian drama.
Despite the free alcohol, I have seen surprisingly few drunk lesbians and no fights or arguments.
I chill out in my room too late to make breakfast, so I might as well wait until lunch to see the light of day. I run into some friends from Portland and a group of us eats together. Although we're all tired, none of us is ready to go home.
After lunch, I venture over to a part of the resort that I haven't been to yet, where they teach trapeze arts and water skiing. One side of the resort features a long, sandy beach and the other sits on a lagoon, or as we call it, a swamp. Women have been reporting seeing alligators all weekend, but I haven't yet. The alligator swamp, however, is where the water skiing takes place. There's a reason I haven't tried it.
The water skiing and trapeze classes are closed, but I do spy a few inviting hammocks strung in the shade of palm trees. I decide to check one out. It's nice to be away from the crowds, the constant bass beat near the pool and the loud voices of partying lesbians. I chill out in a hammock for about an hour, watching humming birds and listening to a few other birds that I can't identify. I eventually get up and walk around, trying to see if I can spy an alligator. I don't, but I meet a few friendly iguanas and a pretty black lizard.
As I make my way down the beach toward my room, I run into some newish friends and we sit in lounge chairs, recapping the week. One asks me what my favorite part of the trip so far has been. It's hard to say. I think the best part has just been being in the company of all women, all lesbians for a week. That and the dancing. Well, the Dating Game was awesome too. Oh, and the comedians cracked me up. Not to mention, the tropical weather, white beaches and warm salt water.
I decide to give snorkeling one more go, but the guide tells me that because the seas are so rough today, visibility is poor. Instead, I head back to the beach and swim a bit. I take my top off and loll around in the water for a while, feeling happy and free.
It's the last dinner and the dining room is all decorated with flowers and fancy linen. I show up, however, in my last cleanish t-shirt and definitely not clean shorts. It's sushi night and I run into comedian Poppy Champlin loading her plate up with wasabi. She joins me for dinner and tells me all about her day excursion to Isla Mujeres. Poppy has to eat and run because she is the MC for tonight's show.
Julie Goldman is the main comedian of the night and although she is very funny, I am disappointed that she performs the same show, almost word for word, as she did on the last two Olivia cruises.  After the show, there's a big champagne send off after put on by the resort. Some women have left already, the rest of us are going home tomorrow. The evening is spent saying goodbyes, collecting email addresses and hugs from new friends.
In the morning, I know that our week is over when I start to see the baby carriages and straight families start to descend on the club. One last dip in the ocean and it's off to the airport. I don't wipe the sand off my feet. I want to feel it there for as long as possible.