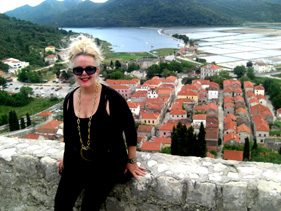 It's easy to fall truly, madly deeply for this old world wonder
Croatia is a country filled with old-world charm and genuine hospitality. There is a point of pride in each person along the path as they too want you to love their country as much as they do. Croatia had me at hello.
After a quick nip of a late-night nap at The Sheraton in Zagreb, one of the few five stars in town, I raced through the 1,000-year-old capital city to get a quick cultural taste before heading out to the countryside and later to the noted coast.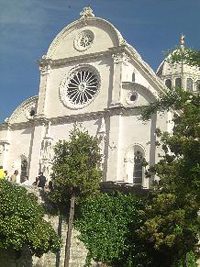 Before heading down to the museum mania in The Lower, hit The City Museum and The Gallery of Naïve Art in Upper.
Early morning, be sure to hit the fruit and vegetable market for a wee window into the local culture and some face time with the characters. Asking a resident for directions will provide an animated series of responses worthy of the cinema.
Once in Trg Jelacica, the city's central square, which divides Upper and Lower, you might catch live performances, large concerts or a fleet of city slickers. Lower Town is grand, old and European to its core and home to many of the city's fifty museums, The National Theater and beautiful parks.
The city is divided into two parts, Upper Town and Lower Town. If you are looking for medieval magic, Upper Town is riddled with it. The tiny windy streets are filled with cafes and restaurants and chock a block with historic spots. Slip into St. Mark's Square, the most photographed spot in the city. It is home to Parliament Square, the Presidential Palace and a church with the same name. Dating back as far as the 13th century, it boasts a Romanesque window, a Gothic composition and the oldest coat of arms of Zagreb with the year 1499 engraved on the northwest wall of the church.
In the afternoon grab your girl and head to the medieval town of Samobor a mere 20 km from Zagreb. The local square is typically abuzz with artistic activity. You might catch a local wedding in a church or simply soak in the scenery of covered bridges and architectural charm. If you want to take it higher, sip on Bermet, the local aperitif made for several generations by a family in town. Don't bother asking for the recipe as it is kept under lock and key.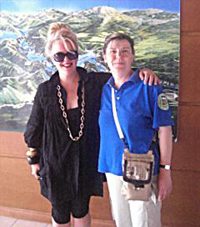 As you drive up to Ciban Wineries, a tiny vintner stands alone on the porch with a baby wine barrel happily greeting guests as they arrive at the rustic property. The two-year-old son of proprietor and winemaker Dragutin Ciban wastes no time in escorting guests to their cellar. He knows the drill and could lead tours and tastings himself. If asked about the winemaking process, with a hat turned backwards, he waxes poetic with such passion and poise, pointing and spinning his tiny little hands as he explains the whole process.
Regardless of language, nothing is lost in translation as he is that specific and passionate. Finish your night with a romantic twist in the Northwest, in the wine region. Plesivica's vine road presents a series of storybook snapshots of pristine and expansive old-world vineyards. The wine-growing hills in the continental region in Zagreb County, 30 km outside of the city centre offers a broad spectrum of wine varieties from Graševina, Chardonnay, Rhine Riesling, Neuburger, Pinot Gris, Pinot Blanc, Gewürztraminer and Sauvignon Blanc from thirty or more vineyards.
After a tour and decadent tasting, the warm, equally prolific and impassioned Drgutin, his wife and son welcome you like family into their home and hearth upstairs. Their homemade creamy cheeses, succulent meats and olives paired with their divine wines and vibrant conversation make for a truly intoxicating and memorable evening.
In the morning we were headed inland to Plitvice Lakes National Park. The World Heritage Site is one of Croatia's top tourist spots with its sixteen crystal lakes, streams and endless waterfalls. Best to settle into a hotel within the park then hoof it from one picturesque spot to the next. It's simply stunning with plenty of ambient spots for romance or reflection.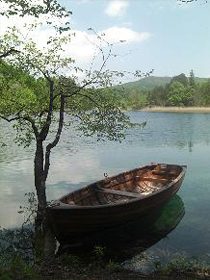 Convinced you can do anything after seeing his endless accomplishments, you'll feel full of promise as you head for the famous Dalmatian Coast, one of the world's most scenic coastal roads. For an intellectual hit, it's, Smiljn, a village in the mountainous region of Lika and the birthplace of Nikola Tesla, the greatest and most prolific inventor of the last century. Once in The Tesla Museum, you'll be absolutely amazed at how many modern amenities he is responsible for. Thank you, Tesla, our life is thoroughly modern as a result of his many innovations.
Our driver, a local 19-year-old history student tried over our 10-day tenure to explain the history of Croatia. This very layered and complicated country could take several years of study to even begin to grasp the history and the influence. My travel mate, a big history buff and research diva provided new information to us each day about Croatia's historical past, the Communist era and its most recent struggle and success for independence in the early '90s.
In between heated historical debates and scenic silence, we nipped into Bosnia Herzegovina, another country for a quick visit and a phenomenal Italian styled pizza, as it's an unavoidable part of the coastal road.
Closer to Split we opted to stop off in Sibenik as it is home to The Cathedral of St. James, one of the UNESCO World Heritage sites in Croatia. We became obsessed with hitting Croatia's many UNESCO sites. The spot was teeming with the local lure. A few boats make a stop, but essentially it isn't as touristy as the other towns. We parked it in a local restaurant overlooking the Cathedral, made solely of stone, with the scenic backdrop of the sea. We were next to the nearly empty, historical city square, which made it feel like all the fuss was for us. My heart was humming. This was just the Mediterranean magic I imagined, yet could hardly believe it.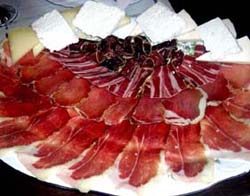 Once in Split, we checked in to Hotel Park Split right on the famous Bavice beach. The outside patio feels like it played hosts to prominent guests in its day. You can almost imagine Sofia Loren bumping into Princess Grace or other prominent folks from Europe and Hollywood hobnobbing on the terrace with the wind whipping their dramatic and brightly coloured scarves around. Before dinner, be sure to walk along the water or grab a sexy drink overlooking the sand, sea and the locals before indulging in their exquisite cuisine and local wines. After a stunning lunch of rustic, Tuscan styled dishes, we made our way up the hill, peaking into stone windows wishing we had a local abode of our own. It was a heavenly slice of Croatian life.
The next day we spent the morning in The UNESCO World Heritage site, the Diocletian's Palace. Built-in the 3rd century, the place has seen its share of makeovers through the years. The architectural style represents a mad mix from Renaissance to Romanesque and Baroque. Surrounding the Palace are Roman ruins, marble streets, cafes, fashion-forward boutiques and a seductive waterfront. If you're camera happy, stay poised and positioned to capture an endless array of images. At each turn, you will be seized by the beauty.
That evening, continuing with our commitment to experience as many of the World Heritage sites as possible, we headed to nearby Trogir. It is an architectural and historical treasure with its 2300 years of urban tradition. The history lessons continued.
It has the best-preserved Romanesque-Gothic complex in all of Europe, a preserved castle and a tower. The surrounding places and dwellings are a display of Romanesque, Gothic, Renaissance and Baroque structures. The pedestrian-only square makes it an evocative spot. Sit back and simply savour.
Before continuing on we nipped back in to Split for a final look. Then we grabbed lunch at Sperun a well-known restaurant, favoured by locals and tourists alike. If you're lucky the owner who is as interested and involved in local politics as he is in the local cuisine may be around. He serves up a series of stories from the recent turbulent past. Sitting in his restaurant with the stunning city backdrop, they seem almost unfathomable. Yet his face, riveting tales and the emotion behind his stories tell you otherwise. It's truly a gift to gab with him.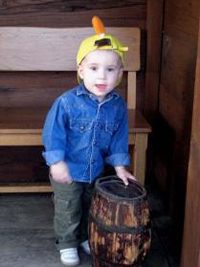 Well known Napa vintner Miljenko Grgich, a Croatian native has long argued that Zinfandel descended from Croatia's Plavac Mali grape, the foundation for many Dalmatian reds. DNA testing has since proven him right. After an evening on the idyllic island of Kortula, Marco Polo's home, we drove inland to one of Croatia's many famous wineries that are dotted along the coast. Zinfandel is derived from the region's indigenous Plavic Mali grape and produces some of the best reds in all of Europe. The Dingac will simply blow your mind. It's a full red wine, dark and rich in colour, complemented with an earthy quality, strong, rich tobacco notes, berry aromas and a nice natural sweet finish that requires no added sugar in the making.
The Peljesac in Southern Dalmatia, an hour north of Dubrovnik in the coastal region is responsible for producing some of Croatia's best wines and some of the best reds in all of Europe. The dark full-bodied reds have been made close to 500 years from Plavac Mali grapes on extremely steep slopes overlooking The Adriatic Sea in a sub-region known as Dingac. Plavic Mali's are unique, tiny blue grapes that are high in alcohol content due to the climate and the growing process, which oddly requires little to no moisture or soil.
After a few seductive swirls, you can have a traditional lunch at one of the konobas, a traditional taverna featuring an open-hearth fireplace; storage cellar for wine and olive oil. It's a restaurant where all that is served is locally sourced from the cured meats, cheeses, wines, warm fresh-baked bread and polenta with truffles. The setting is casual yet feels like a cinematic set as it is so rich and traditional.
Be forewarned as driving onward to Ston can cause cultural confusion. At first glance, you may think you've hit The Great Wall of China. It's the longest fortification in all of Europe and second in the world only to China's Wall. Ston is home to extraordinarily fertile fields with an abundance of sea and salt. Built-in the 13th century it was once a hot product that turned a large profit. The locals took their salt and city seriously fortifying the city by the 14th century to protect their commodity. Post imbibing and nibbling; hit Ston en route to Dubrovnik, Croatia's jewel box. After a close look and lick at the beds themselves, head up the hill along the wall to walk off the day's sins. It's a good workout and the dramatic otherworldly view of the beds from above makes it well worthwhile.
Before leaving, be sure to pop into Mali Ston or Little Ston as it's called for their famed oysters. The oversized oysters are as salty and as succulent as they come. Washed down with a crisp Dalmatian Posip, Croatia's best white wine will make this stop good a sexy one and good to the last drop. Grab local salt for table and tub so you are but a shake and a dip away from recreating this Mediterranean magic once back in the hotel. Aside from the salt itself, the region's meats and cheeses are unique and known for their salty qualities. The grass that the cattle graze on has an increase in salinity in its soil affecting both meat and milk. So, if you're a salty dog and wished you lived with a lick, you're in luck.
Finally park the car and call the opulent Excelsior in Dubrovnik your local Croatian castle. This regal retreat on the sea has played hosts to Queens of cinema and state. Start by taking in this UNESCO World Heritage site from your dramatic terrace overlooking the Adriatic Sea. From your local perch, you can grasp the full view of this walled Mediterranean city dating back to the 7th century.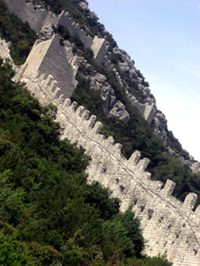 It's hard to imagine how destroyed the city once was in recent years as it appears pristine and reminiscent of something you'd see in Italy with its marble streets, Baroque buildings and Renaissance fountains. It's easy to see how the city once rivalled Venice.
All of the sites are walkable and contained within the city. Start your walk by entering into the walled city at Pile Gate. Stop by, St Blaise's Church, The city's Dominican Monastery, Rector's Palace and of course Placa, Dubrovnik's main street and most illustrious feature.
Many of the treasures are found in the wandering. The city has its share of restaurants, boutiques, wine shops, artists and evocative spots to grab inspiration and conversation. My friend and I comingled with local ladies who lunch. We slipped into a circle of sophisticated, sexy and very intelligent women. The only thing better than the wine and the view was their worldliness, natural beauty and rich and layered conversation.
Dubrovnik is no secret to the savvy traveller nor is my commitment to come back to Croatia again and again. Yet, I'll never forget this trip as there is nothing quite like the first time.
To Stay:
The Sheraton Hotel in Zagreb & The Excelsior in Dubrovnik –
starwoodhotels.com/sheraton &.croatia.hr & hotel-excelsior.hr
To Fly:
Croatia Airlines – CroatiaAirlines.com
Girl Talk:
Croatia is a very conservative and Catholic country. However, the gay community has been growing in numbers and acceptance in recent years, especially since independence in 1990 and the elections in 2000. Gays are more accepted in the cities than they are in the more rural areas. Zagreb Pride is the biggest Pride kind in all of Central and Eastern Europe and Parliament passed partnership laws in Croatia in 2003.
The ultimate Croatian gay and gay-friendly guide with gay-friendly accommodations and bookings in Zagreb, Dubrovnik, Island of Rab, Island of Hvar, Rovinj and Rijeka is FriendlyCroatia.com. For more information regarding Zagreb's pride and the local gay scene in Croatia check out: Zagreb-Pride.net & Gay. hr
For more info: Croatian Tourism Croatia. hr