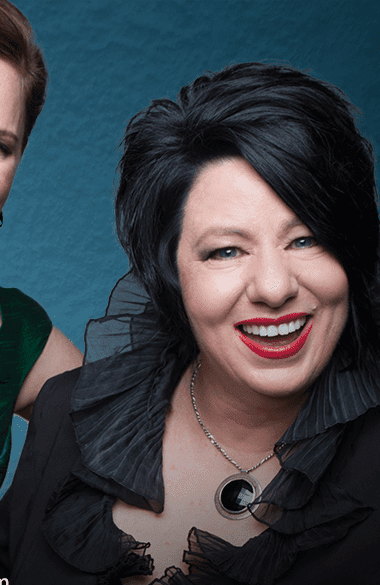 Australias multi-award winning illusionist and mentalist, Cath Jamison is back by popular demand!
BeCharmed is a spellbinding fusion of magic, music and cabaret, and sees Jamison joining forces with the sassy retro jazz band, Kissing Harriet (fronted by vocalist Lizzy Gascoigne).
Cath Jamison is recognised worldwide for her astonishing brand of magic and captivating stage shows, and her latest offering will be sure to exceed all expectations.
As seen on Sunrise, Today, 9 am with David & Kim, KIIS 101.1, and the Melbourne International Comedy Festival Gala, this wickedly hilarious entertainer, has mystified streams of audiences; astounding the likes of Tim Burton, Dawn French & Melissa Etheridge.
As the most sought after female magician and mentalist in Australia, Cath Jamison is also one of the leading lesbian entertainers in Australia- winning a Rainbow award for Best Female Entertainer (1997).
A supporter of the gay community, Cath has performed at many major gay events including Sydney Gay & Lesbian Mardi Gras Festival (2016– 2014), Stars Come out –State Theatre Sydney, Hats Off, MassDebate- Melbourne Concert Hall, Melbourne Midsumma Festival (1998– 2014), CHILLOUT Festival (2012– 2016), Adelaide FEAST Festival (2014).
Cath has appeared on Bent TV and was a radio announcer with Adam Richards (Comedian) and Gavin Ryan on Joy 94.9 Fm Breakfast Radio Show (See attached for a full list of events Cath has performed in the Gay community).
BeCharmed audiences are guided through an exhilarating journey into human behaviour with Cath's uncanny ability to read thoughts and bend reality interwoven with the infectious melodies of Kissing Harriet, who deliver modern jazz songs and humorous reworking of well-known favourites; both exploring synchronicity and what it takes to find love in the 21st century.
This show defies explanation and leaves you exclaiming… How?!