From rainforests to ruins and reefs, Honduras has an abundance of culture, natural aesthetics and a seductive cuisine sure to sate any lesbian traveller's appetite.
When you think of Honduras you think of missionaries, Peace Corps or voluntourism, which isn't far off. We shared a flight over to San Pedro Sula with a committed Christian group from Texas in hot pursuit to educate, share their faith and build houses.
But if you look beyond giving back, you'll find the country has rich gifts and endless natural beauty for any tourist with a sense of adventure and an appetite for Caribbean culture and cuisine. Honduras is not a gay getaway per se, yet it's accepting and very gay-friendly. There is a religious ribbon seen in many Central American countries, but it's warm and welcoming. Like Costa Rica, Belize and more recently The Dominican and Panama, Honduras is alluring to the gay community and attracting more lesbian travellers due to its eco aspects and the fact that you get a lot of mileage for your money.
Another myth in the mix in Honduras is crime and guerillas. After dinner at a local's home with a fleet of fully armed (as in rifles) guards, I inquired. What I learned was heartening, unless you're a known local with lots of money, chances are you're neither hot property nor worth kidnapping. Apparently, local businessmen keep their names and successes out of the paper. Good to know.
After an overnight at San Pedro Sula's Intercontinental (a business savvy spot), we hopped a van to Copan. The road was surprisingly pleasant and aesthetically stunning. It's an endless stretch of lush greenery and rolling hills reminiscent of Bali.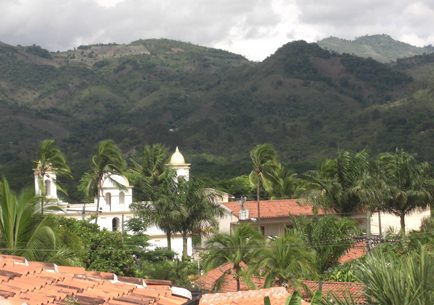 There are a few small towns, as you near Copan, well worth a stop to absorb local culture and characters. No one appears to be in a rush to go anywhere or do anything. Your pace will slow, as you stop for cattle crossing, random hens or stray dogs running with horses. It's a different rhythm.
Two hours in, you'll hit Copan. Bike rentals are available for town tours and are a wonderful means of accessing the ruins. Our first flex of adventure was largely on foot, from hiking the hills, ruins and parks and walking through town. The Copan ruins known as the Paris of the Maya World, where art and culture reigned supreme, is a Unesco World Heritage site nestled in the foothills of Western Honduras. The hour walking tour offers great vistas into the unspoiled countryside of nearby Guatemala.
A stroll through the colonial town of Copan and a weave through the streets is a step back to another time with cobblestone streets and adobe houses, where bare feet, bikes and micro mini taxis are the transports of choice.
Cool off at Hotel Marina Copan, the first-ever hotel in Copan. Loroco, a flower, is a local culinary treasure in Copan. Their Loroco Pollo, a creamy chicken dish is the house specialty. Take time to smell the coffee as owner Jose Raul Welchez serves his own Finca Santa Isabel coffee farmed and grown locally in the shade in a forest canopy of rainforest above Copan. The only thing better than their coffee is the coffee flan. You will literally lick the plate.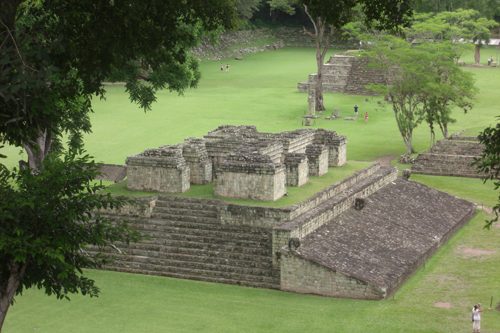 A few kilometres above downtown Copan is the coffee plantation, which is well worth a visit as is Macaw Mountain, a Bird Park and Nature Reserve carved out in a canyon. It's home to Central American Macaws, toucans, parrots and owls recovered from captivity. Surprisingly, the best part is mingling with and handling the birds that will treat you like a tree, resting on your shoulders and outstretched limbs
The perfect cap off to your Mayan adventure is a night's stay at miss Hacienda San Lucas. This century-old eco-lodge is the first of its kind in town. Once accessed by donkey, it's a rustic ride up the hill, well worth a trip in. Be sure to hit San Lucas before the day's light leaves, as it is a scene you will not soon forget. It's a picture-perfect window of bliss as you kick back on a lounge chair on the sprawling lawn with chilled wine overlooking the stunning view of the valley and ruins. It's a hard scene to leave. So don't.
When you do, you'll be rewarded with an intimate candlelit dinner of local Mayan dishes intimately prepared in a traditional kitchen and served with a side of history warmly dished out by proprietor Flavia Cueva. Flavia is the local goddess and spiritual force behind the property. She makes everyone feel at home.
This hacienda known for fertility powers on the mountain is a mix of the simple and sublime from candlelit rooms, to private hammocks and outdoor yoga, a perfect retreat for romance, reflection or for a girl group getaway.
Next stop, La Ceiba, Honduras' eco tourism capital. This eco-oasis is a favourite amongst lesbian travellers with gay-friendly inns (The Diving Pelican and Rio Cangregal). A welcomed detour along the way is Tela, in an authentic Garifuna (immigrants from the island of St. Vincent) village called Miami. It's a far cry from sexy South Beach, with hand made thatched huts on the beach. Hop a boat with a local for a tranquil spin on the Los Micos lagoon. If you linger long enough you'll spot monkeys swinging from trees with babies on their backs.
Driving into La Ceiba where the picturesque and seemingly endless Sierra Nombre de Dios Mountains meet the beach, it's easy to see why locals here live a life with their heads in the clouds as many reside in cloud forests. Honduras is over 80 per cent mountains and home to the world's second-largest rainforest, called The Little Amazon. No place is this more prevalent.
Pico Bonito, the Eco-Lodge at the foot of the rainforest slopes of Pico Bonito (beautiful peak) Park is a hot spot for celebs Michael Douglas and Catherine Zeta-Jones and eco-adventurers alike. There are endless options of activity from horseback riding on the beach tonight hikes in the rainforest and mountain biking.
For a quick cool down, hit the resort natural crystalline pool or one of the many nearby pools, streams or waterfalls in the rainforest. Many opt for a little speed with their water, as white water rafting (level 3 or 4) down the Cangregal River is a huge draw to the area.
Refuel at Pico Bonito's lodge. Their super spicy conch soup is made with a Scottish bonnet and their coffee (steak) medallions with creamy potatoes can't be beaten.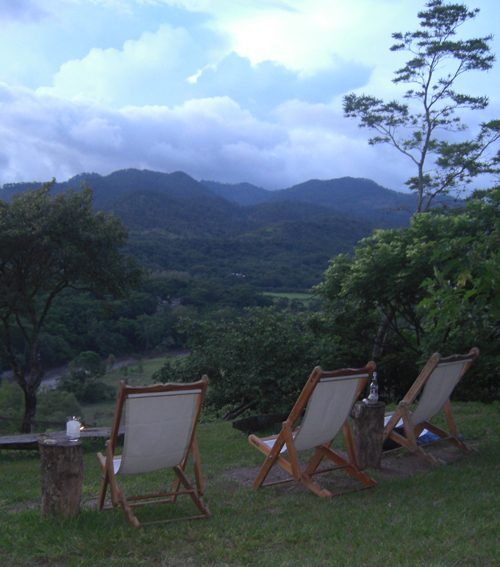 After rainforest and ruin, the reef in The Bay Islands is the perfect finish. This Mesoamerican Barrier Reef is second only in size to the great barrier in Australia and is home to parrotfish, whale sharks, bottlenose dolphins and manta rays among others. The biodiversity is stunning!
Unlike other Caribbean locales, you don't have to take a 30-minute boat ride to get to the thick of it. In Roatan, the most popular of the Bay Islands, you can finish your Caribbean cocktail, leave your cabana, strap on your fins and mask and off you go. Twenty yards past the sand and you're swimming with fishes and weaving in the reef.
The best bet; go with a guide or group, as the tide can get extraordinarily low. You might get stuck in a reef bowl as I did. Your faraway waves and cries for help will only get friendly, island hellos and random slow waves back. Get a local to steer you through clear corridors or you'll return looking like you were in a fight.
Roatan one of the three Bay Islands is the island of choice and Infinity Bay in West Bay is a good jump off to your Roatan tour. You're a water taxi away from Anthony's Key Resort; the divers club and resort in Roatan. Serious divers from around the world have long been coming to Anthony's Key run by Julio Galindo, the Godfather of Roatan tourism. This adventure park is a hotspot set up for serious divers and novices alike with school certifications available on site.
At this family-friendly resort, expect busy breakfasts and tranquil mornings at the resort as guests are off and running getting certified, swimming with dolphins or out with a dive guide by late morning. It's one-stop shopping for the adventure market.
If above-ground action is your thing, pop over to Gumbalimba Park. Hit the history riddled pirate's caves, botanical gardens or animal preserve with one on one time with the monkeys or grab a hold of the zipline canopy. Fly through the forest and down to the beach. There's no better way to take in the local scenery.
Bid adieu to this Caribbean gem with a final sip at The View, above the soon to be sexy Nikki Beach Resort at Roatan, the halfway point on the island. It's no wonder they call it The View, as it is easily one of the best.
Sit back, relax and absorb the island breeze above the still Caribbean Sea. Lazily watch day slip tonight enjoying a mix of fresh seafood from sushi, to ceviche and shrimp. As you blissfully sip their local drink, you'll be reminded that sometimes the most adventurous move you can make, is no move at all. (hondurasinfo.hn)