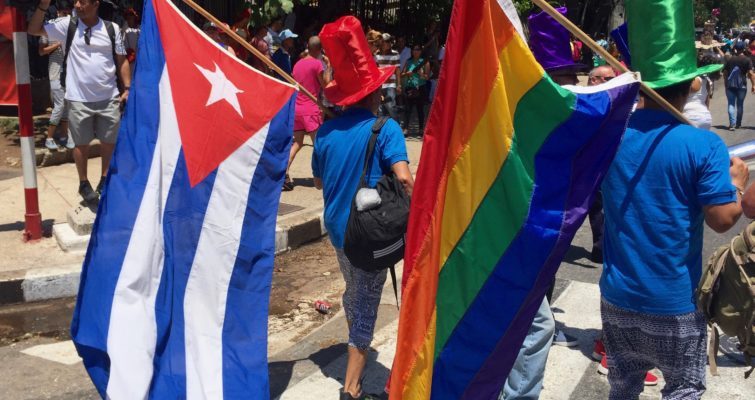 Cuba is certainly a land of dichotomies, and LGBT life there is no different.
For the most part, the population is still fairly conservative. Old style attitudes are abundant, and PDA is frowned upon, especially between gay men (not as much between women, but that's more because affection between women, even straight women, is much more common).
That said, in many Caribbean nations you could risk your life kissing your girlfriend. Not so in Cuba anymore (mostly due to the efforts of Mariela Castro, Raul's daughter, and a MEGA LGBT ally).
The development of homophobia in Cuba is closely linked to its social development. In the 1960s, the introduction of Communism marked a rise in homophobia. It was only in the mid-1970s that more tolerance began to surface once more. The decriminalization of same-sex relationships came about in 1979, however, there was still a ways to go.
These days, LGBT rights are protected under the law. You can't be denied a place to live, or a job for that matter, just because you're a lesbian (unlike 13 states in the US which still have no protections for housing or employment). In early 2019, the Cuban legislature will vote on a referendum to legalize gay marriage. It is not perfect, but its moving in the right direction.
Americans will have to jump through some hoops to qualify for a visa (due to US law). Europeans do not, and they are ubiquitous tourists all over the island. However you get there, this is a fab, transformative time to visit Cuba.
Check out the club scene at Amanecer, X Y (formerly Bar Mixto), and Bar Swinger, all in Havana.  You may run into Daymaris Peraza Zamora, a 36-year-old drummer and outspoken lesbian, pictured above (red shirt) with a friend, Yunisleidy Marquez Olvera, a 26-year-old lesbian considering transitioning to male (and who also has an 11-year-old daughter).
If you're able to stay on the island (as opposed to just visiting by cruise ship) check out Los Vitrales de Galiano– a BnB privately owned by an incredibly sweet, out gay couple, Hector Rodriques Guzman and Omar Diaz Valdez (they've been together ten years!). Their "casa particular" is welcoming to all, very central, and located in a quaint building from the 1800s.
The actual pension is brightly painted with very high vaulted ceilings, and the rooms have A/C, hot water, and private bathrooms. Omar will make you breakfast every morning, with eggs, cheese, butter, yoghurt, tomatoes, bakery bread, a ton of fresh fruit and just squeezed juice, and of course, Cuban coffee.