Recently, I took an informal survey among my friends as to which was their favourite Hawaiian island.
The answers were as diverse as the islands themselves, but the Big Island saw some big love: for its distinctive and diverse geography, and its three active volcanoes— Mauna Loa (which last erupted in 1984 and is due for an eruption) Kilauea, which has been continuously erupting since 1983, and Loihi, located underwater off the southern coast.
Like the other Hawaiian islands, the Big Island offers plenty to do, such as hiking, biking, snorkelling and swimming—with white sand, black sand, and a green sand beach to choose from. There are tons of adventures to have on this island, but do them with KapohoKine Adventures. This award-winning, sustainability certified, gay-owned tour company conducts fun, informative and safe expeditions in Kona, Hilo and Hawai'i Volcanoes National Park.
Plus, KapohoKine Adventures is the only tour operator in Hawai'i that provides transportation from every hotel or vacation rental on the Kona-Kohala Coast and Hilo districts, which makes life easier for you if you are new to the island.
WHERE TO STAY
Because the Big Island is big you need to choose your accommodations depending on which part of the island you need to get to. We were recommended the Courtyard King Kamehameha's Kona Beach Hotel for a base on the West coast.
Located an easy drive from Kona International Airport, and on the historical site where King Kamehameha, the famous King of the Hawaiian Islands once lived, the modern hotel has its own white-sand beach, with the shopping, convenience and attractions of Kailua-Kona just moments away.
The guest rooms are generous in size, have comfy bedding, free Wi-Fi, and private balconies with views over Kailua Pier from which you may witness the reenactment of King Kamehameha's sunset landing by outrigger canoe.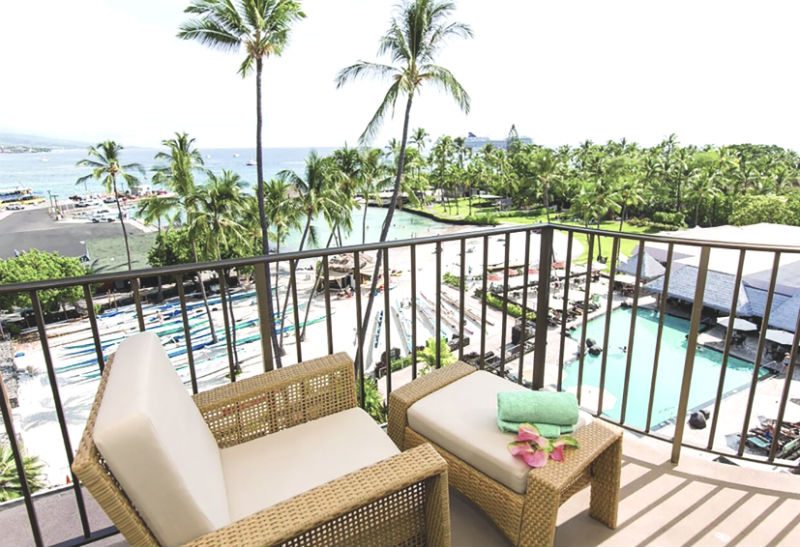 THINGS TO SEE AND DO
Take the Waipi'o Valley Explorer, a day trip tour that feasts your eyes on the spectacular and dramatic Big Island landscape. This tour charts the northeastern side of Hawai'i's Hāmākua Coast after a mesmerizing drive through the unique landscape between the Mauna Loa and Mauna Kea volcanoes. The first stop is Rainbow Falls in Hilo, a waterfall that literally produces rainbows from its midst; then onto Hilo Farmers Market and stalls overflowing with bountiful local fresh produce, snacks, flowers, and handmade local arts and crafts.
Onomea Bay and the Hawai'i Tropical Botanical Garden will soothe your soul with their tranquillity, and the opportunity to hike gently through more orchids, tropical flowers and palm forests than you've seen in your lifetime, and onto the Akaka Falls State Park with its singular 442-foot tall waterfall. Venture off the beaten track with a transfer at Waipi'o Valley Artworks to a four-wheel-drive van and a white knuckle but fun, one-thousand-foot descent down into the breathtakingly beautiful and magical Waipi'o Valley. This was once the boyhood home of King Kamehameha, and it feels enchanted.
Over the next couple of hours, your guide will take you through the valley and explain the local customs and lifestyle, and if you're lucky you will rest beside a pebbly river and taste the fresh young coconut.
For something simply stunning (and romantic) see Kīlauea Volcano and Hawai'i Volcanoes National Park on a fully narrated adventure that culminates in an evening volcano tour—from a safe distance! Leaving the lush greenery of Hilo behind you soon enter the strangely beautiful black basalt lava flows in Kalapana, a village completely destroyed by lava just a few years ago. Walk across the solidified lava flows to the newest black sand beach on the island—which was once the best swimming beach on Hawai'i Island.
Nothing lasts forever, not even in paradise! A visit to Volcano Winery is next with a group tour, wine tasting and early alfresco BBQ dinner in verdant surroundings, then it's onto Hawai'i Volcanoes National Park, where you'll want to brush up on your volcano knowledge at the Jaggar Museum before taking in the incredible sight of the volcanic craters, steam vents, the famous red glow of Halema'uma'u Crater at sunset.
Or you can take the Kilauea Hike 'n Glow Tour, which was designed for the more active visitor looking to hike into unique areas of the Hawai'i Volcanoes National Park and discover what makes this place a UNESCO World Heritage Site and International Biosphere Preserve. After a walk through the Thurston Lava Tube, hike down into the Kīlauea Iki crater through the rainforest and across the still-steaming crater floor.
Tarry for a simple lunch of sandwiches, embark on the return hike and conclude with a sunset stop at the glowing Halema'uma'u Crater. For those wanting to get up close and personal with the lava flows, KapohoKine Adventures has added Lava Expeditions to their many tour options. Not for the faint of heart or the poor of health, this tour takes you out to the active eruption site where you have your best chances of seeing flowing molten lava with a National Park Service certified guide.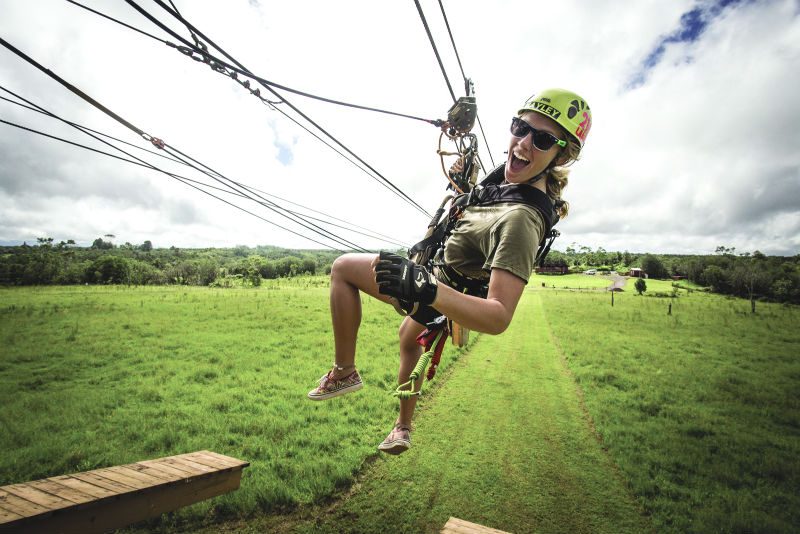 And let's not forget the high excitement of ziplining! I am a self-confessed zip-lining wimp but through Zipline Through Paradise, KapohoKine Adventures offers a top-notch, safe, expert, eight-line zip course that is the only course in the Hawaiian Islands to use on every line a redundant double-cable safety system, zipSTOP automatic brakes and dual lines so that you can zip with your special lady. It's an incredible high to zip over a dramatic waterfall with your gal!
Reward yourself for your fearlessness with a romantic, casual, and healthy dinner at Hilo Bay Cafe where you can enjoy, locally inspired seasonal dishes, artisanal sushi (try the spicy lava sushi roll), modern American food (try the Maui rum BBQ ribs or the taro-quinoa veggie burger) and hand-crafted cocktails while gazing at the sapphire blue sea and majestic Mauna Kea in the distance.
LAVA LOVERS
The gorgeous guys behind all the volcanic fun are Tony DeLellis and Gary Marrow, who moved from L.A. to the sleepy town of Kapoho on the eastern coast of Hawai'i. Their tour company, KapohoKine Adventures (kapohokine.com) began when they put together itineraries to show visiting friends and family around, and they soon realized they could offer their knowledge to the hundreds of ocean liner passengers disembarking in Hilo, looking for something to do. "We'd drive down to the port in our Suburban with some champagne, sushi, and a handmade sign offering local tours, and it just took off," says Marrow. Fast forward a decade and DeLellis and Marrow now boast more than 30 vehicles, 100 diverse and dedicated employees, offices in Hilo, and an extensive menu of award-winning tours that suit tourists and travellers alike.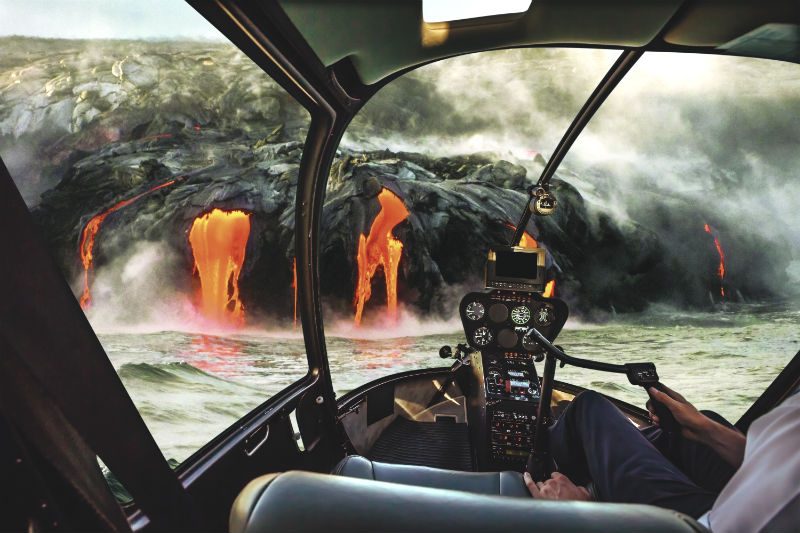 Always out and proud, the couple are respected and supported by locals who benefit from these visionary business owners and their contribution to the island. A substantial employer, KapohoKine also gives back to the local community through charity drives and sustainability, with all tour guides mindful of the environmental impact of every guest. KapohoKine guides are open, tolerant, and well-versed in local lore; it's through a guide that I learned historically, that Hawaiians were polygamous and some had same-sex relations, were natural conservationists, and had the kind if values that we should always cherish.
LOCAL LESBIAN – ELIZABETH ZIFF
The lead singer of the band BETTY has a house in Puna, an hour south of Hilo. Depending on gigs, she spends about 3 months of the year there to recharge. "It's all about nature here," says Ziff. "Adventure and a rougher side of Hawaii. Rough seas, dramatic coasts, flowing lava, swimming with dolphins, going to tidal pools, snorkelling, surfing. My area is really gay and a half-hour walk from Kehena, the black sand clothing-optional beach," she says. "It's dangerous because it's black sand and the shelf drops off right away. That being said, it's incredible to swim there. Dolphins and whales breach there in the season because the water is so deep." For Ziff the goddess vibe is strong. "Pele (the Hawaiian goddess of fire and volcanoes) does what she wants, you never know where she's gonna pop out. It's a place where women can really be themselves. Hang loose."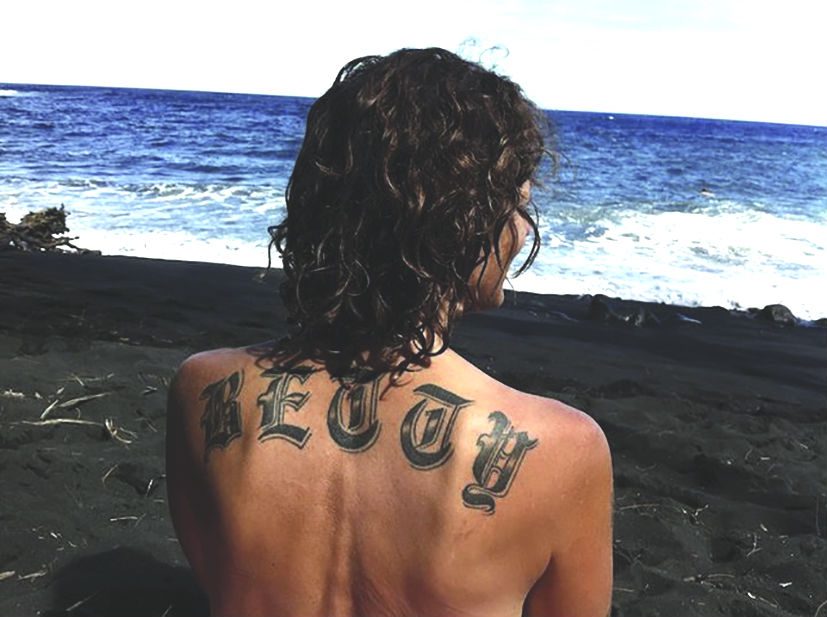 ELIZABETH'S BIG ISLAND PICKS
Yoga at

Kalani Oceanside Retreat

. "It was started by a wonderful gay man called Richard Koob. He is responsible for creating a really gay vibe there and people came over 30 years and stayed," says Ziff

Uncle Robert's Awa Bar and Farmers Market

, an open-air venue with a night market, live Hawaiian music, and open mic, is located at the end of Red Road, Kaimu, Kalapana. "Do your thing and nobody really bothers you. It's not a big deal to be gay or lesbian there," says Ziff.
Delicious Thai food in Pahoa at

Ning's

. "BETTY has a song called 'Sticky Rice' on the new CD that we wrote about the Sticky Rice and Mango dessert from there. So good!"
Don't forget to look up. "

Stargazing

is amazing. You feel like you're in the Milky Way, it's so close and bright. The full moon lights up like the sun and casts shadows everywhere."
Visit with your

lover

because "most people are coupled off…but there's always the thruple…!"
To start planning your Big Island adventure visit gohawaii.com.