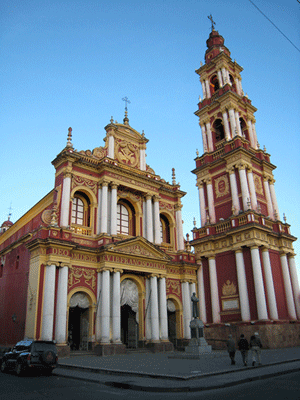 Beautiful women, spectacular scenery and a weak peso make Argentina the perfect lesbian destination for tough economic times and there's a lot more to see than the capital city.
Imagine a succulent steak dinner for two and a bottle of fine wine for $25, or walking deep into the dense, lush forests of the Andes to a hut offering warm food, home-brewed beer and a comfortable place to lay your head at night. Welcome to Argentina.
Argentina is home to gorgeous people, the longest and second highest mountain range in the world and a rainbow of ecological diversity. Its bustling, metropolitan cities offer fashion and sophistication. The eye candy and culture make it an enticing option for travel. The weak peso makes it a frugal traveller's dream.
There is one problem, though. Argentina is a huge country. It is nearly as long as the United States is wide, with thousands of miles of uninhabited, open land. Once beyond the capital city of Buenos Aires, it is easy to become confused about where to go, what to do, and where to stay.
There are three areas that deserve to be put on the travel roster. To the north, there is the textile capital and native cultural centre, Salta. In central Argentina, nestled in the valleys of towering mountains, is the wine capital region of Mendoza. Farther south is Bariloche, the northern gateway to mysterious and raw Patagonia. Read on to learn hard-to-find information about Argentina's vacation destination stars.
Salta
Nicknamed Salta la Linda (the pretty Salta) because of the surrounding natural beauty, Salta is a region interlaced with history and folklore. It is the burial ground for the sacrificed Inca children. The popular, romantic, folkloric gaucho dance originated in the open Lerma Valley and Spanish colonialism left behind intricately ornate details in the city's architecture.
The city centre is a great place to explore on foot. While walking, it is easy to inspect the elaborate work put into the pastel and sherbet-coloured 18th-century buildings. Outdoor cafés frame the perfectly manicured plazas and offer a spectacular place for people-watching. A gay-friendly excursion company, Balance Travel Adventure, is located in the centre of town on Calle España. They specialize in making any travel fantasy a reality and offer trips that cater to lesbian visitors.
Textile creations like rugs, blankets and shawls are a specialty to this area. The best place to find handcrafted wares is the Mercado Artesanal (the Artisan's Market), located outside of town on the west end of Calle San Martin. There is also a city fair on Sundays, Feria de Artesanal (local artisan fair), located on Calle Balcarce.
A huge number of museums filled with local culture and art celebrate the ethnic history of Salta. Among these is the Museum of High Altitude Archaeology (MAAM). The museum is the final resting place for three sacrificed Inca children found on the neighbouring mountain summits. It was created by scientists, anthropologists and the government of Salta to help protect and educate the public. It is open Tuesday through Sunday and holidays, 9 a.m.–p.m. and 4 p.m.–9 p.m. (ingress is closed a half hour before closing). Entrance costs 10 pesos (approximately $3.50 USD) for general admission, seniors and children are free. They also offer free admission Tuesday through Friday, 9 a.m.–10 a.m.
The live music scene is active in Salta. You can find many hot spots covering everything from disco to jazz on the pedestrian-only Calle Balcarce. Zeppelin Rockeria, located on Calle Necochea, is a great gay-friendly spot. It's a trendy pub that offers inspired mixed drinks and boisterous music. La City Night Club is another vibrant disco worth checking out. It claims the best views of the city and the bar offers imaginative drinks. Located on Avenida Asunción, this is a very open-minded, energetic place.
Accommodations range from five-star to hostel. On the high end of the spectrum is the 145 room Sheraton Salta Hotel, a modern, classy establishment sitting at the base of Saint Bernardo Mountain (which has a magnificent view, accessible via trail or gondola). A four-star option is the eleven-room boutique Papyrus. This eclectic hotel offers a different design for each room, a pool, Jacuzzi and wi-fi. If you're looking for a three-star option, I highly recommend the Aldaba Hotel. This restored historical building with five rooms and an apartment is located eight blocks from the city centre.
Mendoza Province
Six hundred miles south of Salta is the Mendoza province, the land of gigantic mountains and prestigious wineries. Mendoza city is an electric, metropolitan oasis full of art, museums and savoury restaurants (the most famous being the Francis Mallman's, 1884).
There is, on most days, a local artist's market in the main square, Plaza Independencia. On busy weekends and holidays, the marketplace extends into other parks, such as Plaza España. On the small streets surrounding the main parks, there are boutiques full of hand-crafted treasures and stylish clothes, often hiding behind nondescript storefronts. Located in the centre of town on Granaderos street is Aventura and Wine, a gay-friendly wine tour service.
Mendoza is a relatively forward-thinking and open-minded metropolis that offers varied nighttime options. La Reserva, a small, intimate place with great ambience, is located at Rivadavia 32 in the city centre. It is a cabaret-style setting where the most famous Mendocino transvestite diva, La Turca, puts on varied dance numbers with her accompanying troupe. The drag show is Tuesday through Sunday, beginning around 12:30 a.m. Afterwards, the dance floor wakes up to a thumping techno beat. Not far away, near the bus station, is Estación Miró. Located on Calle Costanera, this boisterous club is the after-hours hot spot of choice. It is the place to be on Sunday nights, especially late.
For accommodations, there are several gay-friendly places available. The Hostel Alamo, located in the centre of town, is a newly renovated historical building. The NH Cordillera, a four-star hotel located near bustling parks and the city centre on Avenida España, is also accommodating.
Beyond the metropolis lies the valley leading to the mighty Mount Aconcagua. One of the highest mountains in the Americas, its ominous presence becomes more impressive the closer you get to it. The national park, located at its base, offers a fabulous view of its grandeur. Near Aconcagua is another natural phenomenon, Puente del Inca. This is the site of ancient Inca healing grounds and where nature has created a sulfuric bridge that stands above a raging river.
Bariloche
Another eight hundred miles south is Bariloche, a city of about 150,000 people. A lush, majestically beautiful place, it is very reminiscent of the European Alps. Much of the architecture is log and stone, a local handcrafted specialty. Divine chocolate, flavorful local beer and world-class trail networks only add to Bariloche's attraction. The city hugs the southern coast of Lake Nahuel Huapi, dispersing out into suburban and rural villages.
The nightlife is hopping in the city centre. The combination of thousands of Argentine youth celebrating graduation and a multitude of international travellers create a lively atmosphere. It is a fun and crazy mix that often leads to hilarious conversations involving multiple languages. The dance clubs are mainly located on the road perpendicular to the lake, Juan Manuel de Rosas, each offering its own unique atmosphere. There are also smaller bars and nightspots on the two parallel streets heading away from the lake, España and San Martin.
Bariloche's mountains are interlaced with hundreds of trail networks that are connected by manned huts. The best months to do the circuits are February, March and early April because of the lack of crowds, decreased snowmelt run-off and the absence of the biting flies that plague the other months of the year. Most of the huts are stocked and offer tasty dishes and drinks. A few of the refugees even brew their own frosty beer. Some offer as many as 80 beds, but it is best to check into availability before you go. Club Andino, the hiking and backcountry information centre located in the city centre, offers advice and free maps.
Accommodations range from international hostels in the middle of the city to the award-winning Hotel Llao Llao. There are two explicitly gay-friendly establishments. Hotel Design Suites, located on Avenida Bustillo, is a posh, modern establishment with lake views. Another option is the Hosteria del Prado. It is a gay-owned establishment, located minutes from the city centre on Avenida Pioneros. There are also two different companies that work with homes in the luxurious area of Bariloche, Llao Llao. Que Bueno Property Management offers a variety of house sizes, all with incredible views. Balcón al Lago is owned by a gay couple and offers various bungalows and an apartment built over the shores of Huapi.
Argentina is a land of travelling opportunity, a country full of hidden treasures. Whether it is Mendoza, Bariloche, Salta or another paradise, there is always some type of entertainment waiting around the corner. It seems, then, the problem is not the vastness of the country, but where to go first.
Salta
Balance Travel Adventure
Calle España 385
54 (387) 421 5625
balance-evt.com.ar
Sheraton Hotel
Avenida Ejercito del Norte 330
54 (387) 432 3000
www.sheraton.comsheraton.com
Papyrus Boutique Hotel
Pasaje Luis Linares, 237
54 (387) 422 7067
hotelpapyrus.com.ar
Aldaba Hotel
Mitre 910
54 (387) 421 9455
aldabahotel.com
La City Club Night
Avenida Asunción sin numero, Portezuelo
54 (387) 15 4 425183
cityclubnight.com.ar
Zeppelin Rockeria
Necochea 714
54 (387) 15 4 024804
Mendoza
La Reserva
Calle Rivadavia 32
Estación Miró
Calle Costanera, near the bus station
Hostel Alamo
Necochea 740
54 (261) 429 5565
hostelalamo.com
NH Cordillera
Avenida España 1324
nh-hoteles.com
Bariloche
Hotel Design Suites
Bustillo KM 2.5
54 (866) 376 7831
designsuites.com
Hosteria del Prado
Avenida Pioneros KM 4.3
54 (294) 444 2754
hosteriadelprado.com.ar
Club Andino-Bariloche Division
20 de Febrero, Nro 30
54 (294) 442 2266
clubandino.org
Que Bueno Property Management
54 (530) 554-1356
us@livinginpatagonia.com
barilochehouse.com
Balcón al Lago
villallaollao.com.ar