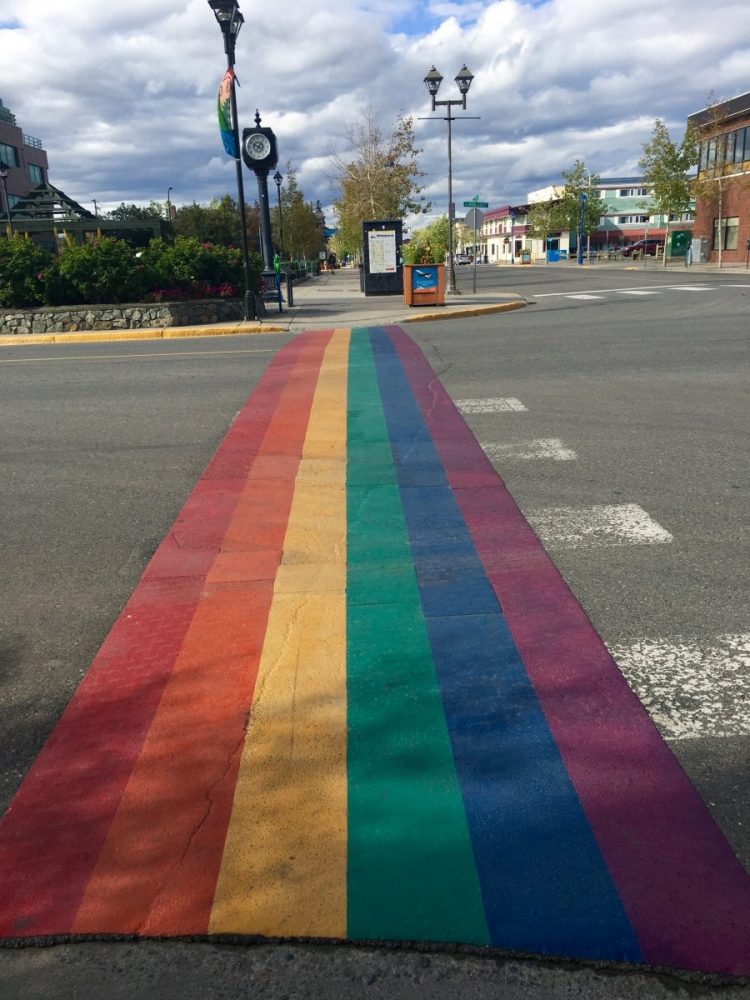 Calling all adventure girls! Explore Canada's wilderness and the Trans Canada Trail Yukon.
There really is nowhere like Yukon, also commonly called The Yukon.
This wild and precious piece of Canada tucked up in the far northwestern corner is an adventurer's delight to explore. In these especially troubled times, here is a place where you can get back to nature and see stunning scenery that revives your faith in the world—natural and cultural.
The territory offers wide-open spaces that are filled with unspoiled vistas, gorgeous wildlife, First Nations (indigenous) culture, loads of fun outdoor activities for all seasons and fitness levels, unique northern food, and friendly and LGBT-accepting locals.
It's a particularly good time to visit because of the renewed and inspiring dedication to the Trans Canada Trail—also known as The Great Trail, which is thought to be the world's longest network of recreational trails.
Construction on the Great Trail began in 1992 and the Trail, with its many tributaries, stretches from the Atlantic to the Pacific and Arctic oceans. That's a lot of potential exploring to do!
But most remarkable about the Trail is the fact that it is maintained, developed and monitored in sections at a municipal level by local individuals, organizations, and conservation groups. Plus, there's even a Great Trail app you can download and explore.
As remote as it may seem, it's not that difficult to get to Yukon. All you need to do is fly into the town of Whitehorse from a major Canadian city, and you're in the hub for accommodation and all your outbound activities. Whitehorse in itself is a charming and picturesque town, and during our visit in August, we noticed a rainbow flag painted on the main street and much cultural diversity in evidence, including LGBT flags in coffee shops.
Even though you're in Canada's "outback," LGBTQ rights and visibility are not overlooked because you are, after all, in ever-tolerant Canada.
It's an easy transfer to downtown via airport shuttle to your hotel, which should be the Best Western Gold Rush Inn. This comfy hotel is an unpretentious, friendly, old-timey place that serves hearty breakfasts and offers free Wi-Fi and comfy beds. It's centrally located to the town's shopping, eating, and many tourist activities. Before or after a tour, fuel up at Klondike Rib & Salmon, Giorgio's, Dirty Northern Pub, or The Deck at Coast High Country Inn. If you need a beer to get you settled, sample the selection at the Town & Mountain Pub, or visit the Woodcutter's Blanket. Check the "What's Up, Yukon" newspaper for live music/local entertainment options.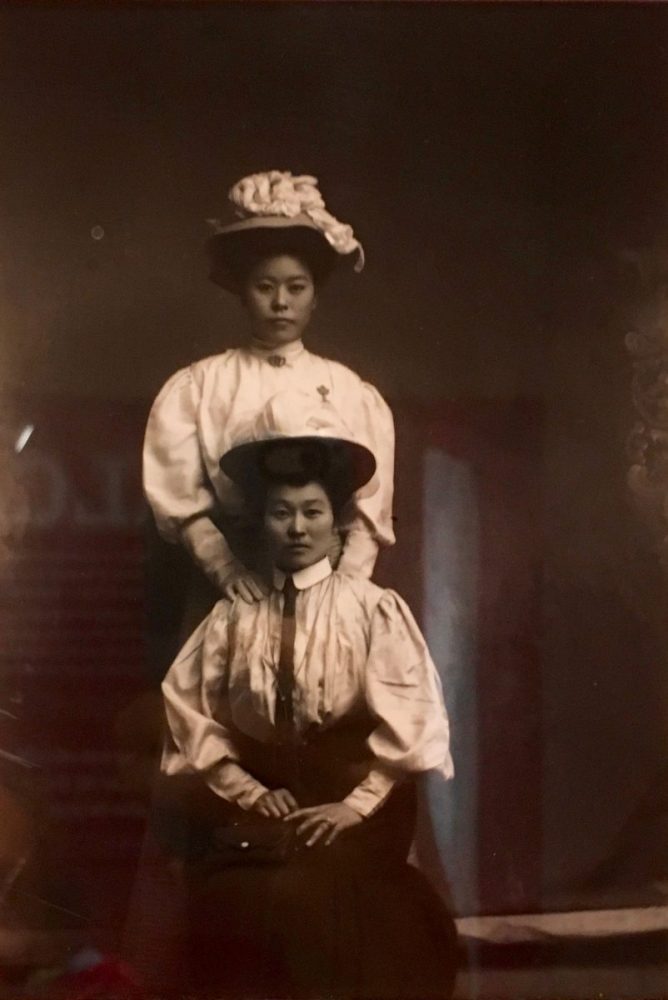 The MacBride Museum is a great place to get a handle on the fascinating history of Yukon, including its frontier women of the Klondike Gold Rush such as Shaaw Tláa, also known as Kate Carmack. This town might be small (pop. 28,000) but it is the capital of Yukon and the only city in the territory. Therefore it has a vibrant community and an interest in arts, culture and live entertainment—and an LGBTQ community.
The coffee at the Best Western is fine but if you're fussy about your brew stop by local favourites, Baked Café, Burnt Toast Café, and The Claim. Afterwards, browse the numerous bookstores, which favour Yukon and Klondike-themed books, art galleries and unique gift shops including the North End Gallery, Arts Underground, Mac's Fireweed, Midnight Sun Emporium, and Horwoods Mall. If you follow the trail along the Yukon River with its distinctive glacial-hued water it won't take you long before you arrive at the S.S. Klondike sternwheeler, a magnificent vessel that is part of Yukon's history as a place of trade. You can also take an easy bike tour of Whitehorse's Millennium Trail (5km), past views of Grey Mountain, and through the lovely and peaceful boreal forest to get a taste of the natural beauty of the area—all this just steps from the city centre. A point of curiosity is the Whitehorse Fish Ladder – the longest wooden fish ladder in the world, which assists salmon in making their 3,000 km-long migration upriver.
But the best way to become acquainted with Yukon's natural beauty is with a guided historical nature walk through beautiful Miles Canyon with Who What Where Tours. This walk highlights the history of the Klondike Gold Rush, including abandoned rustic camps used by miners and traders. Our friendly female guide regaled us with stories from the frontier days, some of the leading characters, and the fruitful interaction, trade, and intermarriage between first settlers and indigenous people. This is not a strenuous hike along the cliffs above the rushing teal-coloured river, but it's wise to wear sturdy shoes, bring water—and be prepared to use nature if nature calls.
If you enjoy spotting local animals in an environment that is part zoo,  part safari, take an informative tour along the Great Trail's Takhini Hot Springs road to the Yukon Wildlife Preserve. Another way to experience the Trans Canada Trail is of course on horseback with Yukon Horsepacking Adventures. Ride on the Dawson Overland Trail, a Klondike Gold Rush-era transportation route between Whitehorse and Dawson City (and the only land route going north until 1955). Mosey on through the forest and enjoy spectacular views from horseback and then conclude your ride with a BBQ dinner on the ranch property. Family-run and hosted, this is one way to meet the friendly locals and do as they do.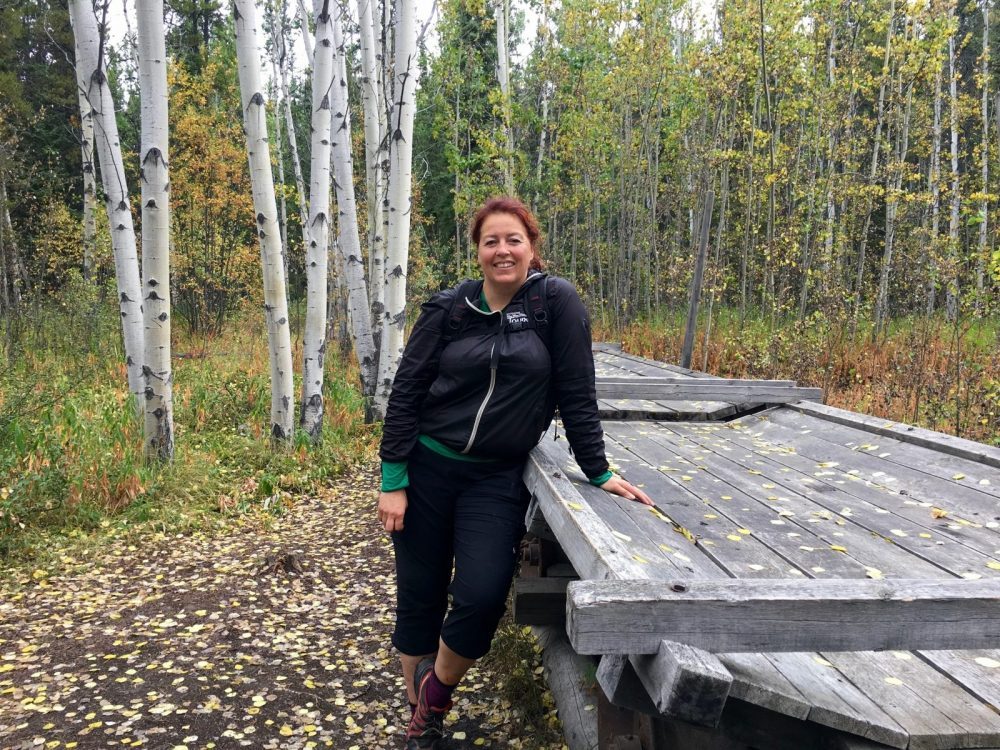 Hike with Taiga Journeys
Leaving Whitehorse takes you to some even more beautiful Yukon countryside, including the spectacular Emerald Lake, the picturesque village of Carcross with its visible indigenous arts and culture and the World's Smallest Desert, and the Southern Lakes region. Hit the heights with a female guided hike with Taiga Journeys. The Mountain Hero trail is a 2-3 hour hike, (depending on fitness level), and when you reach the top of the mountain you will be rewarded with some incredible 180-degree views. For overnight accommodation in this area, we can recommend the chalet-style Inn on the Lake, a favourite with locals. Enjoy a gourmet family-style dinner, mix with locals and other guests and enjoy relaxing views of tranquil Marsh Lake.
The next morning get a jaw-dropping bird's eye view of the region with a flightseeing tour of the Southern Lakes region with Alpine Aviation. Our small red seaplane was expertly piloted between stunning mountain ranges and over turquoise rivers, and emerald-green forests, with snow-capped peaks glowing in the distance. We even flew close enough to view Thinhorn sheep grazing on the subarctic mountainsides. I'm not a fan of flying in small planes, but this ride was definitely worth buckling in for. Keep your camera handy as everywhere you look is picture postcard-worthy!
To actually get on or in the Yukon River and experience its grandeur (it is, after all, one of North America's longest waterways and once a major transportation route) you must canoe a section of river with Up North Adventures. You'll need some stamina to paddle this far, but you will be rewarded with some iconic views, and a campfire shore lunch on a little river island—think fire-roasted elk hotdogs!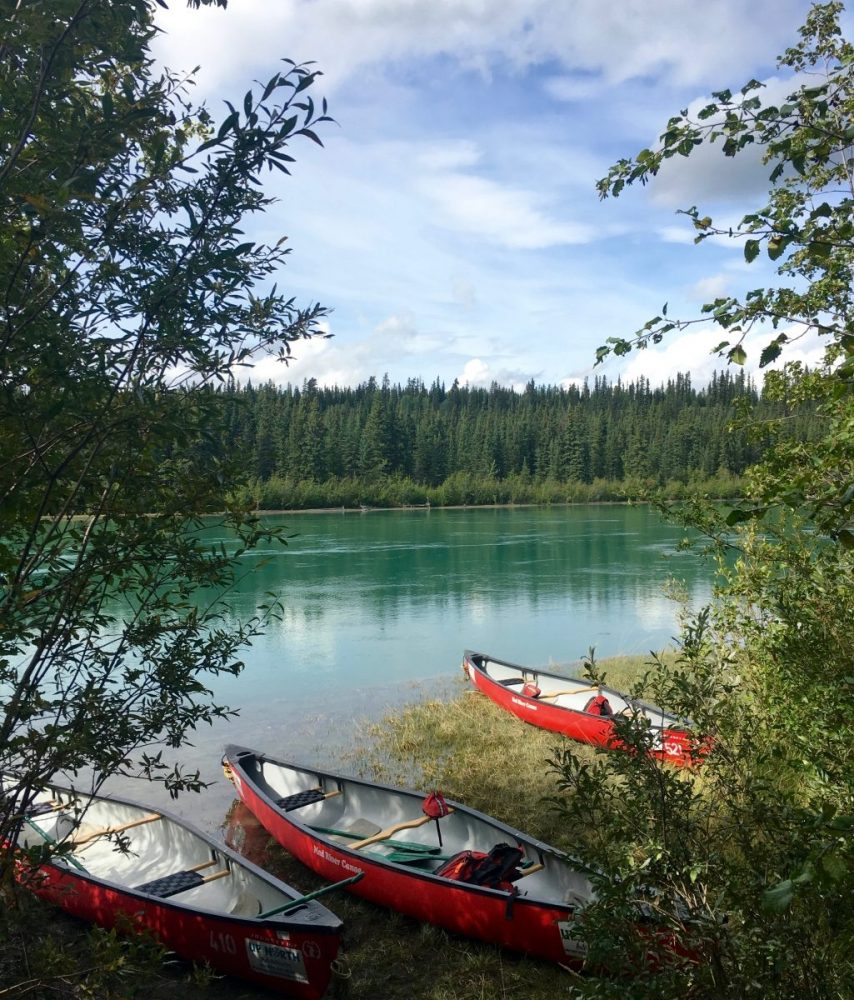 While summer is delightful for camping or hiking, Yukoners relish the outdoors no matter how low the mercury drops and indulge in cross-country skiing, snow-shoeing, and snowmobiling across the vast network of trails that start at downtown Whitehorse, throughout the city, and extend to the Mount McIntyre Recreation Centre—don't forget the Northern Lights, which are best viewed from late August to mid-April and strongest in the winter months when there is less solar activity. If you don't wish to adventure into the wilderness, there are also activities in town, such as ice hockey games, snow sculpture displays, The Frostbite Music Festival and the Yukon Quest sled dog race.
Yukon Travel Tips:
Depending on what time of year you travel, you'll need to be prepared to deal with a Northern clime. Even in summer, you should bring a scarf, hat, fleece or sweater as the weather is changeable and cools substantially overnight. It's a casual culture, so no need to pack anything fancy, even if you are a diva. Sunscreen and moisturizer help protect you from the semi-arid climate and sun, and sturdy shoes for walking, hiking, and biking are a must. If you're planning a winter visit be sure to make contact in advance with some of the winter recreation groups based in Whitehorse, such as the Klondike Snowmobile Association who can acquaint you with the rules, regulations, and customs of active winter adventure in Yukon.