Two of the biggest names in LGBT travel combine forces for the ultimate family vacation.
Olivia Travel is the top name in travel for gay women, and R Family Vacations is the leader in LGBT family getaways. Now, they've combined forces to bring you a new experience and one that Olivia's president and founder, Judy Dlugacz, describes as "the greatest vacation we can conjure up."
"We wanted to do a family and friends vacation for the entire LGBT community, and the best way to do that was to partner with another great company with the same values," says Dlugacz. "R Family is that company. We are old friends and both of us think and breathe service, great programming, and entertainment—along with love for our community first and foremost."
Kelli Carpenter, who heads up R Family Vacations with Gregg Kaminsky, is also enthusiastic about the new venture. "We had been in discussions with Olivia for a couple of years, developing a plan for our brands to come together to create a spectacular product," she says. "For R Family Vacations, it allows us an opportunity to partner with a company that has over 30 years experience in the travel world in order to grow our brand to the next level."
If you're familiar with either brand, you know that each offers the trip-of-a-lifetime experience, with dedicated teams, activity-packed itineraries, and signature entertainment. The value of lesbian-only travel will merge with the Everyone Is Welcome motto, which embraces all types of families, genders, and sexualities.
Carpenter believes this is "the new face of LGBT travel." She notes that she and Kaminsky have "always wanted our vacations to reflect our personal lives. We travel with each other, my kids, and our friends. There will always be people in the LGBT community who prefer to travel with just gay men or lesbians. This is different. This is for everyone. This is the LGBT vacation that is for you, but now you can bring your family and friends— straight or gay—with you."
For their inaugural family and friends outing in July 2016, Dlugacz and Carpenter chose the Hard Rock Hotel Vallarta in Puerto Vallarta, Mexico. "Olivia has been renting the entire Hard Rock Vallarta for many years, so we know the club really well," says Dlugacz. "It is an amazing property right on the Pacific Coast, with giant swimming pools and a great kids' program, which we will enhance as only R Family and Olivia can do. It is also a Four Diamond hotel, so the accommodations are quite luxurious, with five restaurants at the resort. There is also an incredible $1,800 credit per room for spa and excursions, and much more."
Carpenter agrees, adding that Puerto Vallarta is a gay-friendly town, easy to reach from most major cities, and Hard Rock is a trusted brand that has invested in expanding its kids' programming.
Still a year out, the resort is booking fast. "We have just announced this joint vacation and we are already 25 per cent full!" exclaims Dlugacz. "Gay dads, lesbian moms, aunts, uncles, grandparents, kids of all ages—and our families of choice—come and play for a week. We promise you an amazing experience!"
"This will be the biggest LGBT family resort vacation ever offered," says Carpenter.
And into the future?
"We all hope that this will be a very successful first vacation together so that we can do more and more. We truly are a perfect match to make these trips the ultimate in family and friends experiences," says Dlugacz.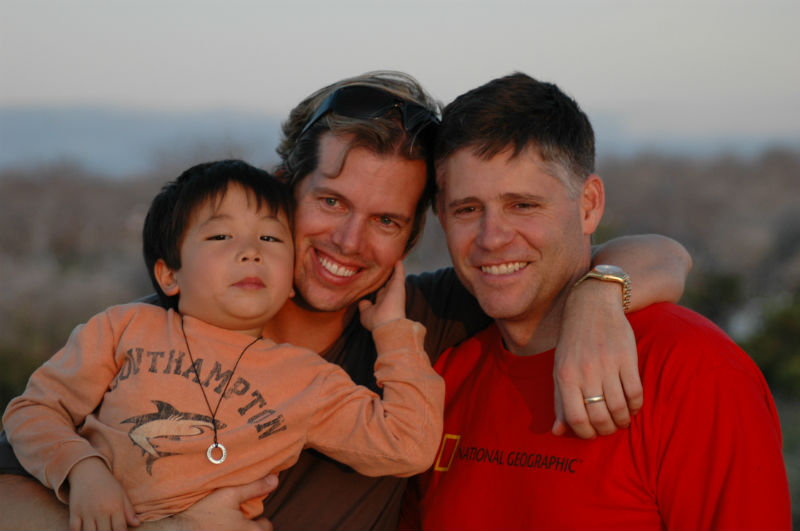 For more information and bookings visit www.olivia.com and www.rfamilyvacations.com