Whether it's music, food, cocktails, or culture, the Crescent City is ready to show you a good time.
Rolling down St. Charles Avenue in a vintage 1920s streetcar. Sampling fresh beignets at Café du Monde. Dancing to live music at Tipitina's. Sipping Sazeracs on Royal Street.
One could try to summarize New Orleans through a particular place or dish or sight. But there's no single experience that can explain the magic of Crescent City. It's a collective atmosphere, a blend of food, music, heritage, and revelry that feeds the senses and inspires the soul.
The city's vintage is key. New Orleans celebrated its 300th year in 2018, and over three centuries it's played home to legends that span every kind of archetype—from pirates and heroes to artists and chefs. Queers and dandies, of course, are among the colourful characters too, led by natives like Truman Capote, Lillian Hellman, Big Freedia, and so many others whose legacies are inherent to the homegrown community.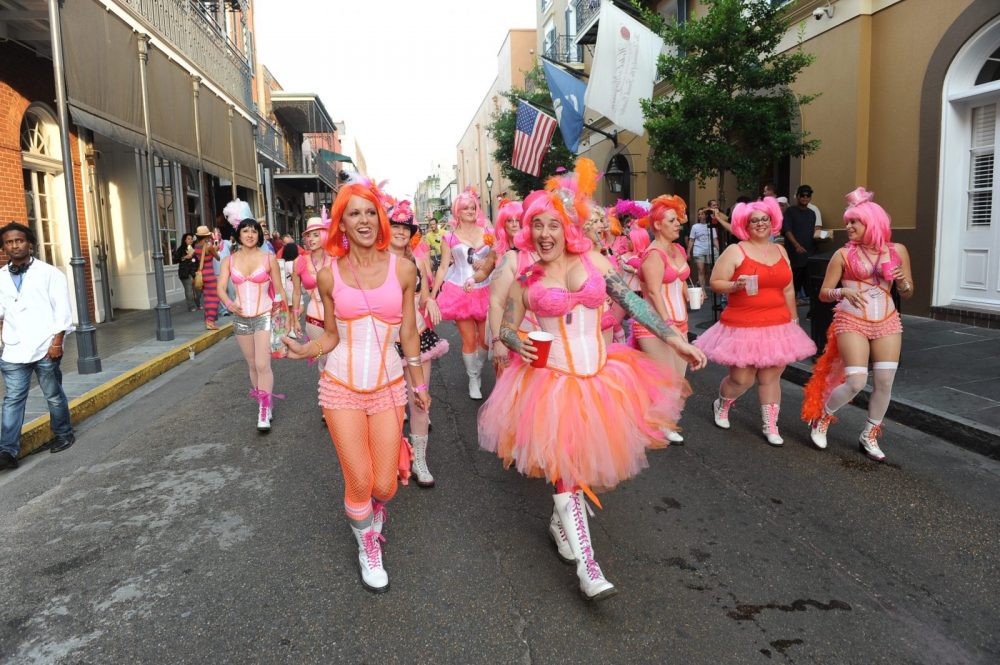 Festigals
IMAGE: Cheryl gerber
Fetes for All Seasons
Visiting New Orleans is a chance to join the effervescence. To start, head to the French Quarter and let the gaiety take you on a journey. Jackson Square and the French Market are major landmarks from which narrow streets branch out, leading to Bourbon Street's open-air music venues and bars. Around St. Ann and Dumaine streets, flirty gay spots like Good Friends, Bourbon Pub & Parade, and Oz make this the city's main LGBT hub. While there's no lesbian bar, the third Saturday of each month brings the wild GrrlSpot party to various clubs around town.
Special events are big in NOLA, and the gay community has several grand, annual occasions. New Orleans Pride hosts parties for days capped by a flashy parade around the Quarter. But rivalling Pride is the long-running Southern Decadence, which coats the Quarter in rainbows every Labor Day weekend. Inside the festival's LGBT-friendly sponsor hotel, the Bourbon Orleans, Napoleon's Itch tempts the ladies with solid martinis and mojitos overlooking the festival stage. Lesbian partygoers especially love the weekend's "Dykeadence" events, so plan ahead for advance tickets.
For the cultured woman, the LGBT-centric Saints and Sinners Literary Festival is a big draw every March, followed in April by one of the world's great music celebrations, the New Orleans Jazz & Heritage Festival. October brings LGBT Halloween New Orleans, where merrymaking turns elegant at the Lazarus Ball and other charity fundraising events. Come June, don't miss the annual Festigals weekend celebration of female empowerment, fundraising, and soirees.
Crescent City Women
Food is the lifeblood of New Orleans, thanks largely to its Cajun, Creole, and African-American culinary roots. There are simple indulgences like po-boys and muffalettas, and quintessential dishes like gumbo and seafood platters. Across the French Quarter and in neighbourhoods like the Marigny and Warehouse District, female chefs have been vital to the culinary renaissance delighting diners at restaurants like Coquette, Mosquito Supper Club, Mr B's, Bywater Bakery, as well as at longtime NOLA staples like Upperline in the serene Garden District.
At Willa Jean, Chefs Kelly Fields and Yolanda Torres elevate basics, in particular, the fried chicken biscuit sandwich, which has made breakfast a reason to rise early. Bayona, in the heart of the Quarter, is for many a can't-miss eatery thanks to Chef Susan Spicer's nuanced, globally influenced dishes.
Compere Lapin, inside the Old No. 77 Hotel & Chandlery, serves Chef Nina Compton's dazzling nouveau-Creole menu, enhanced by a cocktail program that alone is worth a visit—and led by creative Bar Manager Abigail Gullo. Likewise, dinner and brunch at sleek bistro Meauxbar are wonderful, but the cocktails by Gillian White send the menu soaring with uncommon flavours like hibiscus, matcha and amontillado sherry.
Between meals, strolling and browsing the Quarter's boutiques is a classic pastime. The best souvenirs are often found at the sidewalk stands of local artists selling their original works. But there's also great Louisiana-made souvenirs and housewares at Fleurty Girl on St. Peter Street. Or discover the wonders of cork shoes, bags, and other goods at Queork, a lesbian-owned shop on Chartres Street.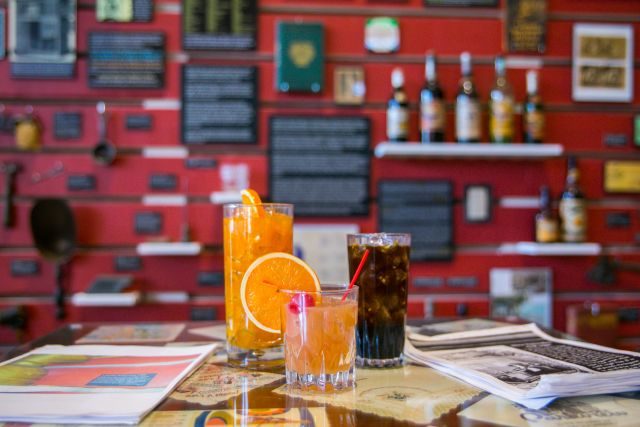 Sofab
Image: Rebecca Todd
Music, Arts, Culture
Recent years have seen a number of new cultural institutions crop up in New Orleans. The woman-founded Southern Food & Beverage Museum, for example, is a fabulous reason to hop on a streetcar to explore Oretha Castle Haley Boulevard. To get more hands-on, SoFAB also hosts great cooking and mixology classes.
The Warehouse District long ago repurposed its industrial buildings to become the local art gallery zone, and it's now anchored by the impressive Ogden Museum of Southern Art. Nearby is the massive National World War II Museum, which found a home in New Orleans thanks to the city's shipbuilding history, and for history lovers, it's a must.
On the far side of the Quarter, the New Orleans Jazz Museum occupies the former U.S. Mint, a nice reminder that in this town, music outranks money. Its permanent collection tells the story of jazz as America's original art form, displaying the first cornet played by local boy Louis Armstrong, volumes of century-old sheet music, and original vinyl and other recordings.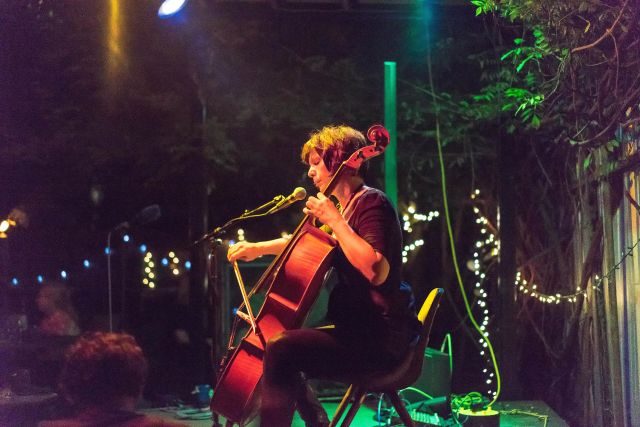 Cellist helen gillet, at bacchanal wine
IMAGE: paul broussard
Getting Live
Just off from the Jazz Museum is Frenchman Street, home to a long corridor of restaurants, shops, and live-music venues. The Spotted Cat Music Club may be tight, but so are the musicians it hosts. Blue Nile is a favourite venue that's heavy on blues, funk, and soul. By comparison, d.b.a. hosts a wide array of artists bringing everything from indie rock to folk to local brass bands on stage.
For women-centric arts and performance, there's a new group hosting events around town, so be sure to check out what's on the Femaissance calendar during your visit.
Drift into the Marigny to discover the city's best LGBT secret at the Country Club New Orleans, where you can enjoy happy hour, fine-yet-affordable dinners, and lovely weekend brunches. The club also has a private pool where you can comfortably unwind among local gay folks and sip fine drinks. At nearby Bacchanal Wine, try expertly paired wine and food selections over live music—the beautiful sounds of cellist Helen Gillet are a highlight each Monday evening.
That's one of the special things about New Orleans—it's full of unexpected opportunities and enticing dualities. There's timeless jazz and bawdy drag. There's upscale dining and poboys in the park. There's bespoke cocktail culture and day drinking from plastic cups. In this city, it's all OK, and it's all waiting for you to make your own memories there.
For more info, check out New Orleans's LGBT travel tips at neworleans.com/things-to-do/lgbt.