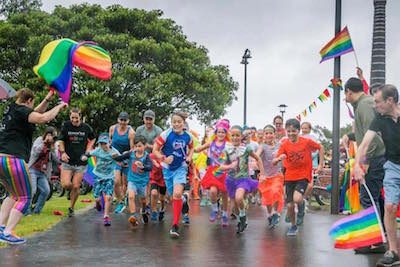 Rainbow Run speeds us towards equality.
The Rainbow Run seems like a great initiative to get people having fun as well as supporting a good cause. Where did the idea for it come from?
A friend of mine was doing activations for the Ben and Jerry's campaign 'I dough' cookie ice cream for marriage equality and I always wanted to campaign for it too. I own Healthy Habit Fitness (an outdoor group fitness company) and thought what better way to get awareness through a fun run and tie the two together! They offered us free ice cream, I promoted the run and voila we had a rainbow run! It was overwhelming how many people wanted to come on board.
We looked at it as a great way to kick off Mardi Gras, totally inclusive of all the family.
And this is your 5th year running, correct? What have been some of the standout moments for you over the past 5 years?
Ha! This is very funny.. on our first year we were total rookies, truth be told, on how to run events. When the race started we realised we hadn't mapped out the start of the course so everyone ran in the wrong direction! I had to sprint to the front and guide everyone so they ran it backwards. Luckily we got away with it!
On a sadder note in our third year, we actually had some randoms graffitti on the course and tried to tamper with our speakers. They also pulled up some of the love hearts and generally protested about the run. We were all shocked, especially as it was in Newtown. It just goes to show we have a while to go for total equality.
The event's not just a run though – you've got music, stalls, and some special people with water guns! Would you care to introduce this year's drag queens?
I most certainly would! These guys are amazing!! They give up their time for the cause. Not only is it a morning event, which most of them aren't used to, but it takes them four hours to get ready! This year we have Domino trixx, Cherrie Kills, Corey Copus, Kay Daver, Goldie Fox, Trakinie, Tayla and Delia Cards. Watch out they are armed!!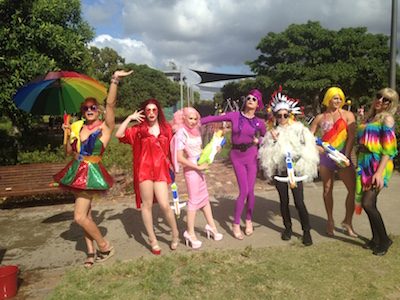 image: supplied
You've got a very special ambassador this year too – how does it feel having Fiona Falkiner on board!
It's amazing!! We're so lucky to have her. She is so lovely down to earth. She came on board before the YES vote and is a true advocator of equality. WIth her health and fitness background, we couldn't have had a better match. She is really excited to be part of it and will be walking the 2km course as she is recovering from major foot surgery – go, Fiona!
There are quite a few charities out there supporting the LGBTI+ community. How did you decide where to send the funds you raised?
When I moved to Australia many moons ago I was part of the GLRL float for marriage equality in my first ever Mardi Gras. I knew it was volunteer based and how hard they work and needed funds. They do so many good things for the community and don't always get that much recognition. I couldn't think of anyone better.
Have you got a final message for our readers out there who may still be on the fence about participating?
Please don't think about it, just do it! (Oh dear that's the PT in me, sorry)! It's a truly magical event that everyone loves who does it. It doesn't matter if you walk, run of dance the 2km, 4km or 6km course, you'll have fun and a lot of great memories : ) Run for love!