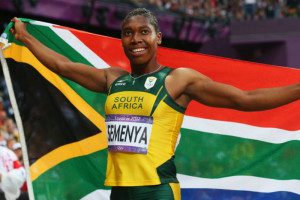 Caster Semenya is no longer running from her past; she's running for gold.
Back in 2009, a little known South African female runner named Caster Semenya won gold in the 800 metres at the World Championships. Her time was fast and impressive—so impressive that rumours began to circulate that something was amiss. The International Association of Athletics Foundations (IAAF) thought that Semenya's quick time was suspicious, and they initially questioned whether she had been using illegal performance-enhancing drugs. But as the investigation developed, it became clear that the IAAF had a very different motive.  They asked Semenya to undergo gender testing and instead of becoming a worldwide phenomenon for her speed, she became a target of discrimination.
The IAAF received backlash from civil rights organisations and athletes alike for its blatant ignorance and bigotry toward Semenya. Her own coach even resigned after the incident, citing the fact that he had "failed to protect" her and did not correctly advise her to refuse the gender test. Despite receiving a great deal of support from the South African community, Semenya was barred from international competition in 2010 because the IAAF had not yet released the findings of the test.
Though the results of the gender test were never made public, she was eventually able to return to the track and went on to compete in the 2012 Summer Olympics where she won silver in the 800 metres.
Semenya dropped out of the competition soon after due to a nagging knee injury and the lack of a solid coach. She took the time to reflect on the whirlwind that had become her career and refocus her energy on running. A couple of weeks ago, Semenya wed her longtime girlfriend and fellow athlete, Violet Raseboya. Photos of the wedding were shared on social media sites, with both Semenya and Raseboya dressed in traditional South African wedding attire.
Semenya will always be remembered fondly as a lesbian athlete who stood up in the face of gender discrimination and proudly stood her ground.
But her running career is far from over. Now that she is fully recovered from her injury and has a solid coach behind her, Semenya plans to compete at the 2016 Summer Olympics in Rio and her eyes are firmly planning on gold.
This time, she says, she'll be running with purpose.