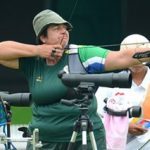 After South African Karen Hultzer competed in her archery event at the London Olympics she came out as a lesbian to OutSports.
She reportedly told journalists to "go wild" with the news.
She said, "I am an archer, middle aged and a lesbian. I am also cranky before my first cup of coffee. None of these aspects define who I am, they are simply part of me. I am fortunate that my sexual identity is not an issue, and I don't suffer the level of discrimination and violence that black lesbians in South Africa do. I look forward to the day when this is a non-issue and as relevant as my eye color or favorite sushi."
She is only the second ever South African Olympian (and first ever Olympic archer) to open up about her sexuality.