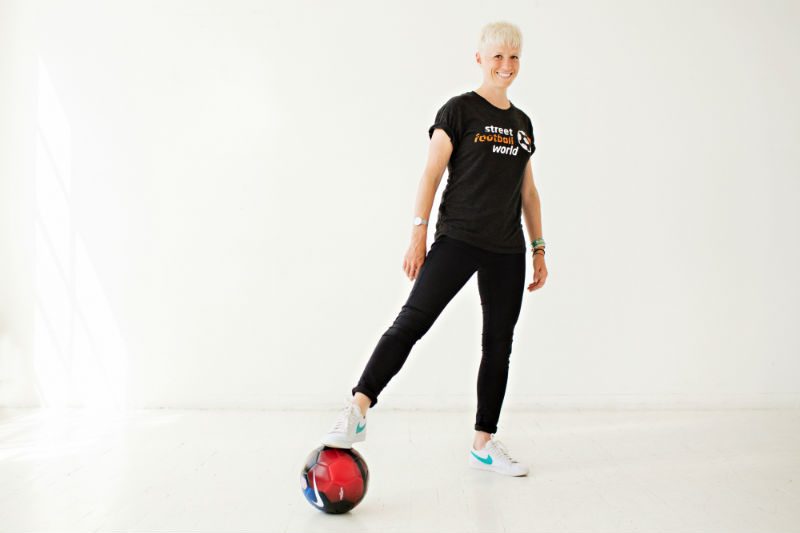 The out lesbian soccer star on the Olympics, her injury, and her new role.
In addition to going to Rio for the 2016 Olympics, for which she was named to the Olympics team despite an injury, she's a clothing designer, an LGBT advocate, a writer, and a global ambassador for streetfootballworld. We caught up with Rapinoe over the summer about what's going on in her life, how coming out was the best thing she ever did, and why her future wedding plans are on hold.
We spoke in 2012 after you first came out. How are things different for you now?
One of the biggest things I've realized since coming out is that the topic of gay and lesbian issues was always there for me; maybe not at the forefront, but it's always in my story. And that's important, I think. For it to be taken into account, whether that means people looking at the Women's World Cup team or the Olympic team and breaking down the different aspects, or just looking at me doing XYZ. But it's always part of the conversation for me.
You're very vocal about LGBT equality and issues. What type of advocacy work are you doing now?
I am not involved with anything specifically, but just trying to use my voice and the stuff that I am doing to get the conversation going and keep it going.
You have a clothing company, right? Tell us a little about that.
My sister and I do! Under the Rapinoe brand. We just rolled out our first line of apparel. We've got T-shirts, sweatshirts, beanies, cinch bags, and a little zip-up jacket. It's so cool. We love it. It looks great, comfortable and stylish, and it's something we've worked hard on for the last eight months. It's kind of an excellent creative outlet for both of us. Hopefully, people will like it.
Who's your target audience?
Everybody [laughs]. My grandpa and my 14-year-old nephew can wear it, and my mom can wear it. We have the Pinoe Club line, which is kind of basic. And then we have another line that's more fashion-forward in how it looks. Everything is available online at ShopRapinoe.com.
What's up with your wedding plans, and how are they progressing?
Well, we put them on pause because we started planning and everything and—that shit is stressful, just with everything that has happened this year, my injury, the Olympics, and other stuff. We decided to take a break for a little bit, but we're enjoying being engaged and taking full advantage of that.
Were you planning a big wedding or a small ceremony?
Well, that's part of the problem. We didn't know what we wanted. And that makes it difficult to plan. We have to figure all that out. But we're taking time to do so.
Are there any plans to start a family shortly? Is that something you've thought about?
I don't know. I don't think I'm in any place to be having a child. I'm not mature enough yet. We are not sure. I love kids and being around them. But kids are a lot of work. I'd make a cool mom, though.
After what happened in Orlando over the summer, do you think the visibility of LGBT athletes and their vocal support of the LGBT community is more important now than ever?
Yeah, I do. Professional male leagues like the NFL and NBA aren't doing enough to help prepare the environment for gay athletes. They are still very homophobic, in my opinion. It all goes beyond athletes. It's a more significant issue, on the whole. I sometimes think because people are working in a specific job or because of their family, they don't feel the need to come out. But it's essential to be open and to talk about LGBT issues. Many more athletes have come out since I've come out, but it feels like it's starting to dwindle, and I didn't think that would happen.
You are vocal about being an LGBT athlete and have been since you came out. What does that mean to you?
A lot. I have people always coming up to me saying, "Thank you—you're the reason I came out," or "You're the reason my family is OK with me being gay." You can't ever underestimate the power of coming out. Yet, at the same time, I feel strongly about people coming out in their own time when they feel ready.
Tell us about your involvement with streetfootballworld.
My involvement is basically to help bring eyeballs to this organization that does such great work. So many grassroots movements are going on, and streetfootballworld helps bring them all together. It serves as a tool and a resource and helps empower them.
To join the network of football for a cause, go to www.streetfootballworld.org.