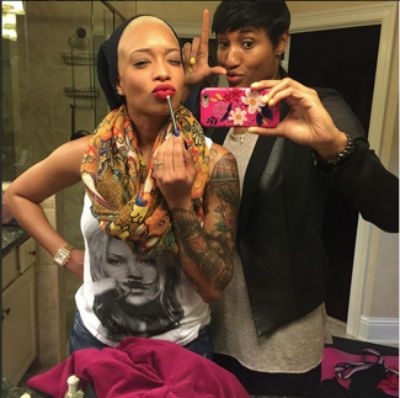 Why Angel McCoughtry came out publicly and left the professional Turkish Basketball League behind.
It's no secret that WNBA star Angel McCoughtry is gay. Though she never made a public statement declaring her sexuality before, it was widely known throughout the league and lesbian circles that she happily "played for our team," so to speak. Many of her Instagram posts indicated as much, and last summer she hosted an LGBT-themed outing at a nightclub in Atlanta with another well-known lesbian baller we all love—Brittney Griner.
In the past, McCoughtry never felt the need to come out. She had an established basketball career and enjoyed a degree of privacy that allowed her to live her life as she pleased. That all changed over the winter when McCoughtry was casually dismissed by Fenerbahce, her Turkish League club team. Rumors and reports began to circulate, indicating that McCoughtry was released because the club was offended that she held an engagement party with her now fiancé, Brande Elise, and celebrated the occasion publicly with some of her other Fenerbahce teammates.
McCoughtry all but confirmed this with an Instagram post that has now gone viral. "Yes we been discriminated against!" she wrote along side a photo of her and her fiancé. "We lost friends! Family members are upset! They said I disgraced my religion! My last overseas team threatened my job if I didn't write a fake letter on social media saying my relationship was a lie. But all I know, Love is a great feeling!"

The ironic thing is that there are plenty of other lesbian professional basketball players that also play overseas for the Turkish Leagues, even for Fenerbahce. The only difference is that McCoughtry's choice to celebrate her love openly and publicly cost her a spot on the team. I guess she chose love over basketball. And it was the right choice.