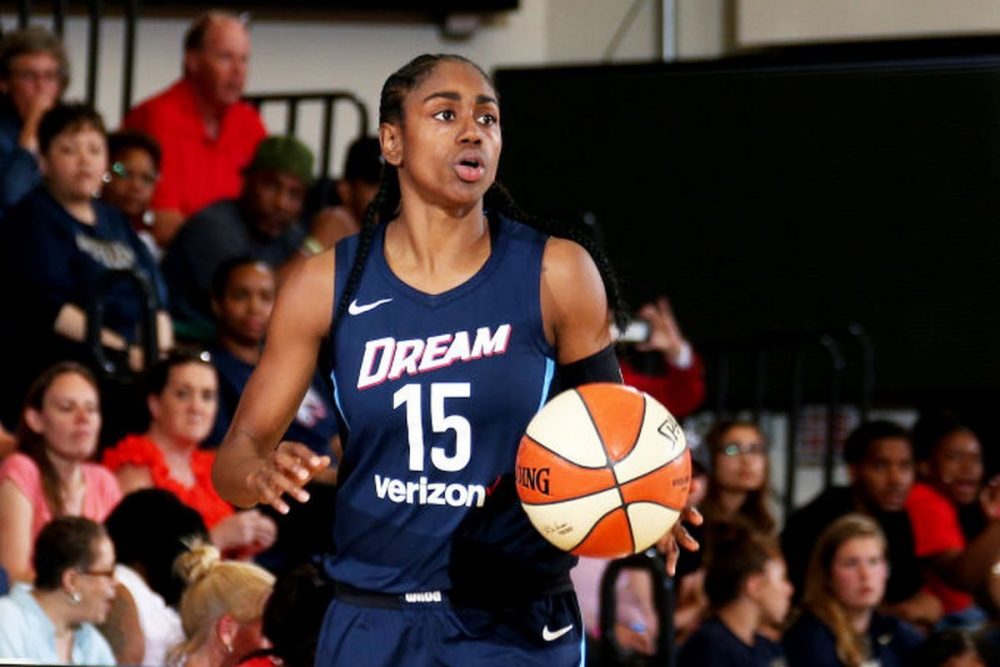 Following in the footsteps of Billie Jean King beating Bobby Riggs in the legendary "Battle of the Sexes," on July 28th there will be televised the ultimate 5-on-5 Men vs Women Basketball All-Star Game, which is bound to go down in sports history.
The NBA, WNBA & NCAA Legends are making history as they go head to head in the first-ever men vs. women game airing live on pay-per-view.
Hall of Famer Cynthia Cooper has signed on to Coach the Lady Hoopers and former Sacramento King standout and 14-year NBA vet Mike Bibby coaches the Men.
This historic battle of the sexes game is part of the upcoming  "The 5 Tournament Pro Basketball Invitational," taking place in Vegas from July 19th to 29th and stirs old NBA rivalries via iconic matchups like the Bulls vs. Knicks and the Heat vs Spurs.
The women's team is rich with exceptional talent and will go 5 on 5 against an NBA Roster with no handicap, they include:
Imani McGee-Stafford– 6'7″ 25 yrs. U of Texas /2x All-Big 12 /WNBA All-Rookie/ Javale plays for Lakers
Vicki Baugh– 6'4″ 31 yrs. National Champion with Tennessee
Jordan Hooper– 6'2″ 28 yrs. Nebraska 2000 pts 1000 Reb in college/B1G 10 Player of Year
Kaela Davis– 6'2″ 25 yrs. Nat'l Champion w/South Carolina/ Dad Antonio is former NBA all-star
Danielle Adams– 6'1″ 31 yrs. National Champion with Texas A&M
Shae Kelley– 6'1″ 28 yrs. Minnesota University / WNBA Champion 2015
Crystal Bradford– 6'0″ 26 yrs. Central Michigan All-Time in PTS/REB/STL / #7 Overall WNBA Draft
Tiffany Hayes– 5'10" 30 yrs. 2x National Champion with UCONN/ All WNBA 2018
Loryn Goodwin– 5'10" 26 yrs. OKSt Honorable mention All-American / Brother TJ is starting QB at UTEP/ Cousin Marquise is Eagles WR. Video of Loryn beating her brother at football has garnered over 1 million views on Social Media.
All teams will stay in a "Bubble" environment at the ARTISAN Hotel in Vegas. Gameday players are transported safely with strict health protocols put in place to do battle at the Orleans Arena. The Orleans is host to the WCC Championship annually and is fully set up for basketball.