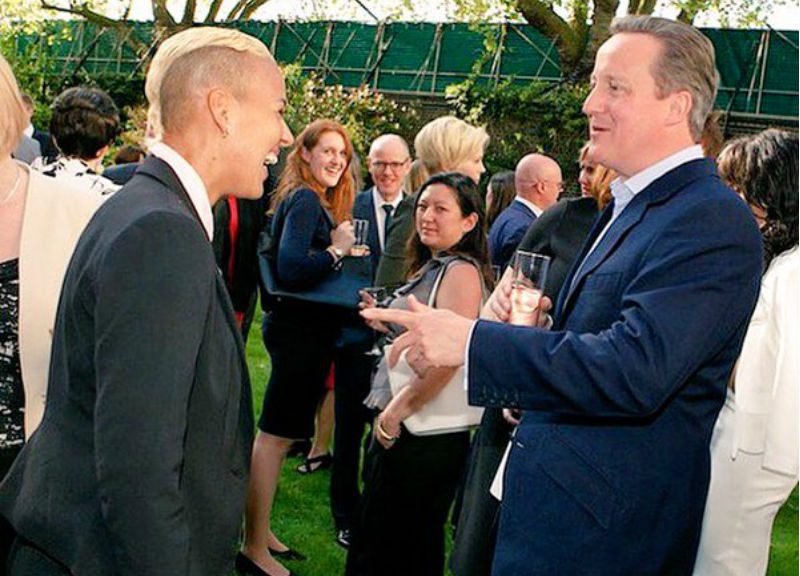 English Soccer star Lianne Sanderson meets Prime Minister David Cameron.
For every professional athlete in the United States, meeting the President is a goal in and of itself. But for Lianne Sanderson, it comes as a close second to meeting the British Prime Minister.
Sanderson was born and raised in England. Though she now plays soccer professionally for the Orlando Pride of the National Women's Soccer League (NWSL), she spent most of her career across the pond. Meeting the Prime Minister was something she never expected to happen. But because of her transparency as an out LGBT athlete, it did happen. And it was a dream come true.
According to the Orlando Sentinel, Sanderson was invited to meet with Prime Minister David Cameron in late May to attend an LGBT advocacy event at Westminster—headquarters of the English government—along with 30 other distinguished guests, including former tennis great, Martina Navratilova.
As an openly gay athlete, Sanderson felt privileged to attend. She told the Sentinel:
"It's the equivalent of meeting Barack Obama. It's essentially the same thing. The prime minister, no one ever really gets close to him. And the same as the queen. I've met people in my career, like [Cristiano] Ronaldo, [Lionel] Messi, people like that, but these are people you grow up watching on the TV, they run your country. So, it was a massive honour for me. It was a fantastic event and one I'll never forget."
Sanderson also tweeted a video to her followers, sharing her experience meeting Cameron.
Check out the full video of when I went to meet @David_Cameron and how special this day was to me and my family 🇬🇧🇬🇧 https://t.co/STSDwEJ9BC

— Lianne Sanderson (@liannesanderson) May 26, 2016
As a member of the England Women's National Football (Soccer) Team, Sanderson is one of the most visible and vibrant athletes in the United Kingdom. She is known for being boisterously loud, out and proud, both on and off the field. (Think Megan Rapinoe, only with a silky English accent.) In 2014, Sanderson appeared in a People Magazine article about gay athletes being out and accepted alongside her then-fiancée and fellow soccer player, Joanna Lohman, and has been a bold and outspoken advocate for LGBT individuals for most of her career. And that's what matters to her most, above all else. Even soccer.
She wrapped up her interview with the Sentinel by saying, "People can say, 'We love you as a soccer player, Lianne, great goal,' but when I get letters and people writing me and coming up to me saying, 'Thank you for being who you are,' that means more to me than being a footballer."