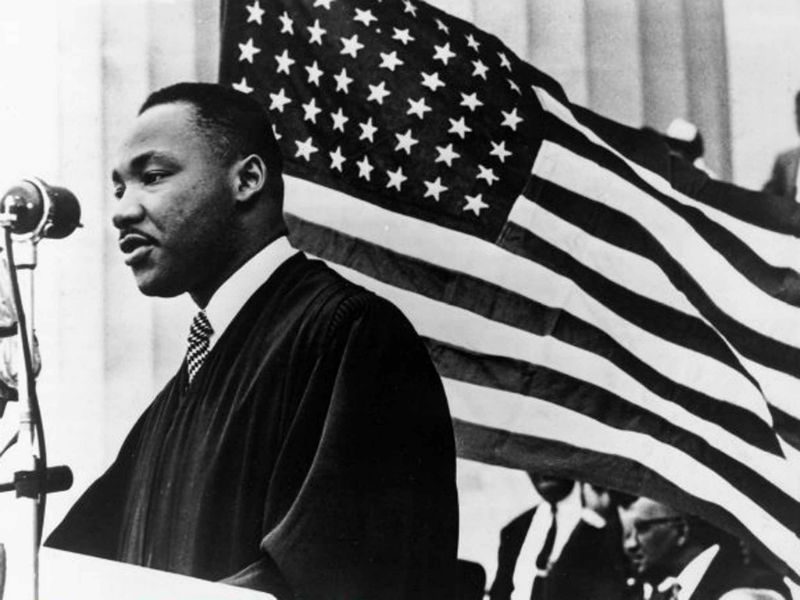 King's dream of 'the beloved community' extends to your community.
This year is the 50th anniversary of the assassination of the Rev. Dr Martin Luther King. It's a painful and necessary anniversary to remember considering where the country is today. Americans on the margins have the most to lose in a nation now eroding if not dismantling decades-long civil rights gains that allowed full protections and participation in an evolving multicultural democracy.
While I am nervous about where we are in 2018 after an Obama presidency, I am also reminded of MLK and the civil rights movement of the 1960s. Looking back at that era gives me hope to look forward beyond this moment.
In the inimitable rhetorical style of the African-American jeremiad tradition, King's voice is most remembered from his "I Have a Dream" speech of 1963. The now deceased newscaster Mike Wallace expressed my feelings about missing King when I read one day in the Boston Globe these words by him. "I miss the Rev. Dr Martin Luther King. I miss the sound of his voice, the things he said with that voice, and the choir that resounded within him with that voice."
Martin Luther King articulated his dream of wanting every town and city throughout the world "Building the Beloved Community." The King Center explains the concept:
"In the Beloved Community, poverty, hunger, and homelessness will not be tolerated because international standards of human decency will not allow it. Racism and all forms of discrimination, bigotry, and prejudice will be replaced by an all-inclusive spirit of sisterhood and brotherhood."
During King's dream of "Building the Beloved Community", Southern states had long systematised a peculiar brand of justice with its "separate but equal" laws that allowed for separate drinking fountains, restrooms, restaurants, and hotels, to name a few. During the civil rights movement, the South was where the entire country could watch African Americans being subdued by blazing-water hoses or being charged by aggressive German shepherds on national television. And at night, when no one was watching, the Ku Klux Klan rode through black neighbourhoods to burn their property, brandishing fire and terror as symbols of white supremacy.
However, racism did not just situate itself unabashedly in the South; it also tainted life in the North for African Americans, albeit differently and less visible. And although segregationist practises directly violated the Fourteenth and Fifteenth Amendments to the U.S. Constitution, the federal government exerted little to no effort to enforce these amendments — in either North or South.
Our job in keeping King's dream alive is to be part of a participatory government- local and national- that is feverishly working to dismantle all existing discriminatory laws and practices that truncate the full participation of its citizens in the fight to advance democracy.
Cambridge is my community, but it falls short of King's dream.
Cambridge, proudly dubbed "The People's Republic of Cambridge," is ranked as one of the most liberal cities in America. And with two of the country's premier institutions of higher learning — Harvard University and Massachusetts Institute of Technology — that draw students and scholars from around the world, Cambridge's showcase of diversity and multiculturalism rivals that of the UN.
Cambridge is no doubt a progressive city. However, when you scratch below Cambridge's surface, there is also liberal racism that is as intolerant as Southern racism. Just like Southern racism that keeps blacks in their place, liberal racism does. For example, Cambridge's liberal ruling class maintains its racial boundaries not by designated "coloured fountains, toilets or restaurants, but rather by its zip codes; major street intersections known as squares, like the renowned Harvard Square; and residential border areas that are designated numbers, like Area 4 (now known as the Port) -which was a predominantly black poor and working-class enclave – that is now gentrified by the biotechnology and pharmaceutical boom. Cambridge's liberal ruling elite exploits these tensions by their claims not to see race until an unknown black man appears in their neighbourhood.
Segregation in this city is not only along racial lines but class. With Cambridge's tony enclaves sprinkling with homes at starting prices over a half million dollars, Camb, the ridge has become a city that is predominately white and upper class. Poor working-class whites and white immigrants do not experience the fullness their white skin privilege would abundantly afford them if they too were part of Cambridge's professional and monied class.
If King were among us today, he would say that it is not enough to look outside ourselves and communities to see the places where society is broken. King would want us to examine institutions, workplaces, and universities that separate people from one another based on race, religion, gender, class, and sexual orientation, to name a few, by looking at ourselves and communities made up of people like you and me.
The top three concerns for Cambridge's marginalised communities are access to quality public education, racial profiling by police and other community members, and affordable housing.
Cambridge is a world city. It now must work at building the beloved community.
Where does your community measure up to King's dream?