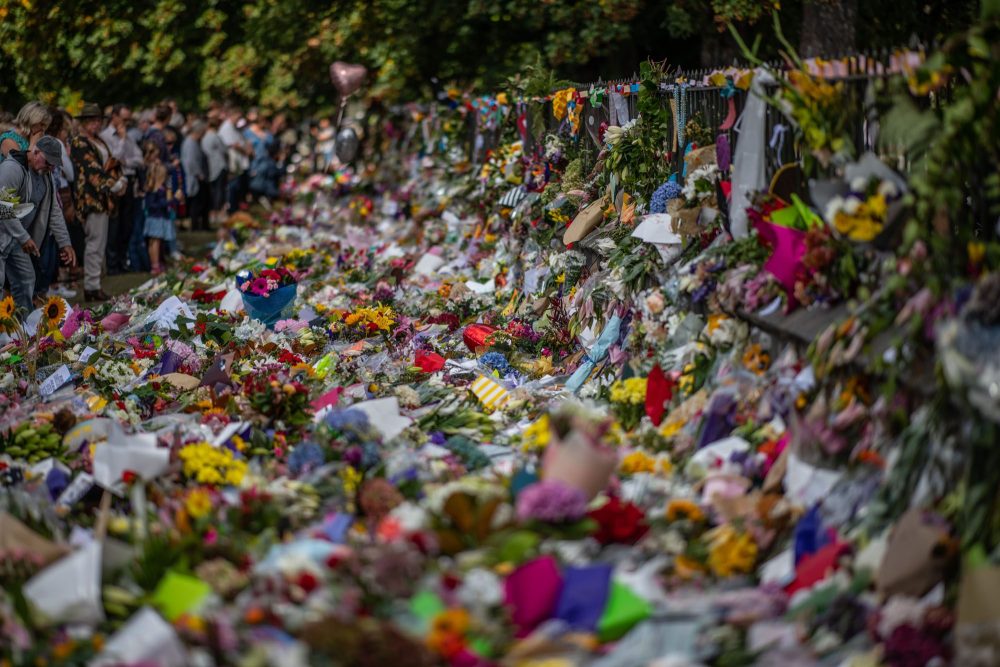 With Trump's help?
The high holy holidays of Passover and Easter is fast approaching and Ramadan is in May.
Attacks, however, on places of worship are becoming too frequent in this global climate of intolerance. As a worshiper, I need our president to make us safe.
The Pittsburgh Tree of Life synagogue mass shooting occurred in October 2018, injuring seven and killing eleven people. It was the deadliest anti-Semitic attack on the Jewish community in the country.
Last month, the Christchurch mosque shootings in New Zealand were two consecutive terrorist attacks at mosques, injuring over fifty and killing fifty people. The gunman, a self-described eco-fascist and ethnonationalism live-streamed his first attack on Facebook Live.
When news broke that three historically African American Baptist churches have burned within ten days in rural Louisiana's St. Landry Parish, sadly, the horror was all too familiar. The only good news in these recent incidents is that there were no casualties.
Before the assailant was apprehended, none of the church burnings had been labelled as hate crimes, suggesting because the churches are over one hundred years old that perhaps accidental ignition due to old and crumbling infrastructures, faulty wiring, or thunderstorms that can cause power outages and occasional fires might be the culprit.
Holden Matthews, the son of St. Landry Parish sheriff deputy, was the arsonist, igniting a wave of panic throughout its black community. Matthew, 21, is white. While Matthews's behaviour is undoubtedly disturbing to its residents- black and white -his actions are not new.
The link between white supremacy and attacks on African American churches in this country have been both historically documented (see "list of attacks against African-American churches – Wikipedia") and well-known.
For example, the 1963 bombing of the 16th Street Baptist Church in Birmingham, Alabama killed four little African American girls. And, it is one of the iconic images of white supremacist domestic terrorism. Massachusetts, however, which is known as the bluest of blue states proved that church burnings are not the sole province of the South. The burning of the Macedonia Church of God in Christ in Springfield was just hours after Obama was elected that historic night of November 2008 as our country's first African American president.
In 2015, African American church burnings occurred suspiciously in rapid succession following the Charleston black church massacre, which left nine dead-including its senior pastor. The day before the church massacre, precisely one hundred and ninety-seven years prior, "Mother" Emanuel African Methodist Episcopal Church was burned to the ground due to the racial violence of a mob of white slave owners.
Church burnings were one more persistent reminder of why during antebellum America, hush harbours were places where my enslaved ancestors gathered in secret to worship. These recent fires remind me how African Americans' desire for safe and sacred spaces-especially places of worship- continue to be challenged with acts of violence.
However, African Americans are not the only ones confronted with this challenge.
The roots of the Tree of Life massacre were white supremacy and anti-Semitism. When the gunman was apprehended by a SWAT officer he allegedly told him "He wanted all Jews to die, and that Jews were committing genocide against his people."
The roots of the Christchurch massacre were white supremacy and Islamophobia. The gunman praised President Trump in  his 74-page manifesto posted online which he lauded Trump as a symbol "of renewed white identity and common purpose." This attack has our Muslim brothers and sisters on edge. The mosque in Cambridge, just blocks from me, was on 24-hour surveillance for fear of a copycat incident.
The roots of St. Landry's church burnings were white supremacy and racism. Matthews influenced by "black metal" music, a subgenre of heavy metal is known for its anti-Christian and demagogic rhetoric, like promoting neo-Nazism.
During a press conference, Trump was asked if he "see(s) today that white nationalism is a rising threat around the world?" in the wake of mosques attacks in New Zealand.
"I don't really. I think it's a small group of people that have very, very serious problems, I guess," sadly Trump replied.
Trump's statement reminded me of his repugnant  "blame on both sides"  comment about the Charlottesville mayhem that took place in the summer of 2017. By condemning counter-protesters similarly as white supremacists and swastika-wielding neo-Nazis at the rally, Trump suggested both groups were at fault, and one was equally in the wrong as the other.
These types of statements keep white supremacist terrorism alive- here and abroad.
Places of worship are sanctuaries of safe spaces. Freedom of religion is guaranteed in our constitution, and it's a freedom that should be upheld globally.  With many of us approaching the high holy holidays these coming days and weeks ahead nothing would be more comforting than knowing our places of worship are safe.
Mr President, can you help us!