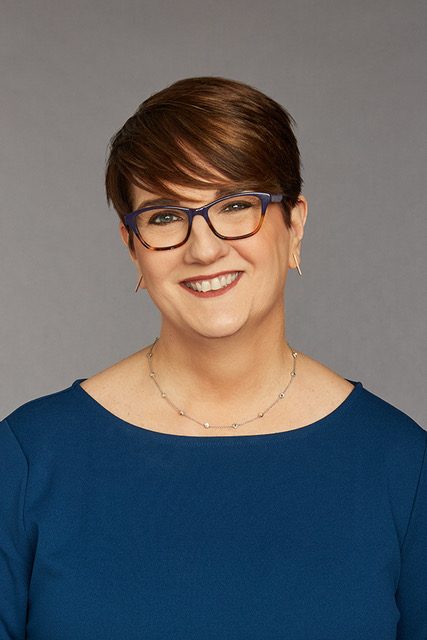 October is Coming Out and our pantheon of LGBTQ movers and shakers continues to grow.
Sue O'Connell our co-publishers is one of them.
When the news hit the Greater Boston LGBTQ community in  2017, Sue O'Connell was chosen to host her own show "The Take with Sue O'Connell" on New England Cable News (NECN) both jeers and a collective sigh of relief could be heard throughout Massachusetts.
"Thank you, thank you, thank you," O'Connell wrote on Facebook. "Wow. Totally overwhelmed by the great support around my new position at NECN. So many of you watched, shared links, and urged NECN to hire me. I truly appreciate it. I promise I won't let you down!"
It was obvious not only to the LGBTQ community but to all of New England, who watch O'Connell audition for the position for months, that the hometown girl from Revere had broadcasting chops with a winning smile and a great sense of humour.
"I grew up in Revere, in the Shirley Avenue neighbourhood. With the exception of 90 days in the late 1980s, I've lived in the Boston area my entire life," O"Connell recently told "Boston Magazine."
O'Connell has been an influencer in the community for decades. Sue has been described as "smart and sassy" and an "objective
interviewer."  And, as a self-described "practical progressive" this Emerson College graduate is a living "newseum."
With nearly thirty years of media experience in radio, television and print journalism under her belt O'Connell is an indefatigable multitasking pro at writing, producing and covering the news, appearing weekly as a commentator on WGBH's Boston Public Radio while raising, and for many years home-schooling, her daughter as a single mother.
O'Connell began her career in music radio. She was music director at Boston's #1 hit music station KISS-108 (WXKS-FM), program director and then marketing director at 92.9 (WBOS-FM), and New England marketing manager for A&M Records and Geffen Records.
In 1997 O'Connell co-hosted with Keith Orr the late-night talk show "One in Ten" on 101.7 FM (WFNX). In the 1990s and early 2000's "One in Ten" was the only program on a commercial radio station in the country addressing LGBTQ issues.
Sunday nights for three and half hours from 10 p.m. to 1:30 a.m. O'Connell and Orr provided an invaluable service to our community by offering a safe and anonymous outlet for listeners to call in to ask questions about LGBTQ sex, sexuality, and gender identities. The segment "Ask a Homo Anything" on the show addressed questions from a large number of straight listeners who tuned in, too.
O'Connell is a savvy businesswoman in an area where news giants have fallen, retired, or are still trying to find their niche in this changing landscape of journalism. And, in a field still heavily dominated by men-straight or queer- O'Connell has managed to not only stay afloat but she has also managed to thrive.  One reason is the stellar quality of the news brought to its readers weekly.
"LGBTQ equality has advanced a lot since Jeff Coakley and I bought Bay Windows in 2003, but the community still has setbacks and challenges. You may be coming out as LGBTQ at 50 years old or at 15 years old—we keep in mind that at every stage in someone's life and every stage in the coming-out process, we need to be there as a dependable and reliable and honest broker of information to people wherever they are,"  O'Connell stated.
O'Connell not only writes, produces and covers the news, she is also a newspaper proprietor. As the Associate Editor and co-publisher of Bay Windows, a revered institution throughout LGBTQ New England, O'Connell is also co-publisher of The South End News, a popular and sought after local neighbourhood weekly. She is a co-owner of The Edge Media Network, the largest network of local LGBTQ news and entertainment publications in the world, serving 5 plus million readers from around the globe on the web, mobile web and native apps.
In 2006 "Boston Magazine" recognized O'Connell as a Gay Power Player. And again, in 2015 Boston Spirit Magazine recognized O'Connell as a Top New England LGBT Power Player.
"I don't necessarily think of myself as a powerful person. Whatever influence I might have comes from the work I've been doing in the media for close to 30 years," O'Connell told "Boston Spirit" magazine "The 'power' I wielded, so to speak, originally came from simply being out in unexpected places.
As a shoe-leather reporter who pounds the pavement with a hunger for news, being out in unexpected places landed O'Connell a pre-New Hampshire primary interview in February with Donald Trump that went viral on LGBTQ media.
In confronting Trump on his statement that he would "strongly consider" appointing judges to overturn "Obergefell v. Hodges," the historic U.S. Supreme Court ruling that legalized same-sex marriage in all 50 states O'Connell stated with gumption and clarity the following:
"I'm a lesbian," she told Trump. "We've had some great progress for the gay and lesbian community," O'Connell continued. "When President Trump is in office can we look for more forward motion on equality for gays and lesbians?" O'Connell asked. That was an interview in 2016.
Since Trump has taken office, however, there has been an erosion of LGBTQ civil rights under the guise of religious liberty. For example, transgender Americans being denied access to public lavatories is eerily reminiscent of the country's last century Jim Crow era denying African Americans access to lunch counters, water fountains, and, libraries, gas stations, theatres, and restrooms, to name a few. As voters go to the polls in November, we're asking everyone to vote  Yes on 3, to uphold Senate Bill 2407, a bill to prohibit discrimination based on gender identity in public places—such as hotels, restaurants, and stores
News and O'Connell are synonymous, but she finds ways to take a respite from it.
"Being hooked into the news cycle all the time absolutely stresses me out. Before Trump was elected, I would get up at 5 o'clock in the morning and check the news, look at Twitter, watch TV, check the local news sources," O"Connell recently told "Boston Magazine."  "Now I wake up at 6 and I immediately watch "Real Housewives of New York" or "Beverly Hills." First, for my sanity, and second, because I realize it doesn't matter if I know what's happening till 7:30 a.m. It's totally soul-quenching."
At present, O'Connell is the only LGBTQ person with her own show in this neck of the woods.
"I think I am the only gay person in New England who has had a show on a major market talk show. NECN is an NBC affiliate, and that's very exciting," O'Connell shared in her recent interview with "Press Pass Q."
O'Connell's informed questioning, compassionate listening, great sense of humour, and interviewing finesse will have you tuning in religiously, as I do,  Monday through Friday at 6 p.m. and 7: 30 p.m. to watch her show "The Take with Sue O'Connell."
I invite you to tune in.