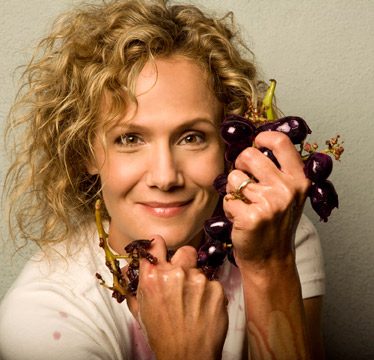 Famed food and drink writer Karen Loftus gets the inside story from three women who have made it in the male-dominated wine industry: Domaine Carneros CEO and winemaker Eileen Crane, Bottlenotes co-founder and co-founder CEO Alyssa Rapp and sommelier Caitlin Stansbury.
It's not just yuppies and stuffy old people who enjoy a nice glass of wine nowadays—and the wine industry is evolving too. Female wine professionals are beginning to make headway in what was once a heavily male-dominated sector. Three of these savvy swishers are profiled here.
Caitlin Stansbury, sommelier
When I walked into The Lodge Steakhouse on La Cienega in Los Angeles last year, I was struck by this beautiful blonde buzzing around the room decanting the reds, talking to bar patrons, and sneaking in and out of virtually every table with bottles in hand and an endless and seamless flow of suggestive conversation.
Once we got to our table, Stansbury led us through our dining experience from start to finish, perfectly pairing every dish with a wine. The food was excellent, and the restaurant had that edgy Los Angeles atmosphere, but it was Stansbury that tipped it all over. The best part of the experience was tasting wines from new regions and discovering new grapes. Stansbury was as impassioned as she was informative, yet warm and approachable—she had none of the pretension of most sommeliers.
Stansbury attributes her long career in the restaurant business, which started at 18, to her mother's love of cooking and good food, which she instilled in Stansbury from an early age. Years later, while working in restaurants, she noted, "I always had a keener than an average knack for blind identification of wine." She was curious to learn more so she enrolled at the International Sommelier Guild, where she fell truly madly deeply in love with wine.
Stansbury credits Barbara Philip as her greatest teacher and mentor. Philip, one of the most successful women in the wine industry, is one of only seven Masters of Wine in the world and was the second ever to be awarded from the prestigious International Sommelier Guild. Yet with all that prestige, the single biggest lesson that Barbara bestowed upon Stansbury was humility and graciousness.
Stansbury's company, Wineocology, works with wine lovers, building them private cellars for consumption and investment purposes. She also conducts seminars for groups and develops wine programs for newly launched restaurants.
Stansbury notes that a growing number of women are becoming interested in wine and that women are more sensorial in their decision-making than men. She explains that many men can be convinced to try a wine if it has won an award or comes recommended by a magazine. "Women are far less influenced by trends, scores, and reviews than men," she says. "If I have a special bottle open, rather than try to persuade a female guest verbally, I'll simply pour her a taste. 9 times out of 10 she will have immediate visceral recognition of the quality regardless of price, what it is or where it comes from, and will buy the wine based on that. Often, men allow their need to intellectually qualify and rate wine to get in the way of their sensory response. I find women are generally more confident and objective about their own personal sensual experience of wine regardless of outside opinion"
Alyssa Rapp, Bottlenotes CEO and co-founder
I first met Alyssa Rapp in Los Angeles at a swanky party in the Hollywood Hills. Asking my wine and taste preferences, the Chicago native accompanied me around the sushi table, through the cheese plate and finished me off on the dark chocolates, all the while pairing each bite with precise and inspired wine choices. I was getting in real-time what Rapp and her crew at Bottlenotes can do for you in cyber time, online. Coined the Netflix of wine, Bottlenotes creates a taste profile specifically for you and your taste preferences—savoury or sweet, coffee or not, to salt or not to salt—as well as on your longstanding vino tendencies. Your personal profile is created based on your palette, price point, frequency, as in how many bottles you want to be shipped to your door. You also get to pick your club. There is a club for everyone at Bottlenotes ranging from Girls Night In, (think Sex and the City hit the vineyard) to The Connoisseurs (invitation only, hard to find boutique wines), Jetsetter's Club (hip tripping around the world with wines from far-flung regions), to kosher wines, seasonal wines and The Explorers Club (Lonely Planet for the wine lover, with affordable wine, finds) and several others.
Rapp came up with the idea for Bottlenotes while getting her master's degree in business at Stanford. It was a passionate marriage of her business acumen and her love of wine that fell into place. The proximity of wine country to campus didn't hurt, and neither did her contacts from her wine club on campus. The rest is Bottlenotes history.
Now on the verge of her 30th birthday, Rapp has made a life in wine. Her book, Bottlenotes Guide to Wine: Around the World in 80 Sips comes out this fall and is full of tips on hot wineries around the world. According to Rapp, the three hottest wine regions on the rise are Lebanon, China and India. "Lebanon is one of the newest 'Old World' wine producers in today's 'New World' wine scene," She says. "The Bible mentions Lebanese viticulture and records Lebanon as the place where Jesus turned water into wine." She goes on to explain that "Lebanon's climate is known for being particularly sunny, where the vines bask in three hundred days of sunshine per year," which is key for the success of their vineyards.
Eileen Crane, Domaine Carneros CEO and winemaker
I caught up with Crane early on a Saturday morning as she was preparing for a speech, looking for new angles and insights to share with her audience. According to Crane, the key to success in any business is "enthusiasm and hard work." Over 30 harvests and 30 years in the wine business, both remain clearly intact. Her passion, commitment and enthusiasm remain unrivalled.
With a master's degree in nutrition and a stint at the prestigious Culinary Institute of America, Crane taught nutrition at the University of Connecticut for two years before leaving to head west and study enology and viticulture at UC Davis. She recalls that one of her professors at Davis warned her, "You'll do a lot of studying here, but no one will ever hire you." Boy was he wrong.
Crane started her career at Domaine Chandon in Northern California. "It was the hot new game in town at the time," according to Crane. She began as a tour guide and quickly moved up the ranks as the assistant winemaker. Early on Roger Viron, the Chef de Cave of France's Ruinart champagne was a major mentor. "I learned the most from him in terms of winemaking." Then, when Gloria Ferrer Champagne Caves hired her to develop their line of sparkling wines, and then as winemaker and vice-president, she couldn't believe her fortune. That a European company would want an American, let alone a woman, in this position was astounding at the time.
In 1987 Claude Taittinger personally selected Eileen for the position of managing director and winemaker of Domaine Carneros. She oversaw the development of the French company's landmark chateaux, their vineyards and winemaking facility and, more recently, she has been given the job of directing the planning of Domaine Carneros' second facility, which is dedicated to the production of Pinot Noir.
Despite her success, Crane remains down to earth, building on the knowledge she gained as a graduate student, like the value of solar power. In 2003, when Domaine Carneros was building what is now the carriage house for Pinot, they installed what was then the largest photovoltaic solar collection system in any winery in the world. "Being a part of a smaller company like [Carneros] my solar presentation took one day to be approved." In the middle of harvest the phone was ringing off the hook as press, other vintners and farmers were eager to jump on the solar bandwagon. Unable to answer all the calls, she began to host seminars that led the way to the now prevalent use of solar power at wineries.
Crane also put organic methods into practice in the early '90s, replacing insecticides with compost. Domaine Carneros recently received organic certification to become the first winery in the United States to have all their estate vineyards certified organic. Her enthusiasm for organic literally bubbles over, "I am thrilled with the quality. There's a different feeling when you walk through an organic vineyard. There's vibrancy. They're more alive. I imagined there would be a 20 to 25 per cent increase in the quality of the wine. It's double what was. It's overwhelming."
It's easy to see why Crane is one of a handful of women at the forefront of the California wine industry and why she is largely regarded as the doyenne of sparkling wine in America. When asked what she likes to drink after a long day at the winery she replies, "A glass of sparkling wine. It's what I want seven days a week."  Her goal? "To be the most memorable sparkling wine experience in the world." She's well on her way.