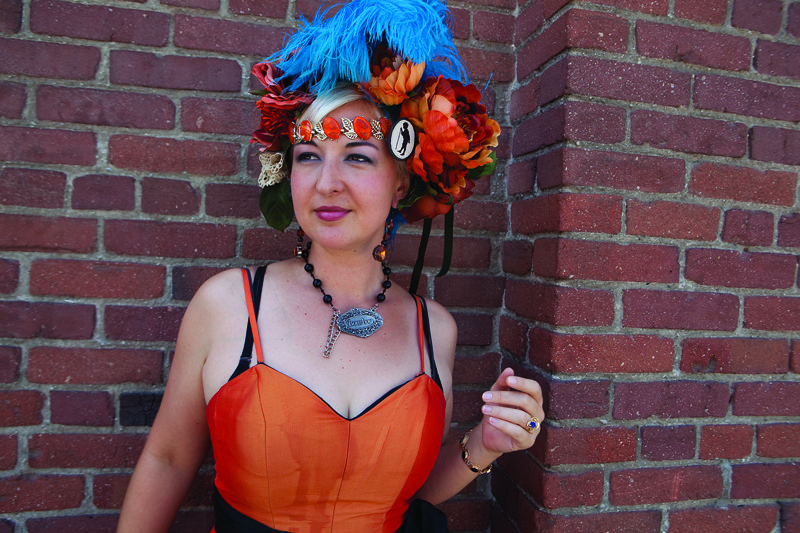 Meet the bourbon ambassador who stands out and is proud as a lesbian in the traditionally male-dominated market for bourbon.
While lesbians might not think of bourbon as their number one libation of choice, Hollis Bulleit—the out lesbian spokesperson for her family's label of Kentucky whiskey, Bulleit Bourbon—is hoping to change that. Bulleit Bourbon is one of the fastest-growing small batch bourbons in America. And this Spring, the Bulleit line expands its portfolio to include a 95% Rye.
It has garnered praise for its complex taste, boasting a rich, oaky aroma with hints of vanilla, spice and pepper, and a long, lingering finish (Hollis' personal notes are Christmas oranges and clove). In 2008, the Annual International Review of Spirits labelled Bulleit Bourbon as "Exceptional" and gave it the Gold Medal.
With such a good product and a family legacy, it's little wonder that Hollis Bulleit takes her job as the company's "bourbon ambassador" seriously, travelling around the country for almost half the year to educate people on this classic beverage. "I am like the Svedka girl, but I'm real and I'm queer," she jokes. When Hollis is home she spends time working on her art in her live/work studio at the famed Los Angeles artists' loft community, the Brewery, where she has combined her love of bourbon and art by using the family archives to design and faux-finish parts of the loft in the fashion of a speakeasy. Always effervescent, Hollis leads these tastings in flamboyant costumes, often dressing like a flapper. "Bar trends are being influenced by shows like Mad Men and the forgotten times of your grandparent's cocktail hour," Bulleit notes. "I'm hoping that the general consumer is up for a more complex and mature experience with the brown spirits."
Not to mention, connect with a part of American frontier history. Hollis Bulleit is a sixth-generation family member of Bulleit Bourbon. The inspiration for the bourbon was taken from her great great great grandfather's high rye bourbon recipe from the 1800s. Obviously, the bourbon you can purchase today is not exactly the same bourbon as Augustus once made. Hollis jokes, "If it was the same bourbon it would have pieces of char floating in it and it would come in a barrel… not a bottle."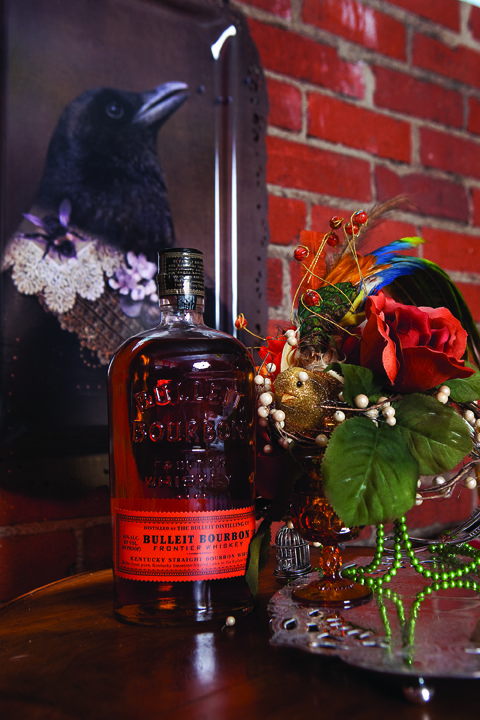 While Hollis Bulleit attended Smith and graduated with a Masters of Fine Art from New York University, she couldn't resist the call of the family legacy. "I worked at the distillery after graduating and I really fell in love with Kentucky," she says. But by joining the family business, she entered a traditionally male field.
"When I first began I was definitely the only XX presence in the old boys club," she says, "but over the years I've paid my dues and won their respect. I approached the business with the same tomboy attitude I grew up with—I figured if I rough-housed with the boys long enough, I might get a little more elbow room for the ladies." That includes attending Whiskeyfests and tradeshows donning fancy hair and period costumes. "I just love to show up with my homemade drag queen headdresses and my burlesque-inspired outfits," she laughs. "Then throw 'em a wicked curveball with my sense of humour and bourbon knowledge." She admits this has landed her more than a few marriage proposals but adds, "I think this happens less because I'm cute and more because people assume that I come with an unlimited trousseau of booze."
A New York transplant, Bulleit now calls L.A. home, where she lives with her partner Cher Stanley. She continues to combine her work as an artist with her work as a bourbon ambassador, and still finds time to stretch out a canvas and work on pieces in between travelling. "For me, art is a calling. I didn't choose to be an artist, art chose me."
But having a home that functions as both studio and speakeasy means that work is never far away. "I owe a lot to my partner Cher. She's the yin to my yang. Her favourite saying is, 'When bullets are flying, fly low!'" (hollisbulleit.com)
Still on the fence about bourbon? Try Hollis Bulleit's favourite, easy cocktail.
"BLT"
1 1/3 oz of Bulleit Bourbon
Lemon wedge squeezed in
Ice and Tonic to finish
"Even if you are not a Tonic gal you will enjoy this drink because the high rye content of the bourbon and the quinine are a nice marriage. If you want to up the ante, pair the BLT cocktail with a BLT sandwich—bourbon and bacon love each other." And as always, drink responsibly.