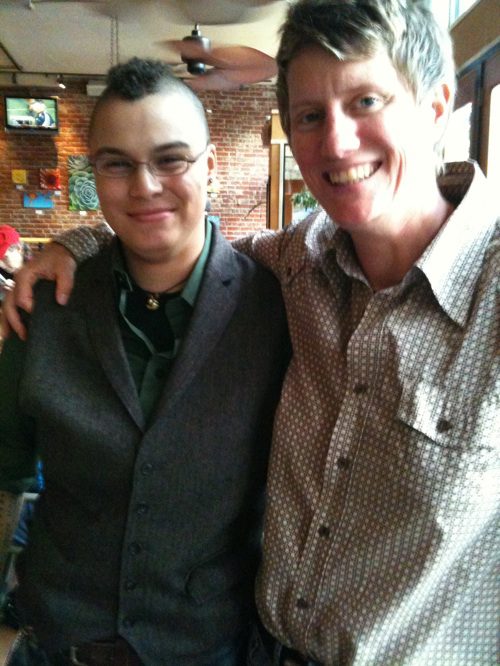 I have a confession to make. Although I identify as butch and even write a column with a strong emphasis on that identity, I don't have many butch-identified friends.
Well, that's not entirely true, some of my closest friends from my music festivals are butch-identified, but they don't happen to be in my day-to-day life.
So, last year when I heard about the Butch Voices conference in Oakland, a part of me really wanted to go. But another part of me was nervous. What would it be like to be around that many butches? Sometimes I can get intimidated around all that butchness. Am I butch enough? What if they start assuming I know about the car and home repair? Is my hair short enough, my boots black enough, my strap-on big enough?
I couldn't attend last year's conference, but someone from Portland did go. When she got back, she started a group called Butch Crew. We meet monthly in a local coffee shop or the Q Center and just swap tales of living life "masculine of centre."
It's something I look forward to every month.  And slowly as I bonded with these gals and guys those fears of being tough enough began to dissipate. I began to see the diversity, yet sameness of our experiences. I learned I wasn't the only butch who has no interest in learning how to reroof my own house, ride a Harley, watch football and attend play parties. I met others who love to cook, ride bicycles, drive Priuses and dress dapper. I made some new butch friends.
So I was extra delighted (see butches can use words like delighted) when a regional Butch Voices conference came to Portland this month. The event opened with an amazing performance by SweLL, the words of butch writer extraordinaire Ivan Coyote, femme Anna Camilleri, and musician Lyndell Montgomery.
There were workshops and discussions on topics like "Butches and Sex," "Be a Dapper Dyke" and "Exploring Genderqueer Identity." I got to meet people from all over the country and Canada, including Rave from Oklahoma who stayed at my house and Sinclair Sexsmith (mrsexsmith.com) from Sugarbutch Chronicles.
I watched the butches strut their stuff at the Butch Buffet variety show. But most importantly I got to relax and be me, a butch among butches, studs, tombois, machas and friends. And I can't wait for next year's national conference.