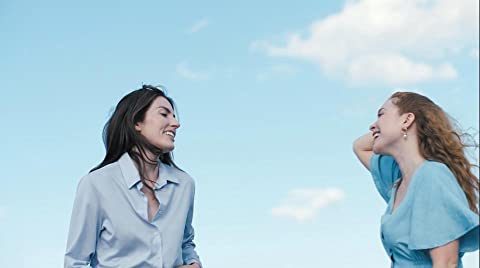 Bing! Bang! Bi! follows the story of Morgan (Jessica Huras), a struggling actor who takes a stance on her bisexuality at an inopportune moment.
Recently single, and trying to navigate her sexuality, Morgan strives to express herself amongst her oldest friends after she arrives in her hometown for an unusual gig.
The film is written and directed by Jessica Huras and stars Jessica Huras (MURDOCH MYSTERIES, GANGLAND UNDERCOVER), Sofia Banzhaf (BITTEN, REIGN), Jess Salgueiro (WORKIN'MOMS, LETTERKENNY) and Rodrigo Fernandez- Stoll (KIM'S CONVENIENCE, DECOYS).
"As my first film, it felt important to explore a subject that is not only personal, but one that also feels largely misrepresented, if represented at all: bisexuality," said Jessica Huras. "When I came out that I was dating a woman after having dated men my whole life, I was relieved my family accepted the news.
However, when I attempted to further explain myself by saying, "but I'm still attracted to men too!" – something suddenly shifted.
A confused and uncomfortable look crossed their faces. Many years later, I'm happily married to that woman. We often meet people who assume I'm a lesbian because of who I'm married to.
Or if they know my identity is bi, then I must be in an open relationship to fulfil all my desires. These misconceptions feel symptomatic of a society ingrained in thinking of everything in binary terms.
The more I started to look for authentic Bi/Pan/Fluid representation in film, the more I realized there was an enormous gap in both mainstream flicks as well as in the queer canon.
My aim with Bing! Bang! Bi! is to bring the bi-identity to the screen, in the hopes that representation will continue to evolve to the point where it no longer has to be the subject."