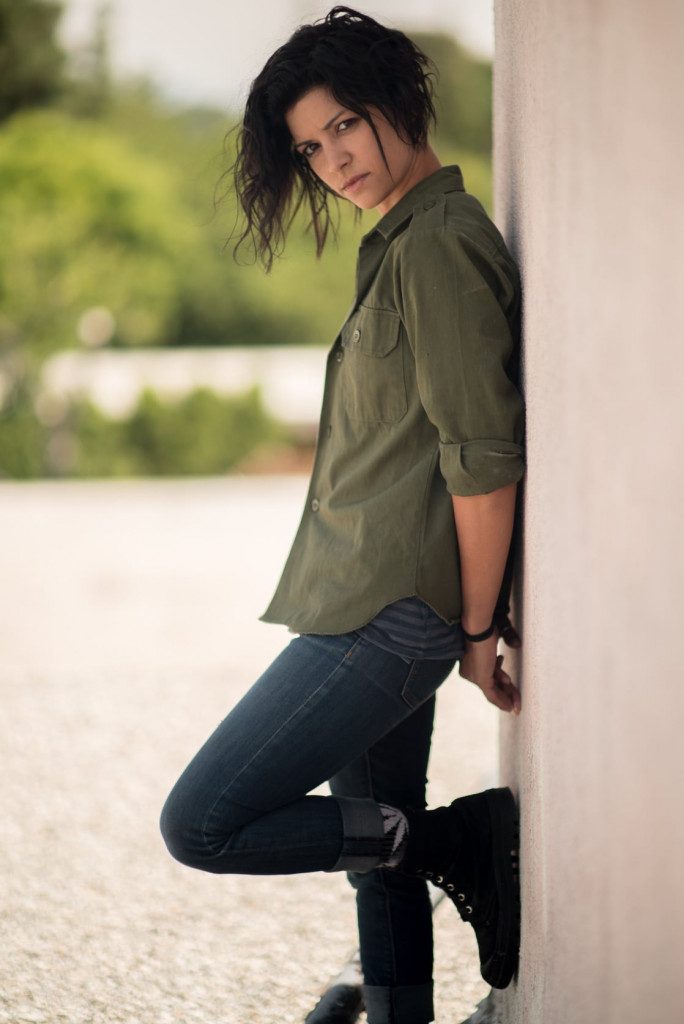 From the lands Down Under to the hustle and bustle of the streets of Los Angeles, Mandahla Rose proves to be the next It girl in cinema.
Take a naturally beautiful soul and wrap it with a knack for acting with a dash of rocker badassery, and you have the recipe to describe the Australian-born bombshell of Mandahla Rose.
A native of Adelaide, Rose began her acting career in her hometown while attending high school.
"I'm one of those lucky people who has always known what I have wanted to be, ever since I could remember," said Rose. "I did high school drama and loved the feeling I felt while on stage. My heart sang."
I'm sure you've all purged the LGBTQ movies section on Netflix and found one of Rose's most notable and first roles to date in All About E. This road-adventure film, from writer/director Louise Wadley, features E, played by Rose, a sexy DJ forced to go on the run with her best friend after they stumble on a stash of cash that doesn't belong to them. Comedy, drama and romance ensued.
"I've had several roles that have significantly impacted me," said Rose. "One of the first was E (All About E). Not only did she impact me on a deep and personal level, but the entire experience was the next step in my career. I had no idea what this film would do to me. People worldwide are reaching out to me to say how much they loved the film. It's pretty wonderful."
Rose jumped across the great Pacific pond to see her beloved E screen at the coveted Frameline Film Festival in San Francisco, California. From there, she fell in love with America. "That trip changed my life," said Rose. "I met writer/director of Forever Not Maybe (AKA La Douleur Exquise), Christie Conochalla, and I was cast as the lead, Sasha.
Through her and the project, I obtained a visa to work in Los Angeles, where we shot the feature. I dreamed of living in LA and being a movie star when I was a kid." This much-anticipated feature film will be released later this year.
A few short months ago, The Tropicana Hotel in Las Vegas hosted a monumental event for LGBTQ women in media and their allies called ClexaCon.
Rose was one of the many celebrity guests to attend this auspicious occasion and loaned her voice onto one of the many featured panels witnessed by thousands of attendees. Her panel, LGBTQ Actresses, also saw the likes of Stephanie Beatriz (Brooklyn Nine-Nine), Dot-Marie Jones (Glee), Nicole Pacent (Anyone But Me), and Haviland Stillwell (Freelancers Anonymous, Easy Abby), where they discussed their lives in front and behind the camera.
"It was quite surreal to be on a panel with such incredible women," said Rose. "Strong women. The entire experience made my insides feel pretty good, especially when Nicole Pacent and I were asked about mental health. It was one of the most humbling moments of my life."
When asked if she would attend ClexaCon again, Rose replied, "I would hand down do it again. That's a strange saying. Shouldn't it hold up because I want to do it again?" We, for one, hands up, agree with you!
Over the last couple of years, while living her dream in Los Angeles, Rose has been able to book numerous films and projects to add to her ever-growing IMDB page and resume. A short film she co-starred in called August in the City, also directed by Conochalla, has been making its rounds on the film festival circuit and had even made an appearance at the 2017 Cannes Film Festival in the Short Film Corner.
After completion of August in the City, Rose was cast in a feature film called For The Love of Jessee, where she plays Sage Smith, the new nanny of baby Jessee hired by her father, Dr Luke Matthews (Randy Wayne), who has just lost his wife.
The roles don't stop there. Rose has been slated to appear in the web series Crazy Bitches and the LGBTQ series BIFL. "I have been cast in a comedy with a lot of drama," said Rose. "That's the tagline. I met some creators at ClexaCon, and they asked if I would be interested. I read the script and couldn't get enough of it. I play Sarah, and we start crowdfunding this month!"
She will also begin principal photography on a new narrative feature from director Florencia Manovil (Dyke Central), Bridges. Bridges is a triptych of storms that invite us into the enchanting worlds of four characters. "I play one of these, Yara," said Rose. "We start shooting, Solstice (one of three) in August this year. The key crew will be primarily women, many of whom are queer and of colour."
All in all, Rose has a lot on her plate, and we couldn't be more excited to see more of her on the big screen. The shining star in the LGBTQ community is living up her life in Los Angeles and can't wait to book more jobs on films that she adores.
Here is a woman who is out and proud, doing something she is passionate about. She leads by example and shows the next batch of LGBTQ actors and actresses what it takes to be authentic and genuine. "Be open and honest. Don't hide who you are because you will shine brighter and more exquisite if your truth is there. Follow your heart. Rejection comes in many forms; use it as fuel for the fire within."