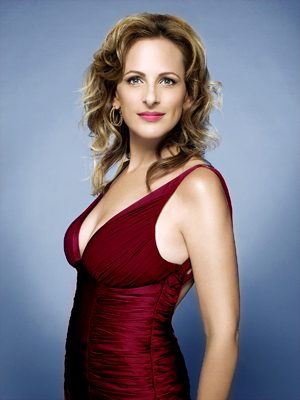 The L Word's Marlee Matlin reflected on season five and kicking butt in season six, but the interview didn't end there.
As The L Word actors prep for the sixth and final season on Showtime, fans keep Netflix busy renting the newly released season five DVD set. For those who missed it, season five was a heart-wrenching exploration for the 43-year-old Marlee Matlin, who plays Bette's lover, Jodi. "She got trampled on in season five," Matlin admits. But in season six, "It's time for her to come roaring back, in ways you wouldn't necessarily think, to show people she's as strong as ever." For the deaf, Jewish, one-time child actor, who still holds the record as the youngest Oscar winner in the Best Actress category, The L Word has been another jewel in her crown.
I hear you're a Blackberry addict? Has technology made it easier for deaf folks to communicate?
Technology has made access nearly 100 per cent for people like myself who rely on texting, emailing and video messaging. The Blackberry is my cell phone. I am constantly texting and messengering, just like hearing people chatting on their phones. No more talking through second parties or interpreters. The Blackberry is something I just couldn't live without.
You've done a lot of acclaimed TV shows. What has surprised you most about your time on The L Word?
What has surprised me the most is how many stories are out there that have yet to be told. In the case of The L Word, there was an intense interest in the show because I would look at boards and blogs and see hundreds and thousands of women and even men discussing the show in detail, saying the show was telling their stories. Many just said they were grateful to find characters they could identify with, while others said they liked being able to see characters that were new and refreshing. Storytelling in TV is rarely as diverse as what you'd see on The L Word and what surprised me was how many people responded to it, both gay and straight.
The L Word is one of the few shows now about women. How much do you think that affects the rest of television, especially knowing that the sixth and final season will air in January.
Well, The L Word has undoubtedly become part of pop culture with references in other TV shows like The Sopranos and The Office, so I think the door is now fully open, and there will be more. There's even talk of an L Word spinoff which is not surprising to me considering how popular the show is and how audiences are hungering for me even after the show is done.
Is there an episode in season five that resonated with you?
I like the episode where Jodi confronts Bette with all that's in her heart, something that Jodi wasn't accustomed to doing when we first met her on the show. The scene was heavy for me to play, where I had to be angry and sad and speak simultaneously. It was very intense, and I was glad to see that it came out as I had envisioned it – raw, in your face, which was incredible.
I know you're married, but how would you rank yourself on the Kinsey scale (where 0 is exclusively heterosexual and six is exclusively homosexual)?
As an actor dedicated to my craft, I am complete and proud 6 when it comes to The L Word. But with my husband, the love of my life, I'm a big 0.
You and Jennifer Beals have been friends since the '80s. Was it strange playing lovers?
It was easy, and the whole experience went smoothly. Often, an actor has to get to know someone to find the chemistry that works on screen. But having known Jennifer for 20 years, it was easy. We had never worked together, but we knew each other's sensibilities, moods, and sense of humour well enough to click right away in our first scene. It might have seemed strange kissing your friend, but I'm glad it was Jennifer if it had to be anyone. It was hard not to laugh at ourselves, yet we took it very seriously. I loved working with her.
Your character Jodi was named for a friend of yours. Can you tell me about that?
All I can say is that she was named after a gay woman I knew who died of cancer. I asked Ilene if it would be possible to give my character the first name of someone I knew who had passed away, and she didn't hesitate to say yes.
What will you miss the most after the show ends?
The camaraderie. I loved hanging with the girls on the show and doing stories that respected women, whatever their sexuality. Strong women, beautiful women, smart women – that's what The L Word was all about, and I know that's pretty rare in the TV landscape. I'll miss that.
I'm sure you constantly hear from lesbian fans who are excited to see you representing them. What kind of feedback do you get from other deaf women?
Many said it was about time someone showed the lesbian experience through deaf eyes. There are so many deaf lesbian and gay people out there who have never seen people like themselves on TV. The fact that there aren't many deaf characters in general represented on TV though we make up 10 per cent of the population, and American Sign Language is the 3rd most used language in the U.S. makes Jodi such a hero for many deaf lesbians. Like any community, some people might disagree with Jodi's tactics or style, but I've gotten nothing but "Good job!" from deaf lesbians that I've met. I've also gotten praise from hearing lesbians who have lesbian lovers or friends who were deaf.
More often, you're now cast in roles that aren't necessarily written for a deaf actor, which I think is good. Do you feel like that's becoming more common to have deaf actors cast in roles that aren't all about their deafness?
Not necessarily. I'm still finding scripts that focus on deafness rather than the person who happens to be deaf as part of a general storyline that has nothing to do with being deaf. I've been fortunate to have played roles like that on Picket Fences, The West Wing and The L Word. Sometimes, however, I still find myself in storylines that focus on deafness, even recently! I must say I'm tired of doing them. They tell the same story repeatedly: "I'm deaf and I'm angry because I'm deaf, or I'm deaf, and I want to hear." So now that I'm thinking about it, I should just say no and let the producers find someone else to do them. [Laughs]
If you could make one change in the world today, what would it be?
Turn up the volume on tolerance. There are so many people, for whatever reason, that are unwilling to be tolerant; it's of people of different gender, sexual preference, race, religion or abilities. I say let's increase love and tolerance and stop being so judgmental. No one has the corner on what's right. We all deserve dignity and respect.