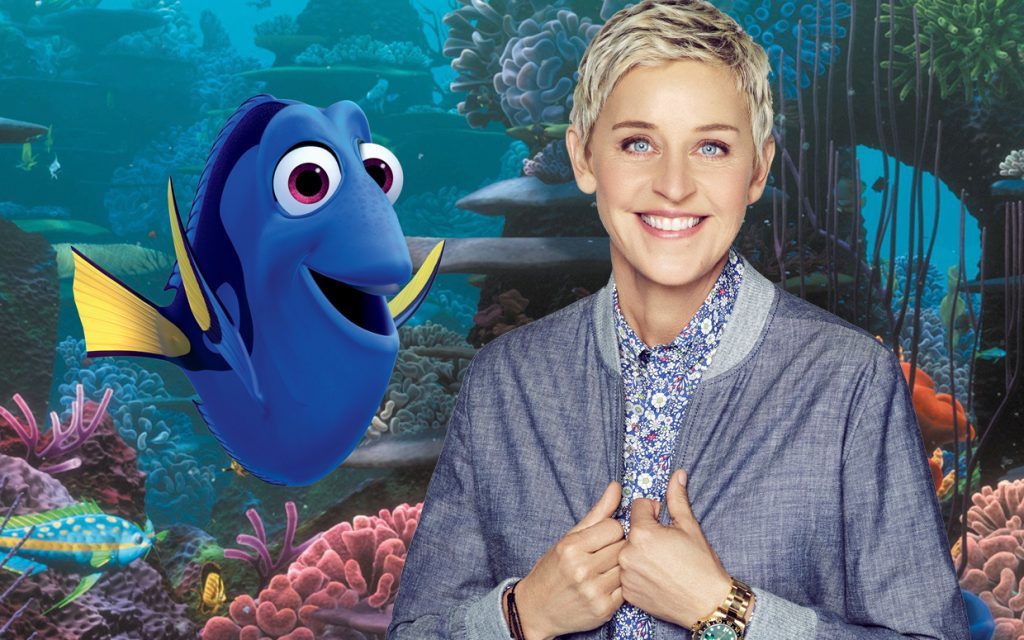 Ellen DeGeneres came out on The Oprah Winfrey Show in 1997 and a couple of months later she came out again, on her self-titled sitcom, Ellen, to her therapist—also played by Winfrey.
But that pivotal moment for DeGeneres and millions of gays and lesbians worldwide almost didn't happen. DeGeneres told Us Weekly late last year, "I didn't think I was going to come out, period. I didn't think I'd be coming out on a show, ever."
But after a meditation retreat during which she confronted her worst fear—that her fans wouldn't love her if they knew she was gay—she decided that she could do it. Her coming out, which was Time magazine's cover story on April 14, 1997, arguably changed the course of LGBT history forever, setting a precedent for stars to volunteer this information rather than be outed, and giving ordinary people the courage to follow in her footsteps.
And while her career did initially take a hit and she lost popularity and ratings, DeGeneres came back bigger and better than before, even eclipsing Oprah Winfrey in the rating game. The Ellen DeGeneres Show, which first aired in 2003, has been such a success that it has broken rating records and scooped up scores of Daytime Emmy Awards. The show's YouTube channel boasts more than 8 million hits. A selfie tweeted by DeGeneres as she was hosting the 2014 Oscars broke Twitter's records (it was retweeted 3.4 million times), and today DeGeneres has 61 million followers on Twitter. That's a lot of people who love her because of or in spite of her being gay.
In 2008, DeGeneres married American-Australian actor Portia de Rossi; they are still inseparable and seem to be happy, especially on social media, in spite of the unending tabloid rumours that they've broken up or are divorcing. In an interview at the premiere of Finding Dory in London, when asked what discovery she had made, DeGeneres told reporters that De Rossi was her "true love," effectively squashing reports that the power couple's relationship was on the rocks. While in London to promote the film in July, DeGeneres and de Rossi attended the Wimbledon Ladies Final, which had been one of their long-shared dreams.
Finding Dory brought DeGeneres more career success over the summer. It is the long-awaited sequel to Pixar's animated box office smash Finding Nemo, in which DeGeneres voiced Dory, a sweet-natured blue tang fish suffering from short-term memory loss. For many, DeGeneres's character was the highlight of the 2003 film.
Here, DeGeneres takes time out to discuss the new film—and a few other things.
So Dory, why did it take so long?
That's what I was asking, over and over. For 13 years, I've watched every other Pixar movie get a sequel, Toy Story, Shrek, Cars, and everyone has wanted a Finding Nemo sequel.
Did you ever imagine you would get your own movie?
That I was not expecting. I never campaigned for that—publicly—but behind the scenes [laughs]…No, I was so interested to know more about Marlin and Nemo and Dory, but I never thought a movie focusing on Dory was ever in the pipeline. But I'm very happy it turned out that way.
And I love that this story focuses on where she comes from and her background. It was a very organic transition because last time it was all about finding Nemo. This time we wanted to learn where she came from, why she was the person she was—always helping other people, asking what can I do, but this time it's a personal journey for her—where is my home, why am I here? And everyone wants that sense of belonging. They want to know about their roots, they want to discover their place in the world. And she learns a lot about herself, and it's funny and sweet and touching.
The film is perfectly timed, what with everything that's going on in the world right now—everyone needs a dose of Dory. We need to look at the world the way she sees it, with this wide-eyed optimism. Does that make working on the film all the more special?
Absolutely, especially with what's going on right now. A film that puts that positive message out there, distracts people from what's happening, is exactly what we all need.
Dory is perfect. She's optimistic, she's non-judgmental, she's sweet, she's compassionate, and she's got friends that look different from her. I mean, that's sort of a beautiful thing.
From the after-end credits scene, it looks like there could be a third movie. What could happen to Dory down the line—love, romance? She deserves it!
Yeah, that would be really interesting, to see if she could handle romance, for numerous reasons. I'm sure there are a lot of practical issues that might prove problematic—forgetting about her significant other, for one.
And I don't think there are too many romance things in Pixar movies. I don't think Pixar has ever done that, I don't know if it would suit.
So there's no room for love in a Pixar movie?
Love, yeah—but romance, I don't know.
What about Woody and his girlfriend in Toy Story?
There was a flirtation, but I don't know if they actually got together.
Without giving it away, I think, yeah, you're right, there could be more about who's involved at the end of the credits. Or Hank, I think we could follow on his story. Or maybe Hank and Dory might get together.
That would be really sweet. And I could actually see that happening. There was some flirtation between them.
As flirtatious as Dory can be.
The gay characters that everyone was talking about: in hindsight, they may have been wrong. But do you think we will ever see a gay character in a Pixar movie?
There might have already been some gay characters in there. I'm just saying there might, but I don't think it's the woman in the short hair. She just happens to have short hair. She just happens to have short hair, and someone concluded that she was gay. And I know lesbians and she wasn't one [laughs]. I think I know what I'm talking about here.
I didn't actually see that at all the first time, and then when all the news came out about the lesbian couple, I watched it and all I saw was a woman with very short, very bad hair. And I was offended. Is that how the world sees lesbians?
Maybe they were just two women standing together, maybe they were friends, maybe their husbands were off doing husband stuff. I also saw men standing together. They could have been gay men. I hope there are lots of couples of all sexualities in these films, representative of everyone.
Hear, hear! Now, speaking of representing everyone, Donald Trump: It's getting quite worrying how popular he is in your neck of the woods.
It's pretty shocking, yes.
What if the worst were to happen?
It would be quite possibly the worst thing to happen to our country in a long time. Really, it would be a full-out disaster to place a bully in power. And that's what he is, a bully. It's a harsh word, but it's true. He says he's just speaking his mind, defending himself from attack and accusation, but I don't buy that. And I highly doubt he will be the next president of the United States.
Well . . . you, as a country, did vote in George W. Bush.
This is a different level of irresponsible stupidity—I don't think people would be so stupid to do that again. I'm fairly certain that the next president in the White House will be Hillary Clinton.
But what if she isn't? He has a big following.
She has to win, there are no two ways about it. She has to absolutely win or we're in serious trouble.
What kind of president would she make? You know her.
Well, not that well. But she is perfectly suited to the job. She's experienced, she has the knowledge and the intelligence, and she's got Bill, who's amazingly talented and smart.
You know, if anything, whatever is happening in the world, good or bad, it should make everybody look at and analyze how we're treating one another. And whether someone is voicing something completely opposite to what you believe in and understand. You know, everything could make us look at what's happening in our own hearts.
Would you ever think of running for office yourself? You are an icon, a role model, and people listen to you.
I couldn't think of anything worse. That will never ever, ever happen.
In the meantime, although we may not see DeGeneres gracing the White House with her presence, we can look forward to her gracing our screens on The Ellen DeGeneres Show through 2020, with her unique brand of entertainment and her message of love, from her support for transgender rights to her #BeKindToOneAnother initiative to her Good News Page.