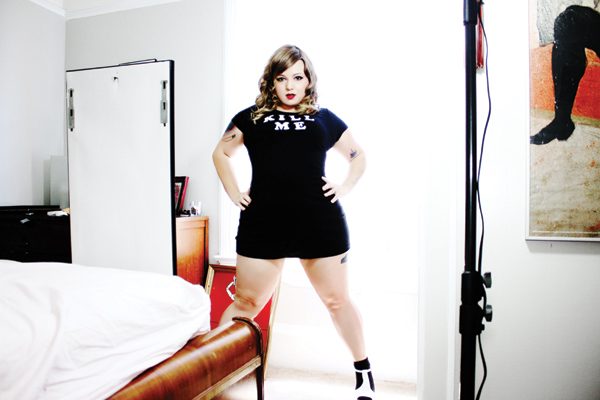 The queer icon serves up genderqueer, fat-positive, feminist porn.
Queer porn icon Courtney Trouble promises she's not trying to step on our toes with the title of her latest project. "My big thing this year is called Lesbian Curves," Trouble says.
While Trouble's new endeavour isn't by Curve, it's definitely for us. "Lesbian Curves is lesbian-identified porn with real queer performers of all body types. It's not gay-for-pay; this is the stuff that really goes on in people's bedrooms, and it's a world we almost never get to see onscreen." Trouble plans to release four Lesbian Curves DVDs by the end of the year and the series is already an award winner just from the first volume, so clearly she's doing right by our namesake.
The Oakland-based Troubleshot her first photograph at the age of 9, a picture of her father doing a handstand outside the Kmart where he bought the camera for her—she still has it. Once she came of age she began doing nude portraits and self-portraits and finally came the fateful day in 2005 when she noticed the video button on her digital camera. "The universe was basically asking me to shoot video porn, at that point," she says.
The resulting video was a big hit. In fact, so is most of the Trouble's work; she's been a winner at the Feminist Porn Awards five years running. Trouble's films are without a doubt explicit, but they're also intimate, sincere, iconoclastic and, above all, genuinely queer.
She seems like a complicated woman if we judge from the sheer volume of relevant labels. She's a self-described "genderqueer fat feminist femme switch slutty monogamist." That's a lot to fit on a resume, but since Trouble tends to create most of her job opportunities herself out of thin air she probably doesn't need to trot out her full credentials too often.
Of course, not everyone appreciates the Courtney Trouble oeuvre. "Stigma comes from a lot of angles," she says. "From being queer, being plus size, being in porn, being the partner of a trans man. I once heard a drag queen say that the key to getting by when you leave the house every day is to just pretend that nobody hates you until they do something. That's how I approach it."
Despite her wild public image, behind the scenes Trouble is a homebody at heart. "My persona is this shameless party slut," jokes Trouble. "But these days I'm sober and I'm not the mess I used to be. I really don't get out that much." Unless there's a camera running, then it's lights, camera and ready for hot lezzie action.