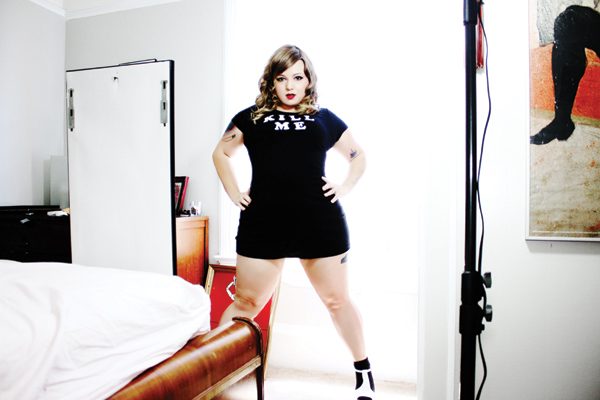 Courtney Trouble, porn star and award-winning pornographer, this woman is strong, gorgeous and a bit of a ballbuster.
Having previously directed 15 full-length Queer Pornography films, Courtney is back with her 16th film Trans Grrrls: Revolution Porn Style.
Founder of Trouble film, IndiePornRevolution.com and QueerPorn.TV Miss Trouble is the queen of the Queer porn industry.
Based in Oakland California, Miss Trouble not only produces and directs her films but is the face and director of Trouble film her production and distribution company. Talk about a busy woman!
At Trouble films, Courtney does everything, manages the business, oversees all creative aspects of the films, editing, authoring and marketing! She's a machine!
Absolutely stunning, Courtney started in the industry as an Alternative Model and Porn Star aiming at making a mainstream queer DVD Line with Reel Queer Productions where her passion for Queer Porn started to blossom. Miss Trouble's commitment and fervour to not only Trouble films but also the queer community have seen her nominated for countless awards.
"You never know what's going to happen when you own your own business. You have to clean up your messes and deal with a flop every once in a while – but when you make something brilliant, the rewards are so much better when you own it yourself."
Having always worked with trans people, including trans women, trans men, and genderqueer folks Courtney is now targeting the under-represented trans women of the world. Finding herself surrounded by beautiful and willing trans women only made the project easier. Borrowing the iconic language of Riot Grrrls, a community from whence I came, "Revolution Porn Style Now" is about trans women being at the forefront of the feminist porn movement. Back to back porn with very little set-up or storyline, just a lot of intense, beautiful sex with a feminist undertone, Trans Grrrls is just a little bit sexy.
Feeling as though the mainstream porn industry has done a slight disservice to trans women, Courtney Trouble has endeavoured to make an honest and sexy film without the derogatory terms and dangerous fetish fantasies that often feature in Trans Porn. Breaking the mould and improving the genre of Trans Porn Miss Trouble is doing everything in her power to attract mainstream attention to ethically produced and respectful films whilst tearing the public's eyes away from the derogatory films
But what attracts one to the porn industry in the first place? For Courtney, it is a love of performance, a love of anything vulgar, erotic, sensual and explicit. Courtney believes that as humans porn hits us in a really raw and emotional spot. As an artist attracted to reaching the viewer at their most vulnerable, with images of beautiful strength and empowerment – Courtney loves the idea of someone finding empowerment from porn while they are getting aroused/getting off. Nudity and sex are so beautiful and natural, being on set and shooting it is just a real pleasure for her. Not only does she love being there for it but she also really loves performing herself – for her, the two go hand in hand.
Coming to Australia in November for the PERV film Festival and holding a special preview screening for an array of lucky Melbourne individuals, Courtney is hopping from country to country spreading the queer porn love. Trans Grrrls was released on the 27th of September 2013 and has been embraced by the queer community.