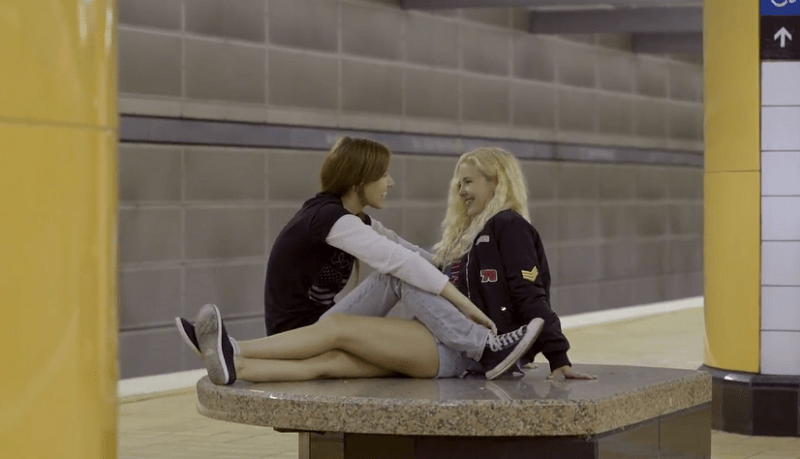 We all start as strangers; it's up to us to decide if we stay that way.
What do we know about strangers? The girl in the cafe that you can't get out of your mind, or the woman walking past you on the crowded street.  It's happened to you, where your interest peaks just a little bit more, your eyes focus a little harder, and your mind wanders to somewhere distant yet familiar.
Why don't we stop more? Why are we halting ourselves from becoming something more than strangers? Is it the fear that they won't live up to your expectations? Or is it that you won't live up to theirs?
All of these questions are answered in a new coming of age web-series that tells the love story between two young women.  LA Web Series, starring Emma Maddock and Alexandra Swarens, focuses on Landon and Avery, who come from very different walks of life but happen to be in the same place at the same time.
It wasn't the perfect moment to meet, but maybe that makes it better. After much obstinence from the two, they finally decide to spend the night walking around Los Angeles together. It is there that they discuss certain things, and stay silent on others while disclosing what they hold closest to themselves.
With Landon's impending flight back home to England the next morning, the two promise to meet up again in many years' time. An immeasurable amount of events happen in a week let alone a month, a month let alone a year, and a year let alone several.
The second season will see if it was more than a mere coincidence that Landon and Avery met at all, truly exploring that maybe some things are meant to happen.
LA Web Series differs from other LGBT web series as it does not focus on the exploration of the characters' sexualities. Both Landon and Avery are already aware of their feelings for one another. They explore their pasts and create present memories with one another while contemplating their future intent.
Made by an all LGBT crew, this is a low-budget series with every person involved donating their own energy and time.  That is why the creators have set up an IndieGoGo Campaign to help raise funds that will go towards crew, cast, and equipment. The team is very excited to share genuine LGBT stories.