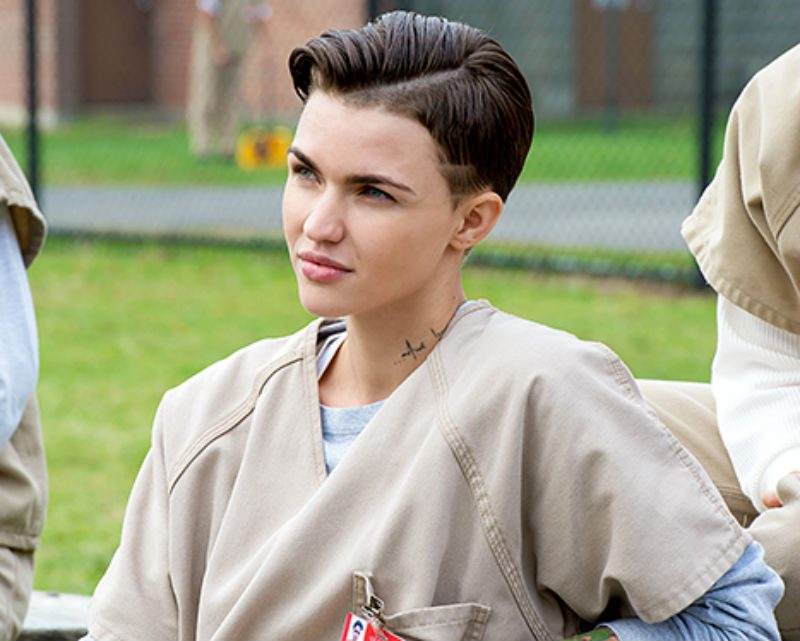 Why everyone is following this prison dramedy.
Orange Is The New Black—sure, it's a catchy title. But I almost didn't give the series a chance, even though I knew that it whipped those other Netflix original series, the star-studded House of Cards and Arrested Development, with its built-in fan base. Not only were critics not criticizing it, they seemed to be rabid about this thing. Suspicion clawed: How could anything be that good?
After committing to watch a single episode, I pulled an all-nighter and, in a deliciously moreish trance, watched all 13 episodes back-to-back. A skeletal backdrop for those of you—anyone?—who have so far missed out: The series is based on Piper Kerman's memoir of the same name.
Season 1, all of which was released on July 11 last year in one hit, takes us into the grim, dog-eat-dog world of prison, where the lights are never completely switched off. Piper Chapman enters medium-security Litchfield Penitentiary, leaving behind her fiancé, Larry; her breezy Brooklyn lifestyle; and her ultra-bougie soap-making business: "We're going to be in Barneys!"
She's serving 15 months for a decade-old, drug-related crime committed with her former lover, Alex Vause, who is a lesbian. Not long after she's in there, Alex approaches her: "Maybe this is a bad time to say hi."
As the sun came up, I had just one question: When would they stream all of Season 2? June 6?
Now, I've had my sugary fixes of lesbian drama before, but something about this show was different. In fact, a lot was different.
Lea DeLaria, who plays Big Boo, says, "Yep, the show is surreptitiously feminist…I think it says a lot for our show that teenage boys want to have their picture taken with me. I think that's an amazing step, not just for women, and not just for lesbians, but for butches. Even fat women. It's reaching a group of people that we would never have been able to reach before."
DeLaria also says it has pried open some much-needed conversation on what's happening in women's prisons.
"We feel for Alex," she says. "And I think a lot of people have that relating experience to Piper." OITNB humanizes prisoners who are usually demonized. These women are not their crimes. Through flashbacks we see their stories, which are often saturated with mental health issues, drug issues, and homelessness. While never excusing their crimes, OITNB does present them in context. If you'd had another upbringing, in another set of circumstances, if you'd taken a fatal wrong turn, could you have been one of these women?
On why it's off-the-charts successful, DeLaria says, "My business head is going, 'Because they dropped all the episodes at once—that's new.' But it also shows how starved people have been for something like this. And we're dramedy [a curious miscellany of drama and comedy]. It's hands-down fucking hilarious."
It does go anywhere. Creator Jenji Kohan, the wild virtuoso behind Weeds, isn't afraid to give her characters exactly what they need to say. Pornstache hisses at born-again fundamentalist Pennsatucky, "I want to fuck Jesus in his hand-hole."
Season 2 teasers? I really tried, and this much I did find out: It will be less Piper-centric—Taystee and Crazy Eyes will be upgraded to series regulars; the focus will widen to include Morello, Sister Ingalls, Poussey, and Miss Rosa. Lori Petty comes to Litchfield, as does Lorraine Toussaint. Toussaint will play Vee, the steely leader of a drug ring that uses children as "runners"—yep, Vee's going to be controversial. Cryptically, (but we'll take it), Kohan has said, "I think Piper survives by her behavior, and I think there were consequences to her behavior." If there is a Season 3—and why wouldn't there be?—it will follow the guards' stories.
But will Piper and Alex wind up in a relationship? What happens to Piper and Pennsatucky after the cliffhanger of all cliffhangers? And what the hell is with that chicken?
Smouldering. Inked. Badass.
She of the jet-lined, unnerving eyes and the maverick rockabilly hotness: Alex Vause. When fans thought she wasn't coming back for Season 2, their uproar found its way across every media platform. Laura Prepon, who plays Alex, says, "It was really flattering. I wanted to be there for Season 2…but there was a scheduling conflict." (Exhale: Prepon managed to work it so that she is, in fact, in more than one episode of Season 2.)
And it was hard to miss those caustic rumors about why she might not have been back at all. Did it bother her that the rumors were about Scientology being anti-queer? She laughs hard before she answers, "Well, that's a bold question! I mean, yeah, it did bother me, because it's not true. You know, I portray a lesbian on camera. I'm a huge supporter of the LGBT community, I've done work in L.A. for equality, so when I hear these rumors, it's pretty ridiculous. Apparently, I'm dating Tom Cruise—and I've never even met the guy."
Alex is a drug lord to her mule and muse, Piper. Even so, Prepon loves Alex. "She's such a badass, you know what I mean? I do think she's a good person, but she's also cutthroat and does what she needs to do to survive, because that's what she has done her whole life. Alex is also very real and very vulnerable. Piper totally broke her heart, so there are many things in Alex that I can relate to." Bare-skinned Prepon even has tattoo envy.
Prepon may be straight, but says OITNB has really shown her that, basically, chemistry is chemistry. "I have acted with men I have no chemistry with. With Taylor [Schilling], our chemistry was instant and awesome. I mean, I've never portrayed a lesbian on camera, so I was a little nervous, but I think the scenes turned out really, really well because, at the end of the day, it's about the love between these two people."
Now to one of the more relentless questions: Does she want Alex and Piper to be together? "They have a bond at a level that's above what most people have. It's really tumultuous. It's definitely sometimes a crazy love…they screw each other over all the time, you know? I mean, personally, I do think that they are the love of each other's life, so hopefully it works out!" Really? Are you kind-of-not-exactly telling us something? I can almost hear Alex's husky laugh, and see that imperceptibly cocked eyebrow. "I can't say!" It's hard to imagine her auditioning for Piper.
More than once, the 34-year-old Prepon (most recognized as Donna from That '70s Show), has walked onto the OITNB set, read her script, and thought, Oh god, I can't believe I have to do that! "There were a lot of those days. When I read that Taylor and I start dancing, and then Big Boo and Crazy Eyes start 'daggering,' you're like, 'What is daggering?' And then you look it up and find out it's this crazy Caribbean dance incorporating frantic, dry sex, and you're like, 'OK, today we're daggering'! Or when Taylor and I have sex in a church. It's incredible. It's great."
The actor has a friend whose 85-year-old grandmother is hooked on the show. The diversity of the audience is staggering. "And a lot of lesbians support the show. I've gotten many proposals in recent months!" she laughs. "It's hilarious." Hilarious? Yes. Surprising? No.
"It's the truth that's gonna make you her bitch."
"The first time I took my clothes off I was quite scared," says Taylor Schilling, the magnetic 29-year-old who nailed leading lady Piper Chapman. "But it was what the story called for. It was like jumping into cold water." The sex scenes with Prepon, however, didn't faze her. "She's so wonderful. And we're really quite close. Yeah, it was easy."
Piper's character arc is arresting. The very white, very middle-class Smith graduate bumbles her way into prison armed with naivety and judgmental—albeit at times subconscious—side-glances. Piper's prattling mother reassures her, "You're nothing like any of these women." Piper says, "I'm no different from anybody else in here. I made bad choices. I committed a crime, and being in here is no one's fault but my own." With trademark OITNB humor, her mother insists, "Darling, you were a debutante."
Kohan's writing uses humor to approach a lot of dark subject matter. Schilling says, "I think that's how we really experience life. I think there's an element of [the idea that] it's never just one thing. You know, there's laughing at a funeral, there's giggling in a church. That's how we process things."
Schilling has had a character arc of her own. "Yeah, the show's changed my views in a lot of ways." Giving her a greater understanding of classism and racism? "Yeah. It's opened my eyes to issues I didn't know were there. And from what I've heard, it seems like it really captures women's relationships with one another in prison very beautifully." Speaking of women's relationships, Schilling says the women on set are "like my sisters now."
So what does she think about the idea of Piper and Alex ending up together? "Umm…yeah. I'd like to see the story go wherever the story is meant to be. I think that they have a pretty special connection, for sure." Then Schilling teases us with this: "Season 2 is going to be even richer than the last one."
OITNB has hurled Schilling into the otherworldly. She was nominated for a Golden Globe alongside acting heavyweight Robin Wright. A House of Cards fan, Schilling says, "It was surreal. So amazing. I just respect her so much, so it was really fun to have that experience." Similarly, being directed by Jodie Foster (who is back for Season 2!) was "really, really special. I had an incredible time with her." Before the meteoric success of OITNB, Schilling was seen in the films Argo and The Lucky One.
Was she shocked when she read the last scene of Season 1? "No. By the time we got to that part in the story, it made sense to me." As she undergoes the slow bell-jar suffocation of prison life, does Piper even recognize herself at this point? "I think, in a way, she's more herself than she's ever been."
Schilling thinks that she and Piper share "a resiliency." Has she ever been in a situation like Piper's, where her life has needed a sharp 360-degree turn to move forward? "Thankfully, yeah…[when] it can't be done the way it was done in the past, you have to look at your life with fresh eyes. Those moments, I think, are precious. Those moments are when life truly happens."
A butch, her dog, and a screwdriver.
Jenji Kohan couldn't find a role for Lea DeLaria in Orange Is The New Black, so she wrote one. "I am Big Boo!" DeLaria says.
The jazz musician was also the first openly gay comic to "break the late-night talk show barrier" by declaring, "I'm a biiig dyke!" on The Arsenio Hall Show in 1993.
Big Boo is a resplendent three-dimensional butch. "I think that's a first for TV. I can't think of any positive butch portrayals done by any television show…That's what is really great—there are a million firsts in our show." Radically, it is the first-ever women-in-prison narrative to have a transgender woman played by a real transgender woman. And an African American at that. "Yeah, Laverne [Cox] is the shit."
It's not quite The L Word, is it? "Oh c'mon! The L Word wasn't real…being real— authentic—is very important to our show. That's why you have people like me and Laverne playing the roles: We are those people."
DeLaria has been arrested several times. Before she fesses up, I've already guessed her crime. "If you get to my age [55] and have been politically active for as long as I have, and have not been arrested at least a couple of times [for protesting], there's something wrong with you!"
Now, I'd be lax if I didn't mention Big Boo's moment of glory. We'll never look at screwdrivers in quite the same way again. DeLaria breaks into a roaring laugh. "I've said I have signed 44 screwdrivers. I'm gonna say it's close to that, because in the beginning it was nonstop. At my shows, I get it—they know they're coming to see me. But in the street, in bars, 44? That was just me being an asshole. It's Jason Biggs—he encourages me to be an asshole. But it's definitely in that vicinity." And for whatever reason—perhaps that it's so bracing to see women of all ages, sizes, races, and sexual orientations on the same show—a lot of the women chasing her with screwdrivers are straight. "I'm particularly thrilled when it's straight girls.
"You want to know what's really different about OITNB?" DeLaria asks. It's "a project with so many women, so many important roles, so many of them lesbians. And when you've been in the business as long as I've been in the business, business is run by men."
DeLaria even met her girlfriend, Chelsea Fairless, through Orange. "Emma Myles introduced us." (Myles plays Pennsatucky's demure sidekick, Leanne, all meth-stained teeth.) With the dashing seduction of the quintessential butch, DeLaria convinced Fairless that she was wrong: that there are, in fact, still butches in the world. Testament to this is DeLaria's tattoo. "BUTCH" blazes right down the length of her arm.
So what would DeLaria like to see happen for Big Boo? "I would like Big Boo not to die, and to never be released from prison." It's just too much fun. There are so many bloopers with her lab, Little Boo—"She's just a puppy!" But, "I wish you guys could see the outtakes of what Crazy Eyes did when she was on top of me, after I did the big sex dance show. What they didn't put in was her pantomiming a Dirty Sanchez and a Cleveland Steamer." (Um, for the unacquainted, those are sexual fetishes involving feces.) "It was unbelievable."
Yep, unbelievable is right. The whole whirling OITNB vortex is enough to make any lesbian want a drink. Screwdriver, anyone?
---
Support your LGBTQI Media