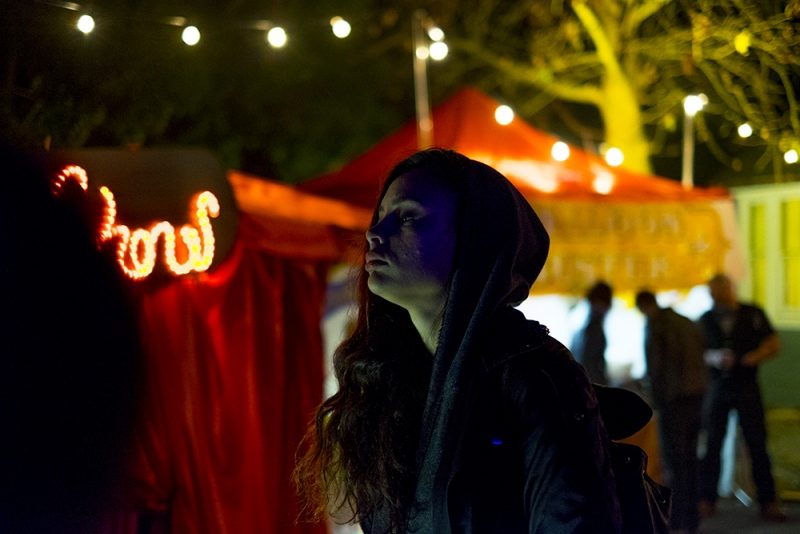 The sexy fantasy series everyone is talking about, JADE OF DEATH, is a multi award-winning webseries with over 2 million views from international audiences
"We haven't seen anything like Jade of Death, it's a perfect fit for the One More Lesbian channel, and Jade is mesmerizing." says Shirin, Founder of One More Lesbian.
JADE OF DEATH tells the story of Jade (BERNIE VAN TIEL), a young woman with supernatural abilities who plies her trade as the 'Fortune-Teller of Death' at a seedy freak-show carnival. But when people start hunting her down, she discovers there's more to her past, and her abilities, than she could have ever imagined.
A proudly female led series, JADE OF DEATH is fantastically creepy, surprisingly funny and very sexy. There is a palpable attraction between Jade and Maya – a girl she meets at the carnival. For young queer women who like their shows stylish and hot JADE OF DEATH is the series for you.
"I love shows that have a fantasy, mystery, thriller bent and I was getting really bored seeing the same old genre shows, so I basically just made the show that I wanted to see. I put a lot of myself into Jade of Death so it was a very cathartic experience." Creator and writer/director Erin Good.
JADE OF DEATH has earned extraordinary international acclaim with over 50 awards and nominations, including BEST DIGITAL SERIES nomination at the C21 DRAMA AWARDS, winning the BEST DRAMA SERIES trophy from the International Academy of Web Television, BEST DRAMA at LGBT+ festival OUTWEBFEST, and sold-out its screenings at Sydney's Mardi Gras Film Festival where it was RUNNER UP for AUDIENCE FAVOURITE, beating Oscar® winner CALL ME BY YOUR NAME.
The series is led by rising star and multi-talented actor / beatboxer / musician BERNIE VAN TIEL. The exceptional cast also boasts an array of Australian finest talent including SARA WEST (Ash Vs Evil Dead), SUSAN PRIOR (Animal Kingdom, Top of The Lake) and iconic Australian actor NICHOLAS HOPE (Bad Boy Bubby, Picnic at Hanging Rock).
Those who can't get enough of JADE OF DEATH will be happy to know a second season is already in the works.