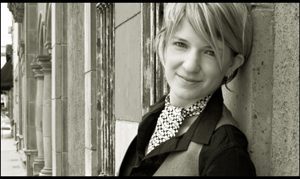 The relationship between music and film is indisputable, and as the compact disc goes the way of the dodo bird, artists are finding new and innovative ways to get their art to the masses.
During the next two instalments, I speak with independent filmmaker Ky Dickens and indie rocker Kaki King about their collaboration on the new documentary Fish Out of Water which demonstrates the powerful way in which "lesbians, in different fields combine talents to create a social-justice piece."
"It's easy, the first time you watch a film, not to pay attention to the music," admits Ky Dickens. "But I think [King] did a good job." Tackling the seeming dissonance of religion and homosexuality, Fish Out of Water seeks to strike a balance and show the quiet undercurrent of those moving within the confines of the church to build acceptance and Christ-like love with queers everywhere. Using animation, interviews, music and the Phelps Family circus, Dickens and King create a moving testament to the power of the media.
So how do an eager young filmmaker and two media-savvy producers [Kristin Kaza and Fawzia Mirza]lure an award-winning composer to do a micro-budget indie film? "We went to The Empty Bottle where she was playing a local show," explains Dickens over the hum of a nearby laptop. "We showed her the trailer and brought her tamales and some beer and just kind of sat there and talked, and it turned out Kaki grew up in the south and had a lot of experience with that sort of Bible abuse herself, so it resonated." Beer, tamales and Bible abuse. I'll keep that in mind for some of my future projects.
As a result of their meeting, King developed a personal connection to the movie. "She was excited to do it and offered us music from her library; originally, we would go that route," Dickens says. But as work on the score progressed, the crew noticed something was missing.
"I sent her clips of scenes to watch that are kind of light motifs for the LGBT interviews, academic interviews and some of the whimsical animation segments. So she worked on that and then returned to me and said, 'I think we have to do a huge, grandiose piece for the closing portion of the film.' The final explosion at the end was like love and interviews and wrapping everything up."
The result is a sweeping oeuvre not too far removed from her work in Sean Penn's Into the Wild, and Dickens is quick to point out King's contribution to the film's success. "She composed a brilliant original piece for us."
"What should I ask Kaki about the film?" I ask, hoping for a little nudge in the right direction.
"We created the film as a toolbox for gays and lesbians and their allies to defend themselves. The whole point of the film is to be a tool, and I would ask her if there's anyone in her life to whom she'd want to give this tool." (fishoutofwaterfilm.com)