This charming coming-of-age film is one you won't want to miss.
Set in an all-male school just outside Dublin, this somewhat predictable but charming coming-of-age film has some serious messages, conveyed in an accessible, occasionally surprising and funny manner.
Thanks to his father and step-mother moving to Dubai, Ned (Fionn O'Shea) is placed into a boarding school to complete his final years of secondary education. A bright student, interested in literature and music, he is completely at odds with most of the school population, whose sole focus is rugby union football.
He is teased and bullied endlessly for being different, presumably gay.
Just when he thought things couldn't get any worse, he is assigned a roommate, Conor (Nicholas Galitzine), who is a star rugby player, expelled from another school for being violent.  Judging him by his appearance and sporting prowess, Ned soon decides he has absolutely nothing in common with Conor.
The two barely tolerate each other until, under the influence of the school's new English teacher, Mr Sherry (Andrew Scott), they realise they do share one interest, a love of music.
The inspiration for this classroom comedy/drama was writer/director John Butler's own time at school and a particular English teacher who impacted his life. Throughout his writing and film-making career, Butler has aimed to explore social definitions in the society he knows, and the need for highly prescribed roles and the boxes into which we all place each other. In the film, Andrew Scott's character, Mr Sherry, urges the boys to find their own voice and never use a borrowed one; advice that he must heed as well. The film also makes comments on matters such as stereotyping and making judgments without adequate knowledge.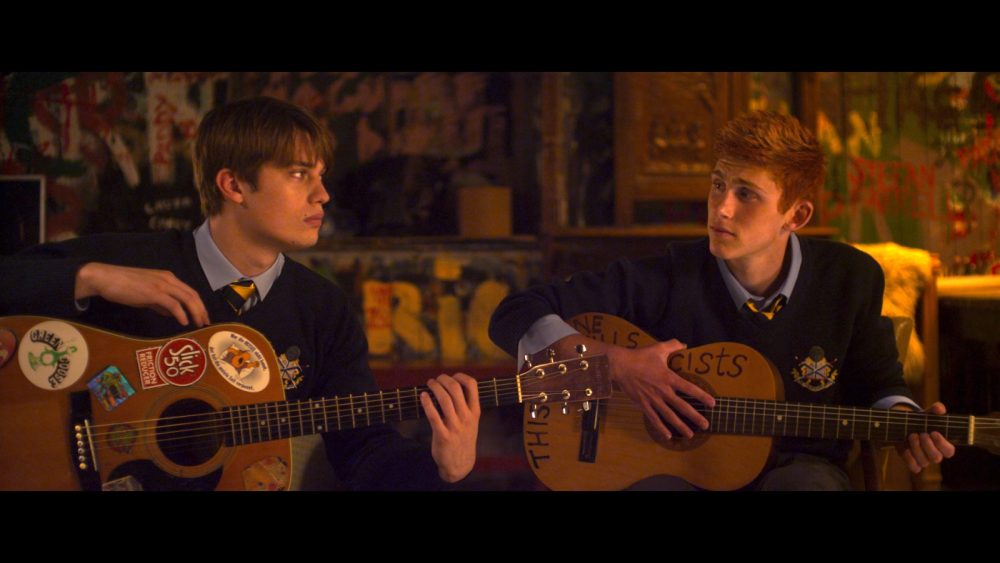 Handsome Devil is well-acted, especially by the two young leads, and it also features a great soundtrack. Some of the secondary roles are slightly clichéd and under-developed, but this does not detract from the story's overall impact. At present, the film is only getting a limited cinema release in Australia, but it definitely deserves to be seen outside the festival and LGBTI circuits where it has been screened and been warmly received so far.
3.5/5