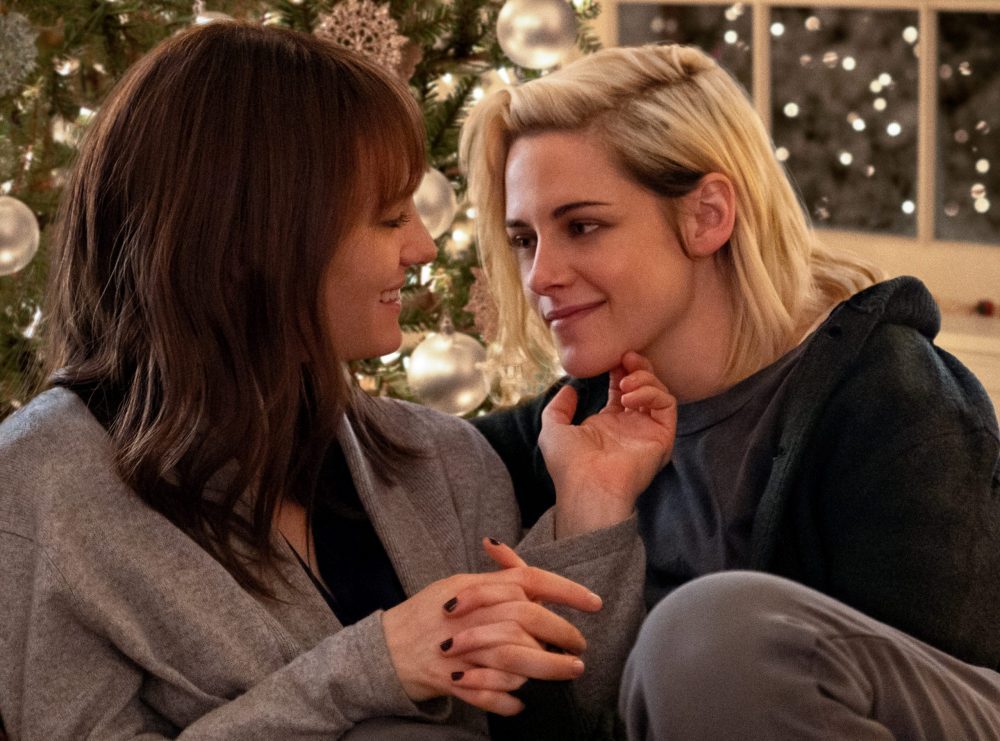 Last night, my girlfriend and I went to watch Clea Duvall's new holiday film 'Happiest Season.'
The cinema was mostly empty (an Xtreme Screen for a gay holiday rom-com in November seems like an odd choice but go off I guess), aside from two other very obviously queer couples. For the first time this dreadful year, I felt myself relax in a cinema.
Something about seeing Kristen Stewart acting like a bumbling, hopeless lesbian opposite Mackenzie Davis' anxious, slight morally ambiguous presence was soothing. Despite the narrative that sought to explore coming out and varying experiences that people have, I let myself be swept up in the fun holiday campness. It stirred similar feelings in me as when I first watched 'Christmas With the Kranks' when I was a kid. It doesn't need to be high art, it's fun!
The performances were fantastic all-around (although some diversity would have been nice), notably, those of Kristen Stewart, Dan Levy and Aubrey Plaza, and the comedy was enjoyable (How did Dan Levy make a subplot about a dead fish hysterical?). As I left the cinema, my only complaint was how anybody could have assumed Kristin Stewart's Abby was a straight™  in that grey suit!
Upon thinking about the film further, I found that my issues aren't with the film at all.
My issues are with what many people are accusing the film of. In the several reviews I have read so far today, many writers are pointing to the coming out storyline as an ugly black spot on what would have otherwise been a fun holiday romp. I have read many that have pointed to the storyline as lazy or unimaginative and that they were really just wanting a film that had all the queerness of 'Happiest Season, but none of the trauma. I understand that. I absolutely do. I have grown up in a world where every character I saw myself in was gunned down, arrested, beaten and abused for their queerness, their queerness was weaponised by narratives to tell us, the viewers, that we're expendable.
That we're undeserving of happiness. The coming out stories I saw had Megan (Natasha Lyonne) shipped off to conversion therapy, and Santana Lopez (Naya Rivera) disowned by her Grandmother.
In those that did have a happy ending, queerness was an obstacle to overcome to reach that end, for example, Rachel (Piper Perabo) had to ruin her marriage and hurt a relatively decent guy to finally end up with Luce (Lena Headey). Queerness has been a weapon in Hollywood since the thirties when the Catholic Church decided that Hollywood was a breeding ground for immorality and William Hays Sr. helped to set in place the Motion Picture Production Codes, transforming harmless camp characters into villainous shadows and dangerous criminals.
The wounds opened up by these codes still seep today in the coding of certain queer characters (take any of Disney's super camp villains, for example), and in the ways that queer narratives are still approached in film.
The way I received 'Happiest Season' was that it is aware of its history. It knows that queerness has been weaponised and what it's really doing is reclaiming that weapon and giving filmmakers who want to one day make that fun gay holiday romp a platform from which they can jump.
To paraphrase Monica Zanetti, the director of Ellie & Abbie (And Ellie's Dead Aunt), it's really hard to create a film that is centred around queerness and not address the traumas that are inherent to the experience of being queer.
If you're a queer person, the chances are that you had to come out at some point (those of whom didn't are lucky!). If you have ever had to come out to anybody about who you are, you know that gut-churning, terrifying feeling of stepping off the edge of a ravine, not knowing if you're jumping into a trapeze net of acceptance and love or hurtling full speed into those, sharp, pointy words at the bottom.
You don't know if you're going to sleep that night in the same world as you woke up in. Everything can change with those little words.
As much as we like to think that every single person is going to be accepting of their queer kid coming out, it's just not reality. It's not realistic to assume that everybody has had the same coming out experience and can therefore enjoy a fun gay holiday romp in the same way. More importantly, it's unfair to those who are still in the closet to jump ahead and not give them a chance to watch the full extent of their journey. A queer persons' life isn't defined as BCO (Before Coming Out), where you're scared and fearful of what will happen when you come out, and ACO (After Coming Out), where life is great because you are living as your authentic self. Life just happens.
And sometimes life involves having hard conversations with the people you love and hoping beyond all hope that who you are doesn't end that love. Sometimes life involves watching those people walk away from you, and not knowing if they'll ever look at you with the same level of love again. Sometimes life sucks.
What 'Happiest Season' does, that nobody is addressing, is bridge the gap between BCO and ACO. It gives screen time to the moments of pain where you're waiting for that ACO feeling, where you're hanging your head at the kitchen counter, mourning the life you have just wilfully thrown away. It gives space for processing, for growth, where you can acknowledge the pain that hiding yourself has caused yourself and other people, and you can re-evaluate what truly matters to you. Harper and Abby got their happy ending, but it wasn't without acknowledging and living in the moments that almost all queer people have encountered at least once in their lives.
'Happiest Season' is a gift, this holiday season. It's not a gadget that you'll play with for a day that will then will disappear into your draw for the rest of its existence. It's not that toy that makes a kid's eyes go wide or makes them scream for joy, nor is it that pair of one-size-fits-all socks your weird uncle bought you. It's a memory, preserved in a frame, designed to sit on your desk or on your bookshelf. It's a reminder of our history, it's a reminder to push ourselves creatively to make some incredible things in the future. It's a reminder that as queer people, we are entitled to happiness, while always remembering those who have not been quite so lucky.
Go see 'Happiest Season' while it's in cinemas, and let's continue to support queer filmmakers.
This article was written on the lands of the Cammeraygal people. Sovereignty has never been ceded. It always was and always will be Aboriginal land.