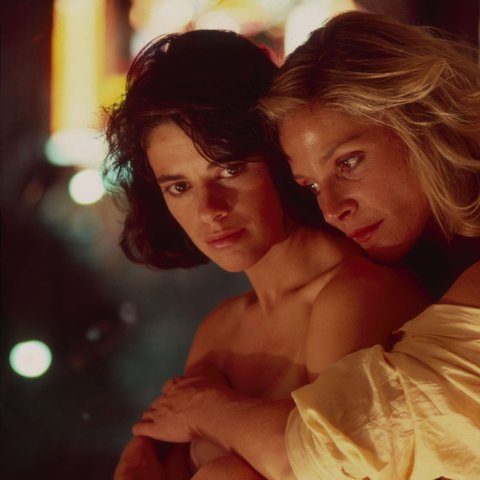 Desert Hearts set the bar for lesbian films when they came out 25 years ago. Since then, fans have been kicking up dust about a sequel.
But everything we need to know about the torrid love story is in the original film.  Based on Jane Rule's book Desert of the Heart, the film depicts a fiery attraction that draws two women of different ages, classes and backgrounds together into a forbidden, passionate affair.
Producer-director Donna Deitch hit the jackpot with Helen Shaver and Patricia Charbonneau as Vivian and Cay, two women as different as cactus and cauliflower colliding in Reno, Nev., circa 1959.
She creates a setting that reeks of sweat, cigarette butts and beer that is about as welcoming as a rattlesnake to Vivian (Shaver), the uptight Columbia University scholar who comes to town for a quickie divorce.
Charbonneau, in her first big-screen role, is Cay Rivvers, the casino worker and wannabe artist with the uncaged spirit, 10 years Vivian's junior.
Desert Hearts still holds up after a quarter of a century partly because of a strong cast, a soundtrack of classic songs and a compelling story that stirs up issues that are, unfortunately, still relevant today. Fifty years later, homosexuals still take verbal and/or physical abuse and languish as social outcasts.
Veteran actress Audra Lindley is both heartbreaking and haunting as the guest ranch proprietor and Cay's sort-of stepmother. She clings to Cay on one hand, yet cavalierly condemns her on the other because of her sexuality.
Some sequel mongers are eager to know "what happened" after the train rolls out of the Reno station. Could Vivian, at 35, give up her career in New York to live among the gamblers she disdains in the desolate desert? If Cay, 25, moves to New York, could she tolerate afternoon tea with the prim and proper intelligentsia?
The story is about a moment that changed two people forever. Cay and Vivian felt a passion that neither had experienced before. They followed their hearts despite the consequences and nothing can ever change that, regardless of "what happens next."
In real life, Helen Shaver married the film's key grip and they have a grown son. She continued her acting career, even appearing on The L Word as a religious fanatic in season one, but also became a successful TV director.
Patricia Charbonneau divided her time between the screen and theatre. She eventually shared her passion for the theatre through workshops for children.
Oprah hired Donna Deitch to direct The Women of Brewster Place, which solidified her path as a director on shows including ER, Heroes, Law and Order: SVU and Private Practice.
Desert Hearts was one of the few gay-themed films of the era accessible to a mainstream audience. Sun-Times film critic Roger Ebert called the love scene "one of the few genuinely powerful erotic passages in recent movies."
In other words, it was hot. And it still is.