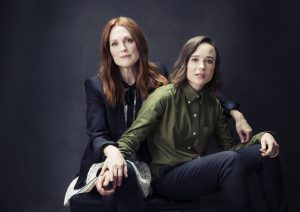 Ellen Page will play Stacie Andree, a New Jersey car mechanic who fought to receive pension benefits from her police offer partner Laurel Hester after death.
Ellen Page, the cute, quirky, tomboyish actress known for "from the mouths of babes" sarcasm is to star in a lesbian movie, according to Cinema Blend.
Oscar-winning documentary, Freeheld, about a lesbian couple fighting for one partner's pension benefits after she was diagnosed with fatal lung cancer, is to be made into a feature film written by Philadelphia screenwriter Ron Nyswaner.
Page, who found fame playing a pregnant teenager in Juno, has played tough girls in Hard Candy and Whip It, delighting her many lesbian fans.
Freeheld will continue to raise the question: is she or isn't she? But with a theme this important, does it matter?