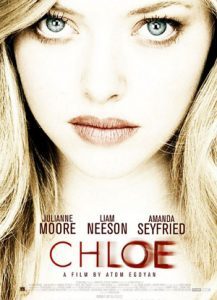 The new Julianne Moore, Amanda Seyfreid film sizzles on-screen but ultimately falls back on titillation over substance.
Julianne Moore and Amanda Seyfried's steamy love scenes are sure to set lesbian hearts racing in Atom Egoyan's new dramatic thriller, Chloe. The film explores difficult questions of love, desire and betrayal, and the actors all shine in their respective roles. But while Moore and Seyfried sizzle onscreen, the film comes dangerously close to being a lesbian version of Fatal Attraction. When all is said and done, the complex and subversive attraction between Moore and Seyfried becomes little more than titillation as cliché plot conventions take control.
There is no denying that the film is beautifully directed. It opens with a montage of Seyfried as Chloe, dressing in front of a mirror. The clothes that she is putting on tell their own story—about the desires of men, and how she accommodates them. Her character is at once sensual and cold, and she seems to be separated emotionally from her work. This chilly atmosphere continues in the first scene where we meet Catherine Stewart (Moore). In the stark setting of a doctor's office, Catherine, a gynecologist, is examining a patient, who states that she has never had an orgasm. "It's not a mystery," Catherine reassures her. "It's just a series of muscle contractions." It's a strange beginning to a film that is so sexually charged, but it helps to draw the line between the more physical aspect of sex and the more abstract notion of love.
During the film, we often see Moore in another sterile setting—her house. It's an interesting set. A large structure with huge glass windows and extremely tall doors, Moore looks small and sad in comparison. The aesthetic of powerlessness fits her current state of mind as she wanders the hallways alone. Her husband, David Stewart (played by Liam Neeson), a music professor, is away in New York and her teenage son has cloistered himself in his room with a girlfriend.
Having planned a surprise birthday party for her husband, Catherine becomes suspicious when he calls to tell her that he won't be able to make it. Her feelings of jealousy escalate when she reads a text from one of his students, whom he apparently went out for drinks with the previous night before catching a later flight.
Deciding to take matters into her own hands, Catherine hires an escort—Chloe—to try and seduce David as a way to test his loyalty. This is when things really start to get interesting.
Moore shows off her skilful ability to communicate subtle and conflicting emotions, and this is especially true in the scenes where Chloe is giving Catherine the details of her "encounters" with David. In a matter of seconds, Moore registers expressions of hurt, jealousy and even arousal. It's through these conversations—and the emotions that it stirs in the two—that their connection is made.
Overall, the movie is quite entertaining, if you can forgive some of the more over-the-top moments in the last hour. The dialogue feels a bit forced at times, but the acting more than makes up for it. Seyfried does a good job with what she is given, though her character is a bit of a blank slate. I would recommend this movie, but I would also recommend reading some feminist film criticism by Susan Feludi afterwards if you know what I mean. If you don't, look her up.