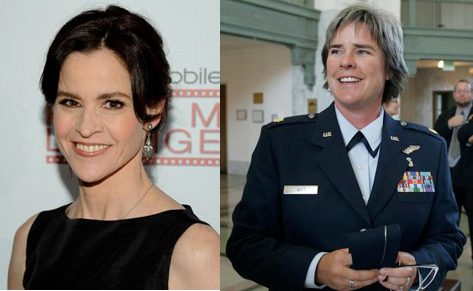 I'm sure that Hollywood is already a Twitter with talk of the Maj. Margaret Witt story.
As far as I know, Ally Sheedy hasn't been asked to play the part yet, but the talented actor does resemble the decorated nurse; she's about the right age and she's played a lesbian in the past (in Lisa Cholodenko's High Art). Plus, she might already sympathize with the character because, as she announced earlier this year, her teenage daughter is gay (apparently, so is Sheedy's mother).
This real-life tale of the decorated Air Force nurse who saved lives while risking her own has the makings of a great film. The tragedy is that the military kills the hero's career by pressuring her to admit that she's gay.
Hollywood has been down this warpath before, when Barbra Streisand produced Serving in Silence, starring Glenn Close and Judy Davis as a handsome same-sex couple. The film was based on the true story of Col. Grethe Cammermeyer, the highest-ranking Army nurse and a decorated Vietnam veteran, who was kicked out of the military because she admitted, when asked, to being a lesbian.
Which leads me to wonder, what part of Don't Ask does the military not quite understand?
Audiences love stories of a brave underdog overcoming an injustice, especially when it's an American who puts her life on the line in the name of freedom. Too bad that the "bad guys" are Americans in uniform. What kind of person would put our troops at further risk by yanking an exceptional nurse during wartime?
Witt showed courage under fire and was highly regarded by her peers, including Ret. Master Sgt. James Schaffer, who said in her defence that her dismissal "was a rather dishonourable act on the part of the Air Force."
Other former colleagues testified that her firing came during a shortage of flight nurses.
"We were at war at the time," said Lt. Col. Vincent Oda. "It was the loss of an able flight nurse is what that was."
The official argument is that Witt's status as a lesbian could "hurt morale and unit cohesion." Her colleagues have said that it was her firing that did that.
Similarly, the loss of Iraq veteran Lt. Dan Choi, an Arabic speaker (there's a shortage here as well) and a gay man, was seen as hurtful to his team. Asking him to lie to serve his country "goes against every single thing we were ever taught at West Point with our honour code," Choi said.
According to The Sunday Times, Choi led combat patrols and served as a translator and teacher of Arabic to troops in Iraq. He used his engineering skills to help rebuild schools and hospitals.
Is it just me, or are we purposely and knowingly getting rid of highly qualified service members, which in turn stacks the deck against our own troops? Apparently, even conservative pundits are seeing it that way, because more of them are arguing against DADT.
Maybe they see the writing on the wall. A California court recently ruled that DADT is unconstitutional. I think when we look back at the films made about these events years from now, the policy will look absurd and people will find it hard to believe that sexual orientation was grounds for kicking outbrave, able-bodied soldiers, especially during times of war.
Just look at how hard it is to believe now that some Americans screamed bloody murder when President Harry Truman decided to end racial segregation in the military after WWII. Secretary of the Army Kenneth Royall, for instance, argued against desegregation saying that the Army was "not an instrument for social evolution."
Luckily, Harry didn't listen to him.