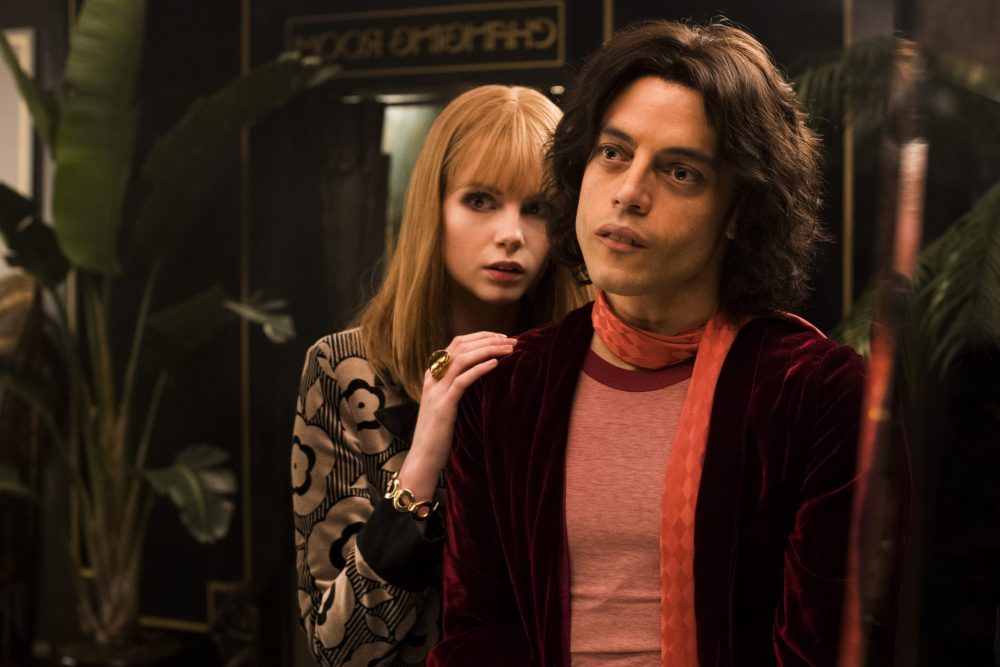 The new film 'Bohemian Rhapsody' about queer rocker Freddie Mercury will rock you and sheds light on his complex sexuality.
When British rock band Queen hit the airwaves my own sexuality was as yet undiscovered—although I thought of myself as androgynous. Even though my lesbian identity was nascent, I remember watching Mercury on TV as a kid and thinking he was gay, even though I did not know the word.
Mercury was different and yet he was accepted. He gained credibility and stardom simply because he could perform as a rock stadium frontman— and his talent was undeniable. That was encouraging to me.
But I always wondered why his fans didn't see what I saw: A "queen"—in the queer sense of the word. Just about everybody at that time who was into the band Queen were macho, straight, air-guitar-type guys. It was only in the '80s when Mercury cultivated the "clone" image, and performed in drag for the video to "I Want to Break Free," that it was clear he was signaling gay culture—even if he was still in the closet about his sexuality or the fact that he had HIV/AIDS (he was diagnosed as HIV positive in 1987 and was one of the first celebrity casualties of the virus).
The film dealing with his life, Bohemian Rhapsody, is part biopic, part anatomy of a band—how they got together, what tore them apart—capped by a triumphant 'comeback' that solidifies their place in rock history at the massive Live Aid concert in 1985.
How do you cast the role of Freddie Mercury? He was a hyphenate and a contradiction:  Anglo-Egyptian, bisexual moving toward gay, virile and yet feminine. Rami Malek (from USA's Mr. Robot) is brazenly resplendent in the role, summoning Mercury's high-energy performance antics as well as his mournful, introspective side.
I'll say right now that Malek's dental prosthetics are overdone in the attempt to replicate Mercury's uniquely overcrowded teeth, but on film—especially in romantic scenes—the effect is almost comic.
The real pleasures of this film for me were the scenes involving personal drama: his outsider status as an ethnic male (his real name was Farrokh Bulsara) in Queen Elizabeth II's England (one of his co-workers at Heathrow Airport calls him "pakki", a racial slur); his unease with his stiff, would-be-British Persian-Indian parents who proudly display a picture of QE2 on their living room wall, and are fearful of their son's life choices; and with his girlfriend and fiancee, Mary Austin, who he deeply (if not wholly) loved.
As Austin, Lucy Boynton is radiant and tender and brings dimension to her character beyond what many had assumed Austin to be in real life: a beard concealing Mercury's sexual preference for men. The scene in which Boynton's Austin becomes attracted to Mercury, while she helps him shop for gender-bending clothes in the boutique where she works, is lovely—a reminder of the gender fluidity of the 1970s.
She is clearly appreciative of the erotic power of his flamboyance and never stops loving him even though she is the one who—in another affecting scene—breaks the news to him that he is, in fact, gay. The impact of this devoted young woman on the development of Mercury is a welcome aspect of the narrative.
There has been some noise about the sanitation of Mercury's private life for the sake of the film, the script of which does seem more interested in revealing the dynamics between the bandmates and the final legacy of Queen (which is considerable) rather than examining Mercury's libido or trawling through his male lovers. Although I would've liked to see something of this dynamic; there is a sense of erasure without it.
Nevertheless, the focus is on the music and how a masterpiece like "Bohemian Rhapsody" (maligned by the record industry at the time) was created and became a mainstream rock classic even though it was itself a bizarre hyphenate: a 6-minute mini rock-opera sung with falsettos, carrying a palpable queer subtext.
And as for legacy: to watch Mercury command a stadium of hundreds of thousands of people (and a collective global audience of more than 1 billion who watched on TV) during Queen's set for the unprecedented Live Aid concert in 1985—all possibly while suffering from the early stages of AIDS—is an incredible achievement and should not be forgotten. Mercury was a queen/king of his own making, living in plain, rebellious sight during Thatcher's conservative England, which is another thing to remember, especially during these times.