These online shows are boldly going where TV should be. Check out our top picks for must-stream watching.
While network television has made strides in incorporating lesbians into popular programming, the Internet is really where it's at for quality queer series. With so many indie web series to watch it's easy to get tangled up in the world wide web, so here are 17 of our faves. Log on and stream to your lezzie heart's content.
We Have To Stop Now
Define conundrum. It's a married lesbian couple who are both therapists, have coauthored the No. 1 book on sustaining a successful marriage and are now finding themselves on the verge of a divorce and under surveillance by a documentary film crew. Just to save face, they are forced to take a dose of their own medicine: couple's therapy. If the premise alone doesn't say "yikes," the painfully awkward and heartrending moments of We Have To Stop Now are certainly cringe-worthy, but they're cushioned by comic relief. Stars Cathy DeBuono and Jill Bennett are joined by lesbian comic Suzanne Westenhoefer in this all-too-real depiction of a marriage gone awry. (wehavetostopnow.tv)
Plan V
Think Argentinean L Word complete with gay-straight love triangles to boot. The main femme Ana (Lorena Romanin) finds herself under the spell of Laura (Sofia Wilhelmi) after a chance meeting. The catch? Laura turns out to be Ana's brother's girlfriend. While a bit cheesy, Plan V is a well-done series, rich with girlfriend banter and all the drama and danger that comes with being hot, young and on the prowl. (planvlaserie.com.ar)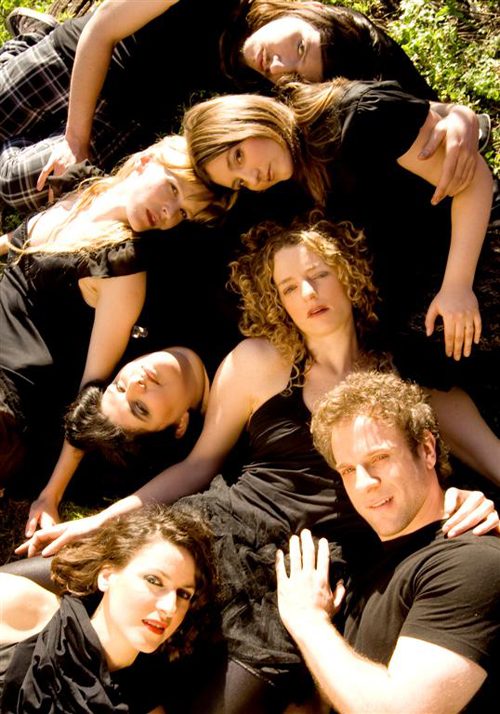 Seeking Simone
If you have ever looked for a date online, you will identify with Simone's comically tragic plight in Seeking Simone. Cocreator, star and Courtney Cox dead-ringer Renee Olbert bring a naïve charm to Simone, a Toronto transplant who is nursing a broken heart. From choosing a username (like CatLover or CampingCatLover or WellOfLoneliness64) to searching for a profile picture that isn't so outdated it qualifies as fraud, Simone plunges headfirst into this cultural phenomenon. (seekingsimone.com)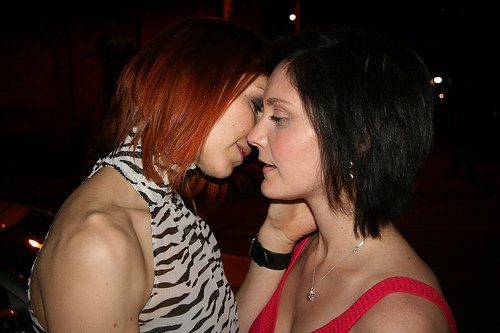 Girltrash!
Behold the timeless story of Bonnie and…Connie? Best friends and literal partners in crime, Tyler (Michelle Lombardo) and Daisy (Lisa Rieffel) find themselves between a rock and a hard place when a gang war complicates their already edgy lifestyle. Throw in a little jealousy, compliments of the seductive LouAnne (Riki Lindhome), and things are set to spin for this trove of beautiful badasses. Girltrash also stars legendary Les Margaret Cho, as well as Amber Benson (Buffy the Vampire Slayer) and The L Word's Rose Rollins as you've never seen her before. It's a must-see if you love a little criminal element in heels. (girltrashonline.com)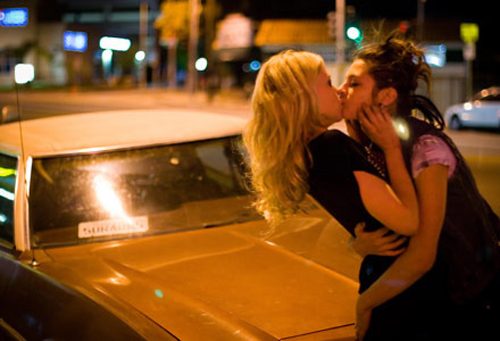 BJ Fletcher: Private Eye
For all you closet fans of the late-night guilty pleasure Cheaters, BJ Fletcher is a more slapstick take on the obstacles encountered in a life of espionage. Our titular heroine (Lindy Zucker) may not be the smoothest operator but her spirit is indomitable when it comes to sniffing out the truth and catching two-timers red-handed. While the acting in BJ Fletcher may leave something to be desired at times, it's a perfect match for this over-the-top noir homage. A playful little romp that will have you cracking up and craving The Maltese Falcon. (bjfletcherprivateeye.com)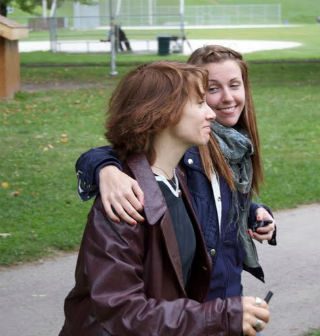 3Way
Remember that movie Madhouse with Kirstie Alley and John Larroquette, where their entire family invades the couple's house and wreaks havoc? 3Way is what you get when you replace the family with your best gal pal, her current fling and her dorky ex. Ageing soap actress Siobhan (Maeve Quinlan) finds herself newly divorced and taking in her lesbian best friend only to find she is inviting a world of dyke drama into her home. The character Geri (Maile Flanagan) is an instant favourite, she embodies the tact and sexual prowess of a high school-age boy—the quintessential lesbo Screech. 3Way playfully explores what happens when the homo and hetero worlds collide. (3waytv.tv)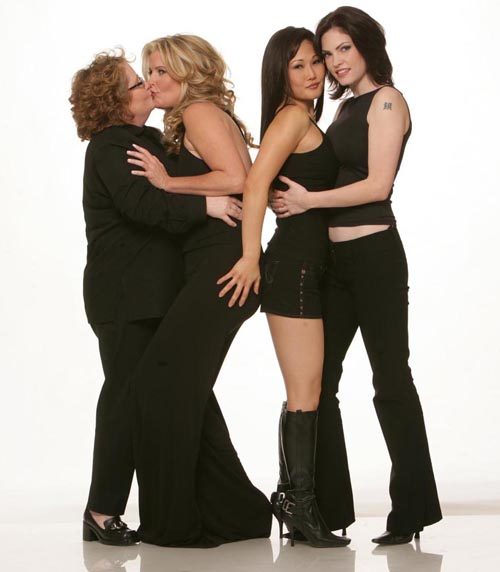 Anyone But Me
While the plot of Anyone But Me may be slow-moving, its setting and characters exemplify the struggle of growing up gay in America. Young Vivian (Rachael Hip-Flores) is forced to leave her NYC stomping ground and the girl she loves, the stunning mini-Angelina, Aster (Nicole Pacent). Vivian is tossed into a suburban backdrop where she slowly finds out who will accept her with ease and who may have issues with her orientation. Hip-Flores and Pacent are compelling on-screen lovers who will make you think back to your first love. (anyonebutmeseries.com)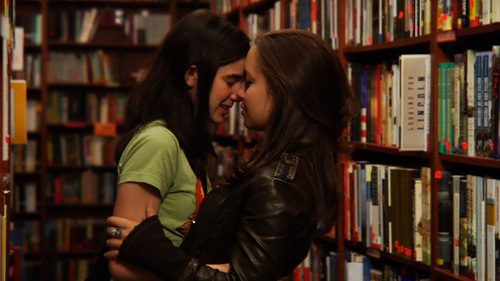 Far Out
Dubbed the lesbian Queer As Folk, the U.K.'s first-ever lesbian web series, Far Out, captures everyday life for a pack of London lovelies, namely, their sexual triumphs, relationship woes and dating follies on the club scene. The former scenario is hilariously depicted in episode 1 when Grace (Grace Wendy Allen) musters the courage to tap a strange woman on the shoulder and tell her she wanted to meet her because she looked interesting…not like all these "pretty girls." Ooops. (farouttv.co.uk)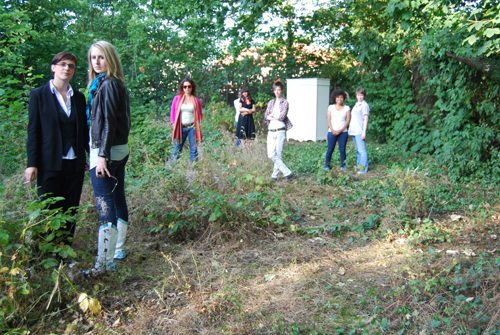 Apples
No need to brush up on your Spanish in order to watch Apples, the first Spanish-language web-only lesbian series. Translated webisodes are available on YouTube. That being said, Apples still may be a little hard to grasp. Whether this comes from cultural differences or general quirkiness is debatable. Following the lives of a group of hot lesbian students, one of whom is obsessed with her stuffed cat, Chichi, Apples has a feel similar to Friends or Coupling because of the setting. The friends all live in the same building and are constantly in each other's homes, but the results are a lot dirtier. We're talking orgies, people. (apples.sc10.co.uk)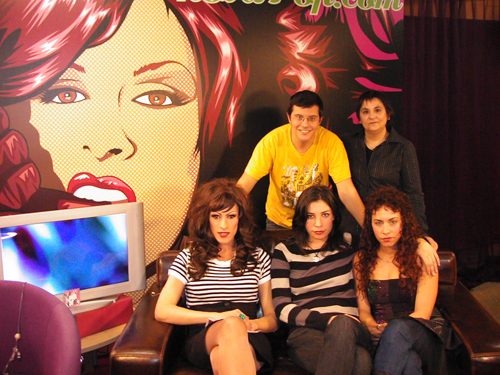 The Lovers and Friends Show
All right, it's not the most creative title for a series. But don't let first impressions fool you into thinking that Lovers and Friends aren't worth watching. In fact, this show recognizes one group in the gay community that is too often overlooked: lesbians of colour. Featuring an entirely African American and Latina cast, the show takes the characters through the typical drama-filled barrage of romantic issues, plus, it has sex appeal to boot. Two things that make this series stand out: the exploration of a newbie lesbian, Lisa (Kendall Starr), and the cocky butchie Dre (Shakelia Tharpe) who evokes Queen Latifah in Set It Off. (insyteproductions.com)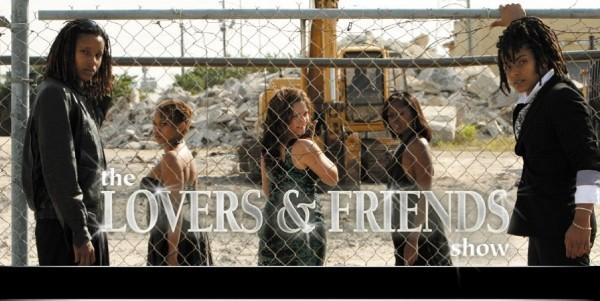 Feed
Director Mel Robertson delivers this edgy and chilling critique of mainstream media. When Maura (Amanda Deibert) stumbles upon a brutal attack, her gut instinct is not to phone for help, but to point and shoot with her most powerful weapon: her camera. Maura finds herself dubbed a media vigilante after she posts the attack on a video-streaming site, and her troubles only escalate from there. Feed is currently in its second season, coinciding with a feature-length film of the same title. (afterellen.com)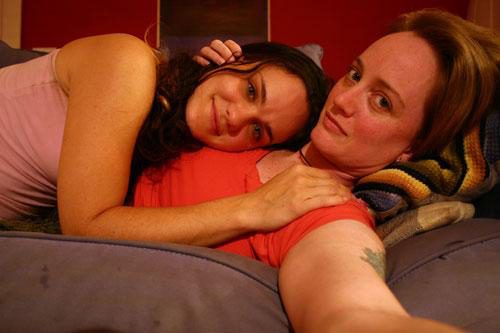 The time-travelling Lesbian
Comedian Rebecca Drysdale plays herself in this silly but, shall we say, wicked awesome series in which a jaded video rental clerk discovers she is the only one in the universe who has a hope of rescuing the time-space continuum. When time travel becomes a reality in 2319, an elite group abuses it for wealth and power. Drysdale must stop them in order to save the world as we know it. While Drysdale may be no badass à la Van Damme in Timecop, she certainly wields power over ladies of all decades. (afterellen.com/video/timetravelinglesbian)www.afterellen.com/video/timetravelinglesbian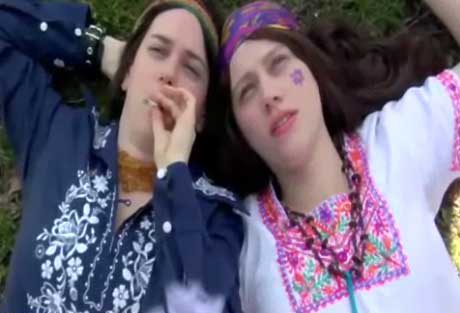 Chica Busca Chica (Girl Meets Girl)
This award-winning series from Spain is a titillating parade of scoundrels, both gay and straight. While needy Monica (Cristina Pons) thinks it is perfectly sensible to allow a sultry bartender to move into her apartment after their first date, her straight best friend Carmen (Sandra Collantes) urges her to come to her senses while her own relationship is challenged by her habitually cheating boyfriend. Chica Busca Chica is a must-watch drama fest. (veoh.com)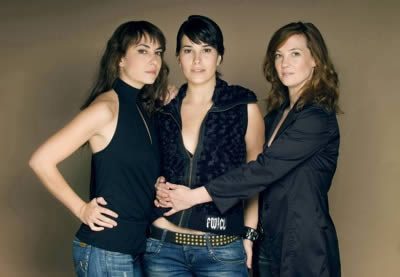 The Sweet Adventures of Nat and Meg
I'm sure there are plenty of vlogs out there but we have to give a special nod to this adorable couple of semi-newbie lesbians Natalie Garcia and Meghan Hall. The Sweet Adventures of Nat and Meg is a video diary of the pair's journey across the country. Their quest? To learn the ins and outs of lesbian life and culture in the United States. A perfect guide for the emerging baby dyke, Nat and Meg include celebrity interviews with pioneers in lesbian entertainment such as Club Skirts founder Mariah Hanson. (discoversweet.com/nat-megs-sweet-adventures)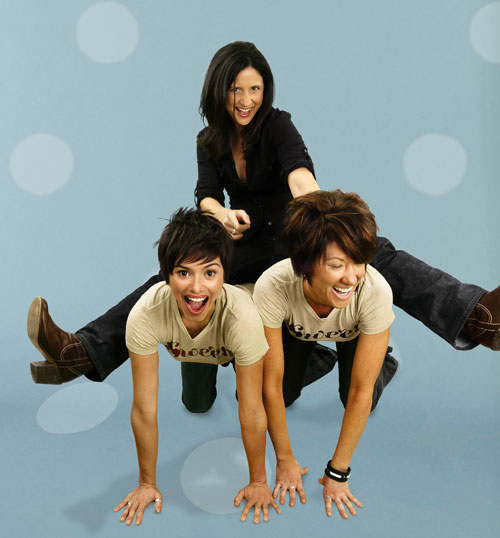 Cherry Bomb 
In the spirit of political debate shows like The View, Cherry Bomb is a discussion forum for lesbians on hot-button issues such as commitment, Internet dating and relationship deal-breakers. If you haven't seen it yet, you may be the last lesbian left who hasn't gotten wrapped up in these impassioned dialogues. (afterellen.com/taxonomy/term/3743)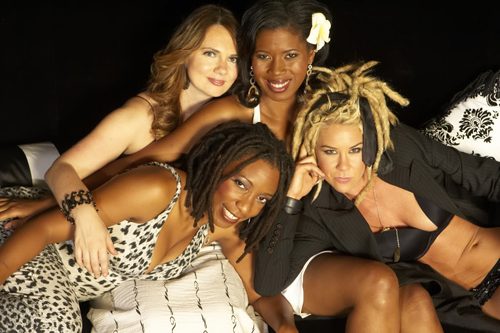 Cat On the Prowl
Out comic Cat Davis is single and looking to mingle. Combining her dating efforts with a vlog, Davis wines and dines various lesbian celebs and gets the skinny on their careers, love lives and favourite Dolly Parton songs, all while batting those lashes and practising her flirting for when it really counts. (afterellen.com/taxonomy/term/4131)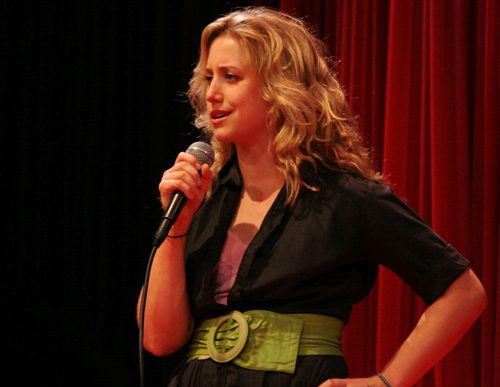 What's Your Problem?
Not only is Cathy DeBuono the double threat of talented and gorgeous, she's also one smart cookie with a master's degree in clinical psychology. She puts her assets to good use in her vlog, which is featured on both SheWired and AfterEllen where she sits down with noted guests and even takes your questions on coming out, dating woes, etc. DeBuono may have experience as a licensed therapist but her tone and accessibility read more "friend" than "shrink." (shewired.com/video.cfm)