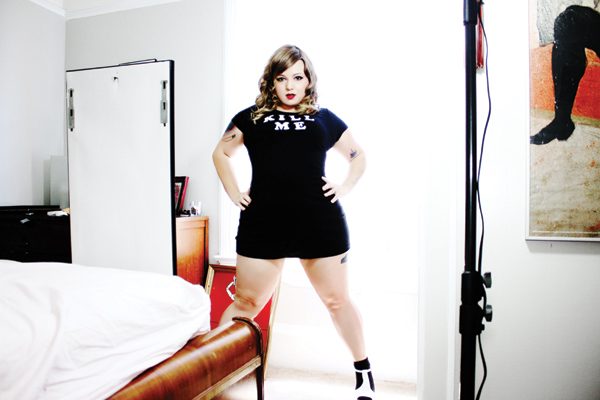 Queer porn maven Courtney Trouble offers up her Top 9 sexy adult flicks made by lesbians, for lesbians.
Lesbian porn, and porn for lesbians, are two drastically different things. Lesbian porn is soft, delicate, made for men and completely unwatchable. Porn for lesbians, however, is honest, a little hard around the edges and stars the queer butch dykes, high femmes, switches, transmen and genderqueer hotties our wet dreams are made of. Here are nine undeniably hot, and culturally ground-breaking porn flicks made for lesbians, in no particular order. Watch them all!
1. Hard Love and How to Fuck In High Heels
In 2001, director duet Jackie Strano and Shar Rednour, a pervy married couple from San Francisco, broke the mainstream mould by winning the first "Best All-Girl Feature" AVN award (the Oscars of porn) that was actually made by lesbians. Shar shines as the resident high femme bringing loads of lesbian lust and an appreciation for stilettos. This vid holds a special place in the canon because it simultaneously offered femme pride to the lesbian community and introduced butch dykes to the mainstream world.
2. The Crash Pad  
The original Crash Pad, directed by notorious cinephile Shine Louise Houston, paved the way for all of the queer porn stars we adore now. Syd Blakovich and Jiz Lee made a smashing debut and started some serious trouble with the wrestling and ejaculating in their first ever porn scene together—a scene so hot we still replay it in our heads to this day. Don't you wish all porn was this hot?
3. One Night Stand
Get ready to purr "Oh, là là" when you grab your toys and pop in One Night Stand. This film is a one-of-a-kind peek into Paris' underground queer sex scene. Beautifully shot with a keen eye for colour, action and realism, this movie draws you right in. The sex is hot and dirty, and we certainly look forward to more from French director Emelie Jouvet.
4. Lesbian Life: Real Sex San Francisco
Madison Young may best be known as a kinky redheaded bondage and fetish porn star, but queer porn is quickly becoming her biggest talent. She's been dubbed an Indie Porn Pioneer by the Feminist Porn Awards for her numerous titles. Our favourite is Real Sex San Francisco. We love seeing Lorelei Lee in queer porn, and in this title, she has a sweet scene with Jiz Lee as well as a hot car shop romp with Syd Blakovich. Also, who doesn't love drenching the sheets with Dylan Ryan? This movie is a must-see for anyone who has ever experienced a San Francisco Pride weekend, or who wishes they could.
5. Good Dyke Porn
Blame Canada for this D.I.Y gem. This DVD collection of sweaty scenes from the incredible GoodDykePorn.Com—a porn site you have to check out if you love butches, femmes, and a little kink on the side. We love the one with the hot brunette who has been collared, leashed and teased with butch boots while jilling off. Another fave: the scene where director Bren Ryder herself (a super hot salt-and-peppered butch dyke) steps in and takes the wheel with a high femme in the front seat of a hot car.
6. Strap On Motel
Starring Dylan Ryan and London, this film by Maria Beatty takes the cake. The cinematography of Strap On Motel is above and beyond the call of duty for getting off—it's simply stunning. It's art. Dylan and London are two strippers who fall for each other, and the intensity of their desire is too hot to handle. It's more than porn, it's something you'll leave on your coffee table proudly, it's something you'll want to show your friends. Check out Maria Beatty's other films, too. She's got something good going on.
7. Champion
If you haven't heard about Champion, 2009's Best Feature thanks to the Feminist Porn Awards, then you must be living in a cave. Director Shine Louise Houston created this masterpiece, which is a story about a rising star in the mixed martial arts scene (Syd Blakovich) and her trials and tribulations with lovers, her manager, her opponent Dallas (Whew! What a babe!) and her rival, a sexy FTM bent on fixing the fight. The sex is simply gorgeous and the dramatic storyline will make you forget about your TV remote.
8. Sugar High Glitter City
Jacki Strano and Shar Rednoir do it yet again in this flick, which was nominated for an AVN Award for "Best All-Girl Sex Scene" and "Best All-Girl Feature." The awards are absolutely fitting—this film has some of the hottest sex we've ever seen between two girls on-screen. In a world where sugar has been outlawed, these strapping dykes and fierce femmes are left to sell themselves for sweets on the black market, resulting in some serious toothaches.
9. The L Word
I know, it's not really porn, but whoever says they watch it for the storyline is probably lying. Our favourite L Word sex scene is, hands down, Katherine Moennig as Shane and Rosanna Arquette as Cherie, with that strap on, by the pool—you know the one! Go grab your Season Five box set and turn your phone off. Everyone does it.
We suggest finding these titles at Good Vibrations, or on their website GoodVibes.com, where you can even watch some of them from the comfort of your computer screen. If you can't find it there, check out Babeland, Good For Her, Smitten Kitten or your local porn shop. Also, check out RealQueerPorn.com for a historical index and shopping guide for just about every queer porn film ever made.