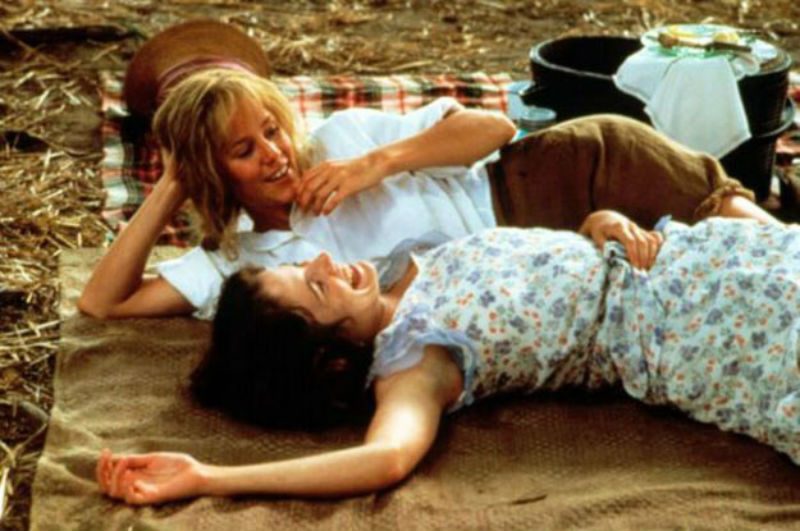 Fried Green Tomatoes is a classic film based on the incredible novel by Fannie Flagg.
Though it might seem an odd choice as a lesbian film, there are nuances that cannot be ignored. In fact, in 2008, it was reported on afterellen.com that Fannie Flagg, Mary Stuart Masterson, and Mary-Louise Parker all advocated for the film to depict the lesbian relationship between Idgie and Ruth that was written in the book.
Unfortunately, Jon Avnet (the director), along with all of the producers, decided against it. Avnet has said that the food fight scene is the one truly "intimate" scene, and is an analogy for their romance.
Fried Green Tomatoes at the Whistlestop Café is a novel that tackles many issues, including the complex relationship between Idgie Threadgoode and Ruth Jamison. In the film, Mary Stuart Masterson, and Mary-Louise Parker bring these women, and their complex relationship, to life. Kathy Bates, Gailard Sartain, and Jessica Tandy provide the framing story, the storytelling of the lives of Idgie and Ruth, and they also provide comic relief. Everyone in this cast is simply perfect.
This movie really focuses on the strength and depth of Idgie and Ruth. Though they are young southern women, they both have an indomitable spirit. Their bond is strong from the beginning. They are anything but weak. They fight the world, they fight prejudice. They even fight each other. In the end, they are stronger together, and nothing will ever change that.
Idgie is clearly in love with Ruth from the beginning. Though lesbianism is severely downplayed, it is still undeniable. When Ruth goes and marries Frank Bennett, Idgie is devastated. It breaks her heart – and her soul. In a fateful twist, Ruth suffers at his hands, and Idgie rescues her. From that moment on, their devotion to each other is never tested again.
In fact, the women resume life and a love that is both atypical and amazing. They open the Whistlestop Café. Through that venture, their bonds, as well as their outside friendships solidify even more. They become a family.
Just when life seems to be going well, abusive husband Frank Bennett returns. He attempts to kidnap his and Ruth's son. Unfortunately for him, she is very well protected by her new family.
Once again, life slowly returns to its usual routine, though an investigator from Georgia appears, and begins to poke and prod around, trying to locate the missing Frank Bennett. Frank's car is found at the bottom of the lake, but his body is never recovered.
A trial hearing begins. During this trial, Ruth confesses her love to Idgie publically. It is one of the most profound moments in the entire film. The case is eventually dismissed when the local pastor gives an alibi that the women were at a revival when Frank Bennett went missing.
The two women remain inseparable until Ruth succumbs to cancer.
Fried Green Tomatoes is a prolific movie that challenges notions of race and bigotry, prejudices against the homeless and those in great need, and the definition of love. The cast is completely perfect.
Though the movie does not depict the relationship between Idgie and Ruth in nearly as much detail as the book, it is still a classic lesbian film.